Israel sold weapons to Argentina at height of Falklands War, reveal declassified Foreign Office files
RFA Sir Galahad after being set ablaze by bombs dropped from Skyhawks during the Falklands War.
24 August 2016 • 6:34am
Israel sold weapons to Argentina at the height of the
Falklands War
in 1982, according to newly declassified Foreign Office files.
British diplomats cited evidence that Israel had supplied the Argentine military junta with arms that were used against the Task Force during the campaign to liberate the islands.
Israeli military exports before the war included the Skyhawk jets that would later be used to bomb British warships, killing dozens of soldiers, sailors and marines.
Four British warships were sunk by bombs dropped from Skyhawks, including RFA
Sir Galahad
, a troop carrier that was set ablaze while anchored in Bluff Cove, killing 48 sailors and soldiers. Simon Weston, the badly burned veteran, was among the survivors. Another four ships were damaged by Skyhawks.
Prince Charles talking to Guardsman Simon Weston of the Welsh Guards
A book published in Argentina in 2011 exposed how Israel armed General Galtieri's junta, dispatching weaponry to Buenos Aires on secret cargo flights routed through Peru. The Foreign Office files provide further evidence.
The documents state that Israeli military exports to Argentina continued after the Falklands War and were still happening in 1984. By then, Israel had abandoned its previous policy of denying that any weapons sales were taking place.
Instead, the country's argument was that deals with Argentina were essential to sustain its domestic arms industry – and Britain was also supplying munitions to Israel's enemies in the Arab world.
A memorandum from C.W. Long, then head of the Near East and North Africa Department at the Foreign Office, states: "Israel was one of the few countries to supply Argentina with arms during the Falklands conflict and has continued to do so."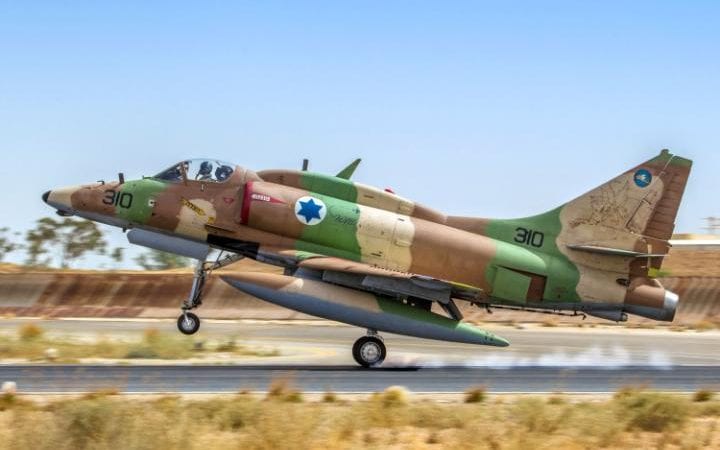 Israeli Air Force A-4 Skyhawk
The document, released by the National Archives and dated Nov 16, 1984, adds that Israel was, at that time, poised to sell Argentina spy planes designed to gather electronic and signals intelligence. The document states that Sir Geoffrey Howe, then foreign secretary, had personally asked Israel's government not to go ahead.
But Mr Long thought Israel would pay no attention. "I do not believe the Israelis are to be moved on this issue," he writes.
"This is not satisfactory, but Israeli interests in Argentina will outweigh any readiness they might otherwise feel to be helpful to us."
The document is filed alongside a copy of an article from a specialist journal stating that Israel had sold Skyhawk jets to Argentina's air force before the Falklands War.
In his book,
Operation Israel
, the Argentine journalist Hernan Dobry writes that Israel provided the spare parts and long range fuel tanks needed to keep these aircraft in action against the Task Force. When British diplomats confronted their Israeli counterparts with evidence of arms sales, they were met with blanket denials.
The official history of the Falklands War, written by Lawrence Freedman, states: "British troops entering Port Stanley at the end of the war came across Israeli equipment."
The Falkland Islands - by numbers Play! 01:03
Menachem Begin, then Israel's prime minister, had begun his career as commander of the Irgun, the Jewish underground which fought the British in Palestine in the 1940s.
A fellow Irgun fighter, Dov Gruner, was hanged by the British in 1947. In
Operation Israel
, Mr Dobry suggests Begin saw arming Galtieri as a way of exacting revenge against Britain. After authorising the sale of weapons during the Falklands War, Begin reportedly said: "Dov up there is going to be happy with the decision."
Falklands War 1982 | British ships sunk or damaged by Skyhawks
Wednesday 21st May
HMS Glasgow


Royal Navy Memories


Damaged by an unexploded bomb dropped by Skyhawks.


Friday 21st May
HMS Argonaut


HMS Argonaut Association
Damaged by two unexploded bombs dropped by Skyhawks.


Friday 21st May
HMS Ardent


Broadsword 82 Gallery
Severely damaged by bombs dropped by Skyhawks and sank the following day.


Sunday 23rd May
HMS Antelope


Dmgerrad
Damaged by unexploded bombs dropped by Skyhawks. She sank the next day when one bomb subsequently exploded.


Tuesday 25th May
HMS Broadsword


Olmeda by Jan Cox
Damaged by a bomb dropped by a Skyhawk.


Tuesday 25th May
HMS Coventry


Chris Howell
Sunk by three bombs dropped from a Skyhawk in the same attack in which HMS Broadsword was damaged.


Tuesday 8th June
RFA Sir Galahad




John W Jockel
Set ablaze by bombs dropped by Skyhawks while she lay at anchor in Bluff Cove, killing 48 soldiers and sailors.


Tuesday 8th June
RFA Sir Tristam


Royal Auxiliary Historical Society reproduced with permission of the MOD
Damaged by a bomb dropped by Skyhawks in the same attack which crippled RFA Sir Galahad.
http://www.telegraph.co.uk/news/201...to-argentina-at-height-of-falklands-war-reve/