'Death to America' still? Iranians swap jokes on nuclear deal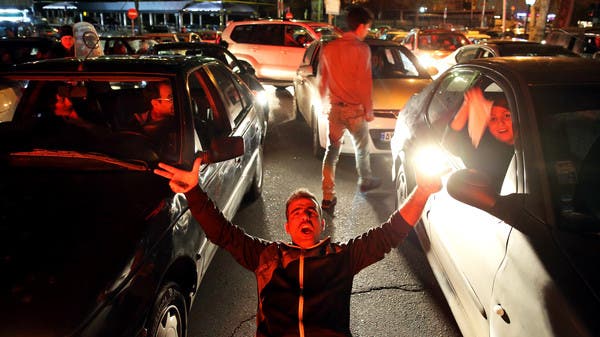 Iranians celebrate on the street of the Iranian capital Tehran after Iran and six world powers reached a framework agreement on its nuclear deal. (AP)​
Staff writer, Al Arabiya News
Saturday, 4 April 2015
After the Thursday announcement of six world powers reaching a deal with Iran over its nuclear program, Iranians have been using online platforms to trade a series of irreverent jokes, U.S.-based
Foreign Policy
magazine reported on Friday.
The jokes, which a source told the magazine, have been distributed around text-messaging apps such as Whatsapp and Viber, and take a jab at the country's conservative government and its numerous restrictions.
"I went to the store now and they still don't have whiskey! What kind of a deal is this?" goes one joke quoted by Foreign Policy, lamenting that a future easing in sanctions did not have the desired effect of allowing alcohol to be legally sold.
"Today is Friday. What shall we do today?? Should we say "Down to America" in Friday prayers or not?" reads another, referring to a chant common in the 1979 revolution which saw clerics take the helm of government.
Another joke poked fun at the Islamic republic's strict dress code. "Inform people that the deal is only focused on the nuclear issue. Make sure they don't come to the streets wearing only their tops and shorts,"
Radio Free Europe
reported.
Other jokes referred to the process of the deal, hammered out at a luxury $500-a-night hotel in Lausanne, Switzerland – where one senior delegate complained that the lengthy, uncertain timeframe of the talks and high laundry cost meant he was
running out of shirts
.
"A deal has been reached resolving all major points of contention–except that there is no agreement on the hotel bill. Zarif [Iran's foreign minister] says they should split the bill, while Kerry says Iran should pay for it as the negotiations were for Iran."
News of the framework deal, which could see the crippling sanctions on Iran removed in exchange for heavy limits on its nuclear program, was greeted with joy by Iranians, who lined the streets of the capital Tehran in celebration.
http://english.alarabiya.net/en/variety/2015/04/04/-Death-to-America-still-Iranians-joke-about-nuclear-deal-.html