The body of one of the victims at the Tunisian resort attack. (Courtesy: Twitter)
By Staff Writer | Al Arabiya News
Friday, 26 June 2015
A gunman opened fire at tourists at a beach resort in Tunisia on Friday, leaving at least 27 people dead, including foreigners, in what the authorities branded a "terrorist attack".
Witnesses described scenes of panic and confusion after the shooting at a hotel in the district of Sousse, about 140 kilometers (87 miles) south of Tunis.
The toll from the attack is "27 dead including tourists," Interior Ministry spokesman Mohamed Ali Aroui said without giving their nationalities.
"It was a terrorist attack" against the Marhaba hotel, he said. "The assailant was killed."
British tourist, Gary Pine said he was on the beach and heard what "we thought was firecrackers going off" 100 yards away, followed by an explosion from the next hotel complex along.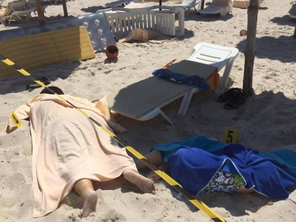 A picture distributed on social media shows two dead bodies lying near a deckchair on the beach (Photo courtesy of Twitter)
"There was a mass exodus off the beach," he told Sky News. He said his son said he had seen someone being shot on the beach.
He said guests at his hotel were first told to lock themselves in their rooms, and later to gather in the lobby.
Tunisia's Interior Ministry told journalists two gunmen had opened fire on a beach near two hotels in the coastal resort city of Sousse. Interior Ministry Spokesman Mohammed Ali Aroui said that one of the gunmen was killed and police are pursuing the other.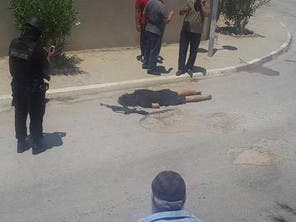 The body of one of the gunmen lies on the ground after a deadly attack on two Tunisian hotels. (Courtesy: Twitter).
Irish tourist Elizabeth O'Brien, told Ireland's RTE Radio she grabbed her two sons and ran for their lives when they heard gunfire.
She said: "We were on the beach, my sons were in the sea and I just got out of the sea.
"It was about 12 o'clock and I just looked up about 500 meters from me and I saw a (hot air) balloon collapse down, then rapid firing, then I saw two of the people who were going to go up in the balloon start to run towards me - because I thought it was fireworks.
A photo on social media shows Tunisian security forces on the beach at one of the resorts (Photo courtesy of Twitter)
"So, I thought 'oh my God, it sounds like gunfire,' so I just ran to the sea to my children and grabbed our things and as I was running towards the hotel, the waiters and the security on the beach started saying 'run, run run' and we just ran to our room, which is like a little bungalow."
Sousse is one of the North African country's most popular beach resorts, drawing tourists from Europe and neighboring countries.
Tunisia has been high alert since Islamist gunmen attacked the Bardo museum in Tunis in March, killing a group of foreign visitors.
Tunisia has been on high alert since March when Islamist militant gunmen attacked the Bardo museum in Tunis, killing a group of foreign tourists in one of the worst attacks in a decade in the North African country.
(With Agencies)
Last Update: Friday, 26 June 2015 KSA 17:03 - GMT 14:03
http://english.alarabiya.net/en/News/africa/2015/06/26/At-least-seven-killed-in-attack-on-two-Tunisian-beach-hotels.html