After bitter Iran row, Netanyahu gets White House invite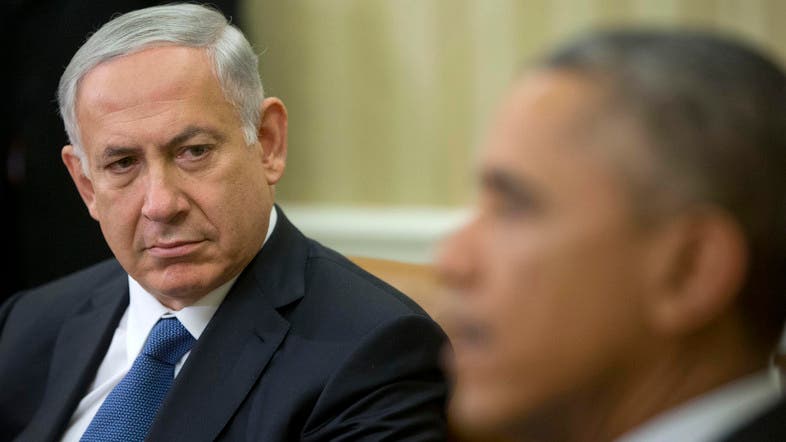 Israeli Prime Minister Benjamin Netanyahu listens as President Barack Obama speaks during their meeting in the Oval Office of the White House in Washington. (File photo: AP)
By AFP | Washington
Saturday, 12 September 2015
Israeli Prime Minister Benjamin Netanyahu is to visit the White House in early November, a U.S. spokesman said Friday, the first time he's been invited since a fierce row over the Iranian nuclear deal.
White House spokesman Josh Earnest said there was an "ongoing effort" to find an exact date for the meeting, but that it would be a chance to deepen cooperation.
"Despite our well known differences on even some key issues, the bond between the U.S. and Israel when it comes to our security relationship is unshakable," he said.
U.S.-Israeli relations are at one of their lowest points in decades, fueled by animosity between Obama and Netanyahu.
After years of frosty relations, Netanyahu stridently opposed a deal championed by Obama as the best way of preventing Iran from getting a nuclear weapon.
The Israeli prime minister described the accord, an important piece of Obama's foreign policy legacy, as a "stunning, historic mistake."
The White House regarded Netanyahu's appearance before a joint session of Congress in April to call directly on U.S. lawmakers to scupper the deal, as an affront.
Obama pointedly refused to meet Netanyahu when he was in Washington to make the address.
The two men clashed again during Nethanyahu's re-election campaign, when he rejected a two-state solution.
In the midst of a bitter and sometimes personal dispute, Netanyahu insisted his opposition is "not about me and it is not about President Obama, it's about the deal."
But with the deal now safely through Congress, Obama appears ready to smooth over relations.
Netanyahu is also under pressure to mend ties with Israel's chief security guarantor and closest ally.
President Reuven Rivlin accused Netanyahu this week of missing several chances to repair ties with Washington.
Rivlin said he and the prime minister "exhausted the subject of differences of opinion" on relations with the outside world and were now meeting less frequently.
The White House has floated the idea of a deeper security compact with Israel, but has said the offer has not yet been taken up.
"The president has indicated on a number of occasions his desire to begin consultations with our Israeli allies about how to further deepen that cooperation," Earnest said.
"We're looking forward to doing that."
Last Update: Saturday, 12 September 2015 KSA 10:11 - GMT 07:11
http://english.alarabiya.net/en/News/middle-east/2015/09/12/After-bitter-Iran-row-Netanyahu-gets-White-House-invite.html