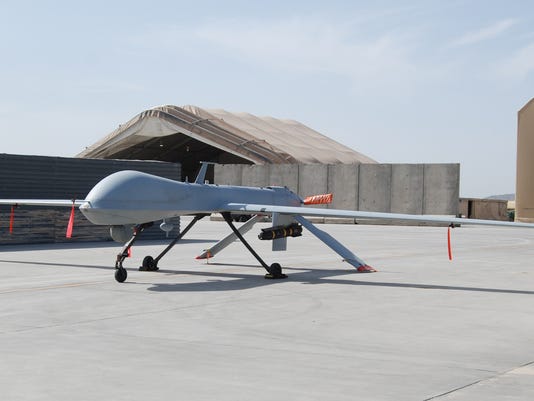 The Air Force has acknowledged that an MQ-1B Predator, lost March 17 during an intelligence flight over Syria, was shot down.
While Syria's official news agency at the time claimed the remotely piloted aircraft was shot down, U.S. Defense Department officials only would say the drone was lost, and didn't provide additional information because the incident was under investigation.
The Air Force this week posted a news story online about a web-based application used by intelligence experts to share information collected by remotely piloted aircraft. The application, the Air Force wrote, was adjusted in March after "a deployed MQ-1 was shot down over Syria" near the coastal town of Latakia..
The Air Force story did not say if the aircraft was shot down by Syrian forces or fighters with the Islamic State group. At the time, Syrian state media claimed the aircraft was shot down by Syrian air defenses. If correct, the shoot down contradicts Air Force and Pentagon claims that throughout the air campaign Syrian air defenses have been "permissive."
Lt. Gen. John Hesterman, the combined forces air component commander for Operation Inherent Resolve, told reporters during a briefing June 5 that "so far, (the regime has) chosen not to engage coalition aircraft, which I think is very wise of them."
The Air Force has repeatedly claimed that the Bashar al-Assad regime has not actively used air defenses throughout the operation, though the service regularly uses F-22-led fighter escorts for bombers on sorties in Syria as protection.
The March shoot down was among the first times remotely piloted aircraft had been shot at, Stephen Coffey, the web innovations deputy director in the intelligence, surveillance and reconnaissance innovations directorate for headquarters Air Force at the Pentagon, said in the service's release.
"Applying technology without the skill craft … had atrophied for us, since RPAs had not been shot at for 20 years," Coffey said in the release. "Time was not our friend in this particular case, so it's important that we had an early adoption of the technology."
In March, a senior defense official told USA Today that Syria "likely" shot down the Predator. The official spoke on the condition of anonymity because the incident was under investigation.
The Air Force has not yet released an accident investigation board report on the mishap. It is not clear if a safety investigation board report, a classified investigation into a mishap, has been finalized. Public reports on aircraft lost during operations typically are released more than nine months to a year after the mishap.
Air Force MQ-1B Predators and MQ-9 Reapers have been active in Operation Inherent Resolve in both Iraq and Syria. The aircraft have flown 3,300 sorties, and conducted 8,875 airstrikes in the battle as of June 16, according to the Air Force.
Air Force: Lost Predator was shot down in Syria