All eyes on ISIS in 2014, but was this Assad's plan?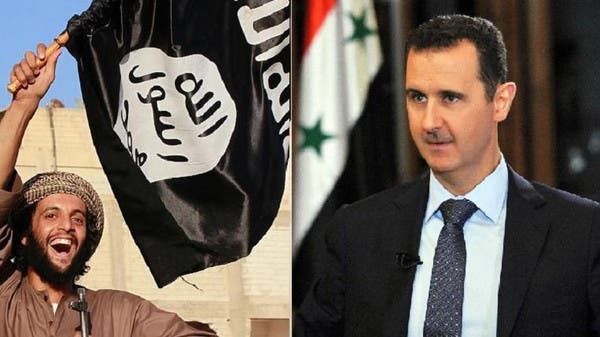 ANALYSIS: Has a massive propaganda push in recent years seen Assad positioning him as an alternative to ISIS? (Photo: Facebook/ Reuters)​
By Eman El-Shenawi
| Al Arabiya News
Wednesday, 31 December 2014
As 2014 ends, it appears the ISIS threat has largely diverted the West's attention from Syrian President Bashar al-Assad. But could the entrenched leader have planned this all along?
Analysts say a massive
propaganda push
in recent years saw Assad positioning him as an alternative to the terror group, now controlling swathes of territory in Iraq and Syria.
Voicing his warnings about ISIS, Assad's PR comeback began in early 2013, notably in an interview with the
Sunday Times
.
He had been attempting to target the "
Western psyche
" with a flurry of interviews in top British and American TV stations and newspapers.
"The regime had been taking advantage of ISIS' existence, no doubt," Muddassar Ahmed, a London-based political and public relations analyst, told Al Arabiya News.
"He wanted the world to see that he is secular and moderate and that he is the only credible alternative to ISIS."
Previously, Assad has been known to use lobbyists in major Western capitals to push for keeping him, reportedly using public relations firm
Brown Lloyd James
(BLJ) to help smooth out the regime's image amid global anger at its brutality during the early stages of the 2011 uprising.
But fast forward to 2014, and it's ISIS's brutality now in the spotlight.
Attacks against foreign hostages, opposition fighters and minorities meant the group shot to the top of a U.S.-led coalition's enemy list.
'Lesser of two evils'
Following the proclamation on June 29 of ISIS's "
caliphate
", the Assad regime began
hedging its bets
on becoming the West's lesser of two evils.
"Assad can present himself as the lesser of two evils or as a solution, but he is not," Dr. Joseph A. Kéchichian, an American scholar, historian and political scientist, told Al Arabiya News.
"Many Syrians still oppose him and ingratiating himself through interviews with Western media outlets does not mean much.
"He will not be able to win any brownie points, although he hoped for this," Kéchichian added.
2014 has seen an empowered ISIS frequently release images of conquests in Iraq and Syria. (AFP)
The Syrian regime has been prominently accused of boosting ISIS earlier on in the Syrian revolution, allegedly releasing many ISIS leaders from Assad's jails
"In 2011, the majority of the current ISIS leadership was released from jail by Bashar al-Assad," Mohammed al-Saud, a Syrian dissident with the National Coalition for Syrian Revolutionary and Opposition Forces told
Newsweek
earlier this year.
In a scathing report last January, Western intelligence sources and activists told the Daily Telegraph that ISIS militants had been ordered released to fight the FSA and other anti-regime groups in order "
to persuade West the uprising is terrorist-led
."
Aron Lund, editor of Syria in Crisis, a website used by the Carnegie Endowment to monitor the war, told the newspaper: "The regime has done a good job in trying to turn the revolution Islamist."
He added: "The releases from Sednaya prison [near Damascus] are a good example of this. The regime claims that it released the prisoners because Assad had shortened their sentences as part of a general amnesty. But it seems to have gone beyond that. There are no random acts of kindness from this regime."
Sidelining the Assad threat
Now with coalition airstrikes targeting ISIS since August, it's essential to ask whether the West has sidelined the Assad threat.
"The United States and its allies are concentrating on ISIS, while not significantly backing a moderate alternative to the group in Syria," Dr Walid Phares, an advisor to the U.S. Congress on the Middle East, told Al Arabiya News.
Indeed, U.S. support for the moderate opposition fighting Assad appears to be slacking. Earlier this month, Hadi al-Bahra, head of the opposition Syrian National Coalition,
said
Western plans to train and equip moderate rebels in Syria would not start until at least late Feb. 2015.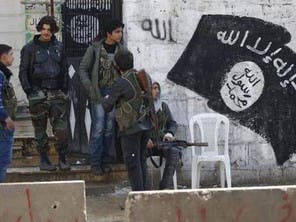 Free Syrian Army fighters stand at a former base used by fighters from the Islamic State in Iraq and Syria (ISIS), after ISIS withdrew from the town of Azaz, near the Syrian–Turkish border, on March 11, 2014. (Reuters)
This is a blow to the urgent support needed to counter both ISIS and Assad's forces. "By not backing a moderate alternative to ISIS in Syria, the day this terror group will be weakened, it'll be the Assad regime forces that fill that gap," Phares said.
Another question the crisis poses is whether the current anti-terror push is making up for lost time.
ISIS achieved military success in March 2013 when it took over the Syrian city of Raqqa. In Jan. 2014 it took control of Fallujah, in the western Iraqi province of Anbar.
However, it was the group's conquests of the Iraqi cities of Mosul, Samarra and Tikrit in June 2014 that sent tremors around the world.
"Before 2014, the West had ignored ISIS for a long time," Ahmed said.
"They didn't see them as a credible threat. It took a long time for the West to take ISIS seriously."
A boost for Assad?
As the curtains close on 2014, analysts say the U.S.-led war against ISIS may transpire into a major,
unintentional boost for Syrian regime forces
next year.
"No doubt the Syrian regime will benefit from the war against ISIS, a war fought by the international coalition and not only the Syrian regime," a Lebanese security source, who has been in close contact with Syrian officials,
told
Reuters news agency.
This was not lost on Pentagon chief Chuck Hagel. In October, he warned that Assad may "
benefit
" from the U.S.-led airstrikes, though Hagel added that Washington was pursuing a long-term strategy, opposing any role for Assad in a future Syria.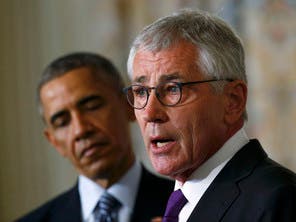 Chuck Hagel has warned that Assad may "benefit" from the U.S.-led airstrikes. (Reuters)
However, a month later Hagel's
leaked condemnation
of this long-term strategy made the headlines and was followed by his ouster.
Phares said if "no significant change occurs in U.S. foreign policy toward Syria soon, 2015 will see a continuous widening of ISIS operations in that country."
This "would mostly be at the expense of the moderates of the Free Syrian Army and minorities, while the Assad regime would be strengthening its positions in Damascus and the northeast."
Joining forces?
The U.S.-led military intervention, ISIS's ongoing rampage and militant
infighting
are perhaps the most determining factors pushing the Syrian civil war into the shadows.
As of Dec. 2, more than
200,000 lives
had been lost since anti-Assad protests first erupted in March 2011.
However, Syrian officials cite ISIS's spread across Iraq and Syria as "proof" that they have been battling against "
terrorists
," not protesters or opposition forces.
In September, the Syrian government jumped at the
prospect of a counterterror partnership with the United States,
following President Barack Obama's threat to "degrade and destroy" ISIS.
The group seemingly became a common enemy, despite reports that Assad had
turned a blind eye
to it earlier in the Syrian crisis following the alleged release of ISIS militants.
While partnership offer was officially met with a cold American shoulder, observers say this indicates Syrian confidence that Assad is no longer in the firing line.
Still on the offensive
In recent months, coalition warplanes have bombed ISIS strongholds and positions in Syria. At the same time, Assad's military has intensified its bombing of rebel groups such as the FSA.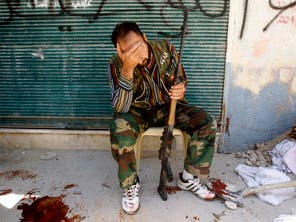 A Free Syrian Army fighter reacts after his friend was shot by Syrian Army soldiers during clashes in the Salah al-Din neighbourhood in central Aleppo. (File photo: Reuters)
In October, Syrian warplanes dropped bombs, including steel drums packed with explosives and shrapnel, over Hama, Idlib, Homs and Aleppo provinces, as well as around Damascus, according to the
Syrian Observatory for Human Rights
.
In an attempt to refocus on Assad, senior White House officials in November said he must be removed in order for ISIS to be defeated.
"Developments on the ground have caused the national security team to collectively conclude we may not have time for 'Iraq first'," the senior sources told
CNN
.
"The long-running Syria problem is now compounded by the reality that to genuinely defeat [ISIS], we need not only a defeat in Iraq but a defeat in Syria."
Still, while the United States and its allies have been busy with ISIS, Syrian forces continue to bomb rebel groups that
Washington considers its allies
.
The West's fear of ISIS has trumped the threat posed by Assad, despite an international outcry over his regime's use of barrel bombs and chemical weapons against Syrian civilians.
"Two forces will be growing in 2015: ISIS and Assad, unfortunately not the moderates," said Phares.
"ISIS will be hit hard from the air, but you'd need a force on the ground to replace it. Is the moderate opposition ready? If it isn't, who's ready? The regime is."