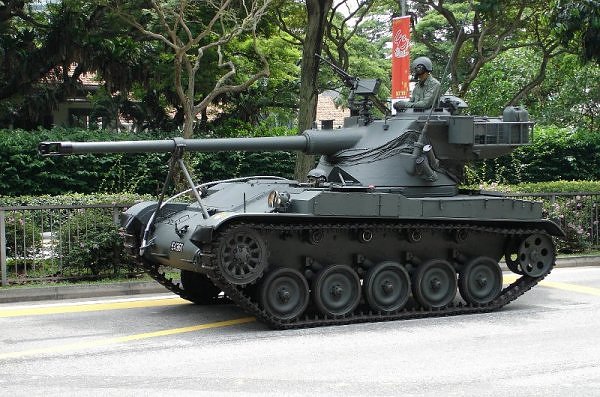 The
AMX-13
is a
French
light tank
produced from 1953 to 1985. It served with the French Army, as the
Char 13t-75 Modèle 51
, and was exported to more than 25 other nations. Named after its initial weight of 13 tonnes, and featuring a tough and reliable chassis, it was fitted with an
oscillating turret
built by GIAT Industries (now
Nexter
) with revolver type magazines, which were also used on the Austrian
SK-105 Kürassier
.
Type
Light tank
Place of origin
France
Service history
Wars
Suez Crisis
Algerian War
Sand War
Dominican Civil War
Indo-Pakistani War of 1965
Six Day War
Yom Kippur War
Western Sahara War
Lebanese Civil War
Production history
Designer
Atelier de Construction d'Issy-les-Moulineaux
Designed
1946
Manufacturer
Atelier de Construction Roanne
Produced
1952–1987
No. built
7,700 (Total)
3,400 (Exported)
4,300 (Used in French military)
Specifications
Weight
13.7 t (30,000 lb) empty
14.5 t (32,000 lb) combat
Length
4.88 m (16 ft 0 in) hull
6.36 m (20 ft 10 in) with gun
Width
2.51 m (8 ft 3 in)
Height
2.35 m (7 ft 9 in)
Crew
3 (Commander, gunner and driver)
Armour
10–40 mm (0.39–1.57 in)
Main
armament
75 mm (or 90 mm or
105 mm
) with 32 Rounds
Secondary
armament
7.5 mm (or 7.62 mm) coaxial MG with 3,600 Rounds, 7.62 mm AA MG (optional), 2×2 smoke grenade dischargers
Engine
SOFAM Model 8Gxb 8-cyl. water-cooled petrol
250
hp
(190 kW)
Power/weight
15 hp (13.9 Kw) / tonne
Suspension
Torsion bar suspension
Operational
range
400 km (250 mi)
Speed
60 km/h (37 mph)
Weaponry
Initially, the tank had a 75 mm (2.95 in) rifled gun, and overall 2,000 vehicles of this configuration were built for the French Army. In the course of modernization in 1965, a new 90 mm (3.54 in) rifled gun was mounted on a modified FL-10 turret. This gun had a new muzzle brake and heat insulated housing. Five types of ammunition were used, standard armor-piercing (APFSDS), anti-personal canister, high explosive (HE), cumulative (HEAT) and smoke. 32 shots were stored, 21 inside the turret and 11 in barillets. The tank had two 7.62 mm (0.3 in) machine guns (one coaxial and one in an anti-aircraft mount) fed with 200 round bands, 3600 rounds stored in all.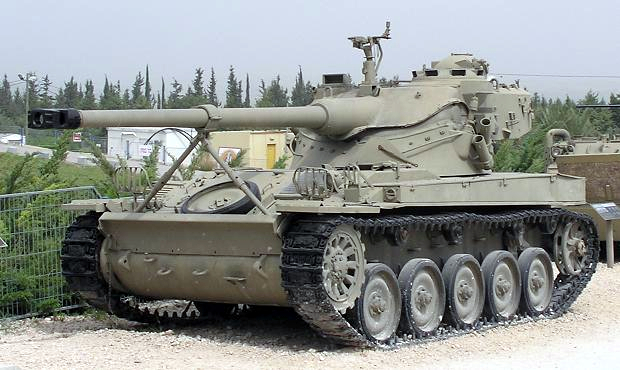 Protection
The AMX-13 protection was quite weak compared to its firepower. It was made of regular bulletproof reinforced steel sheets, with a frontal thickness of about 40 mm (1.57 in), whereas the sides and turret were 20-25 mm (0.79-0.98 om), the rear 15 mm (0.59 in), while the turret top, hull deck and bottom were only 10 mm (0.39 in) thick. Only the frontal armor was able to withstand heavy machine-gun and small autocannon projectiles, the rest of the tank being vulnerable to most projectiles. The AMX-13 was not protected NBC, and night vision was optional.
Creusot-Loire attempted to create additional armor panels for the AMX-13. A complete set weight weighted some 650 kg (50 kg for each section). Additional armor could be installed by the crew in the field, on the front and upper side parts of the hull and turret. Fully installed add-on armor provided 20 mm (0.79 in) extra thickness.