LONG RANGE DUTIES
- Engaging aircraft, CMs, AGMs, etc but leaving lower priority targets to shorter range systems
FD-2000
- Advanced long-range air defense missile weapon system designed and manufactured by the Chinese Defense Company CPMIEC. It can perform air-defense engagement mission in massive air raid under intense electronic jamming. It can intercept not only aircraft, armed helicopter and UAV, but also cruise missile, air-to-ground missile and stand-off precision guided bomb. The FD-2000 is used as air-defense system to protect political, military and economic facilities.
It is a two-stage missile. The first stage has a diameter of 700 mm and the 2nd stage 560 mm, with a total mass of almost 2 tons and a length of 6.8m. The missile is armed with a 180 kg warhead, has a maximum speed of Mach 4.2. and has a maximum range of 125 km up to an altitude of 27 km. The missile has a proximity fuse with an effective range of 35 m, which goes active when the missile is 5km away from its target.
A battery of FD-2000 consists:
- 1 Command and coordination vehicle
- 6 Command and Control vehicle
- 6 Target designation radar
- 6 guidance radar vehicle
- 48 Missile launching vehicle
- 198 missile in container
- 1 set of positioning and orientation vehicle
- 1 set of communication vehicle
- 1 set of power supply vehicle
- 1 set of support equipment

MEDIUM RANGE DUTIES-
Engaging aircraft, CMs, AGMs, etc that got through FD-2000s coverage, or was too low priority for engagement.
HQ-16
-
The HQ16A (LY-80) missile can
intercept aerial flying target at an altitude from 15 m to 18 km, while its maximum interception range for combat aircraft is 40 km
, and between 3.5 km and 12 km for cruise missiles flying at an altitude of 50 meters at a speed of 300 meters/second. Single-shot kill probability is a claimed figure of 85 per cent against combat aircraft, and 60 per cent against cruise missiles. The missile guidance system is of the composite type, comprising initial independent inertial guidance and intermittent illumination and semi-active homing terminal guidance. The missile has a length of 5.2 m, a weight of 650 kg and can fly at a maximum speed of 1,200 m/s.
The searching radar vehicle is equipped with solid-state S-band 3-D passive phased-array radar mounted on the top of a mast. When the target is detected, the searching radar vehicle performs automatic IFF (Identification Friend-or-Foe), threat judgment, flight path processing and provide target engagement information for the tracking-and-guidance radar. The S-band radar has a range of 140 km and can detect targets flying at an altitude of 20 km.
The tracking and guidance radar vehicle performs target acquisition and tracking, and identification of target types. It also controls the missile launching and illuminates the target after the missile is fired. L-band passive phased-array radar is mounted at the rear of the vehicle and has a range of 85 km. The L-band radar can detect up to six targets and track four of them, and provide fire-control/guidance for up to eight missiles.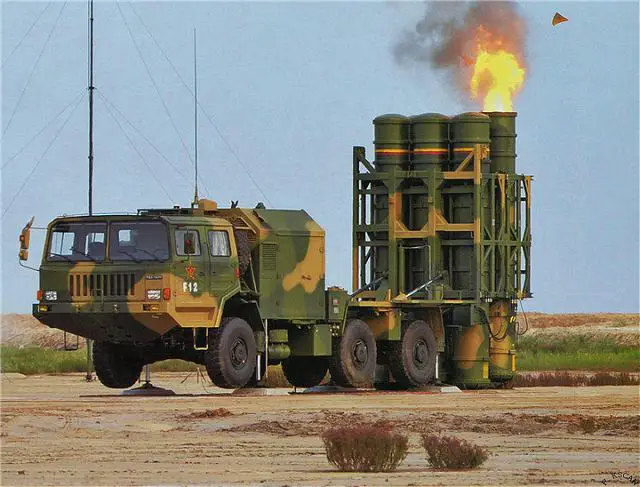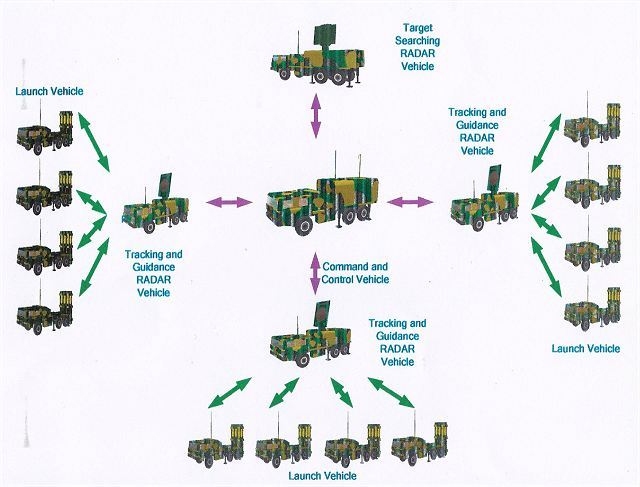 SHORT RANGE DUTIES-
Engaging UAVs, CMs, AGM, PGMs, etc, that gets through HQ-16s coverage.
FM-90-
The HQ-7B is the latest version of the Crotale, based on an indigenous 6x6 armored chassis. It was first revealed somewhere in 2009. This air defense system is widely used by the Chinese armed forces. It is also being proposed for export customers as the FM-90.
The missile is 3 m long and weight 84.5 kg. It has a solid fuel rocket motor. It gives the missile a maximum speed of 900 m/s and a range of 15 km. It can engage helicopters, aircraft, cruise missiles, air-to-ground missiles and anti-radiation missiles at a range of up to 15 km. Minimum range of fire is 700 m. Maximum altitude is 6 000 m. Missile has a 15 kg High-Explosive Fragmentation (HE-FRAG) warhead with contact and proximity fuses. It is claimed that a hit probability with a single shot is more than 85%.
The TELAR vehicle is operated by a crew of three. Armor of this vehicle provides protection against small arms fire and artillery shell splinters. It has improved mobility over previous versions, based on 4x4 chassis. Hence it is more versatile, as the original French Crotale was developed as a point defense system. It not intended to follow infantry or mechanized units, so mobility for the French designers was not priority.
Acquisition radar is based on the same 6x6 armored chassis, as the launcher vehicle. It is more capable unit, than on the previous versions of the HQ-7. It is fitted with an S-band Active Electronically Scanned Array (AESA) antenna. It can detect up to 48 targets and track up to 24 targets simultaneously. Maximum detection range is 25 km. Maximum tracking range is 20 km.
It seems that a battery of HQ-7B consists of one vehicle with acquisition radar and three TELAR vehicles. Also each battery is supported by a maintenance group with 10 support vehicles.
In Bangladeshi service already...
Battery is 3 TELARs, 12 missiles, and one acquisition radar.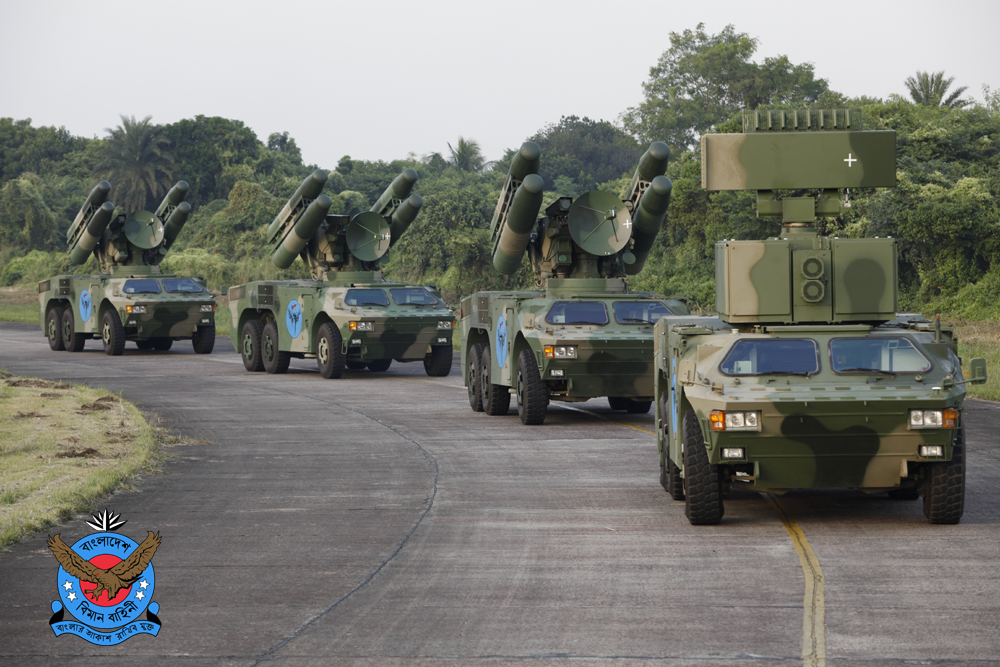 VERY SHORT RANGE DUTIES-
This would be used mostly against incoming projectiles the radar couldn't see, or that couldn't be engaged well.
FN-16-
FN-16 is an improved version of the FN-6. It was first publicly revealed in 2008. This missile has improved imaging infrared seeker. In addition to original infra red guidance it also incorporates UV guidance. Such practice was adopted in the later version of the
Stinger
. The missile is longer and can do a 16 g turns. Overall the FN-16 has improved attack capabilities and improved resistance to electronic countermeasures. The range has been extended to 6 000 m. When fitted with friend-or-foe identification system it is designated as the FY-16. The FN-16 has been exported to Bangladesh and Cambodia.