Barack Obama admits 'mistakes' in Libya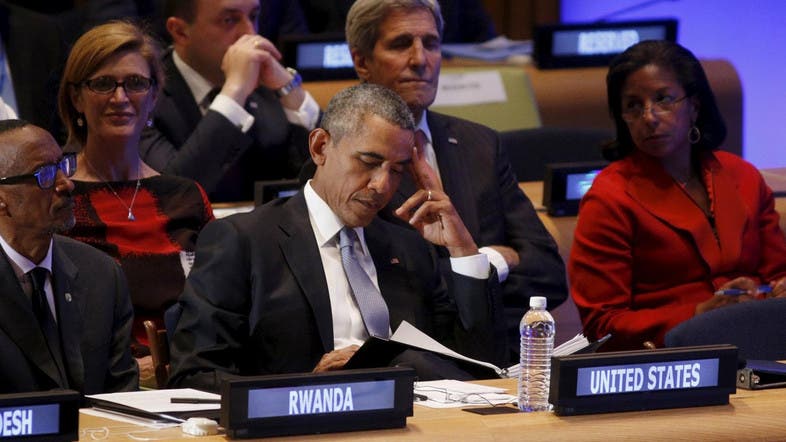 U.S. President Obama looks down during the Leaders' Summit on Peacekeeping at the United Nations General Assembly. (Reuters)
By Reuters | United Nations
Tuesday, 29 September 2015
U.S. President Barack Obama said on Monday the international community should have done more to avoid a leadership vacuum in Libya, which has been in disarray since the fall of Muammar Qaddafi four years ago.
Obama told the United Nations General Assembly the international community must work harder in future to ensure states do not implode.
The rapid descent of Libya into violent chaos was one of the most dramatic events in the "Arab Spring," the abrupt collapse of long-standing autocratic governments in a number of Arab countries in the face of popular protests.
"Even as we helped the Libyan people bring an end to the reign of a tyrant, our coalition could have and should have done more to fill a vacuum left behind," Obama said.
His rare acknowledgement of mistakes in Libya's transition came as the United Nations tries to negotiate an end to fighting between two rival governments and their armed backers which has pushed the country to the brink of collapse.
The U.N. General Assembly on Monday was dominated by discussion of the turmoil in Syria, which erupted after an uprising against President Bashar al-Assad. The United States and Russia have traded accusations about responsibility for the violence.
Russian President Vladimir Putin blamed the chaos in the region, including in Libya, on the sudden removal of the old leaders, and said this was creating many recruits for the Islamic State militant group.
Moving forward
"It is now obvious that the power vacuum created in some countries of the Middle East and North Africa led to emergence of anarchy areas. Those immediately started to be filled with extremists and terrorists," Putin told the assembly.
Russia accused the United States and its European allies of tricking fellow Security Council members and using a mandate to protect civilians as a cover for providing support to Libyan rebels and ousting Qaddafi, who was subsequently killed.
Moving forward, Obama told the assembly: "We will help any legitimate Libyan government as it works to bring the country together, but we also have to recognize that we must work more effectively in the future as an international community to build capacity for states that are in distress before they collapse."
Since last year, Tripoli has been controlled by Libya Dawn, an alliance of Islamist-leaning former militias and a powerful armed faction from the city of Misrata that set up a self-declared government and parliament in the capital.
The internationally recognized government and elected parliament has worked out of the east of the country since its armed allies were driven out of the capital, which is in the northwest.
Last Update: Tuesday, 29 September 2015 KSA 08:36 - GMT 05:36
http://english.alarabiya.net/en/News/middle-east/2015/09/29/Obama-admits-mistakes-in-Libya.html