Background
Battle of Tannenberg was the first big battle that took place on the eastern front. At the start of WW1 Germany sent majority of it's troops to the western front leaving only one field army in the east the 8th Army under General Prittzwitz. Germans played a gamble here they thought of finishing off the war on West in six weeks the same time Russian army will take to mobilize it's divisions. But the Germans got into trouble when the Russians sent their troops into East Prussia on 15/16th Aug.
Stunned by this Germans launched an offensive on 17th Aug 1914 despite the strict orders of high command to 8th Army of staying static and not launching any offensive two battles occurred between 17-22 Aug
The Battles of Stalluponen and Gumbinnen
this offensive turned out to be a disaster for Germans the attack was repulsed Prittzwittz decided to retreat and abandon East Prussia and telephoned Moltke Chief of Army staff who than replaced Pritzwittz and his subordinate Waldersee with Paul Von Hindenburg and Erich Ludendorff.
Commanders
German Empire
: Paul Von Hindenburg (Commander), Erich Ludendorff (Chief of Staff) and Max Hoffmann (Chief of Operations)
Russian Empire
: Alexander Samsonov (Commander 2nd Army) and Paul Von Rennenkampf (Commander 1st Army)
Numbers
:
German Empire:
8th Army,
Main force
I Corps
(2 divisions)
XVII Corps
(2 divisions)
XX Corps
(2 divisions)
XI Corps
(4 divisions)
Reserve:
Guards Reserve Corps (2 divisions)
I Reserve Corps
(5 divisions)
Total men
: 150,000
Had a few more small size brigades/divisions and later 3 more divisions and a brigade as reinforcements from Western Front.
Russian Empire:
1st Army,
Main Force:
II Corps
(2 divisions)
III Corps
(2 divisions)
IV Corps
(2 divisions)
XX Corps
(2 divisions)
8 independent divisions and 1 independent brigade.
2nd Army,
I Corps
(2 divisions)
VI Corps
(2 divisions)
XIII Corps
(2 divisions)
XV Corps
(2 divisions)
XXIII Corps
(2 divisions)
3 independent divisions and 2 independent brigades.
Total men
: 230,000
German Plan:
Prittzwitz now as we know was preparing to retreat but his chief of operations Col. Hoffmann proposed a bold plan that instead of retreating and putting 8th army in a more dangerous position he proposed that 8th army should concentrate on unsuspecting 2nd Russian army (Under Samsonov) Prittzwitz was convinced. New commanders arrived on 23rd of Aug at 14:00 after taking over the command of 8th army both the commanders reviewed the plan and approved it.
Thanks to the open Russian channels Germans were able to hear their orders and knew where which unit is gonna be and so I Corps was moved by rail from left to right to form a new flank opposite the left flank of 2nd Russian army. XX Corps was placed in the middle who's job was to hold out as long as possible this was also the weakest point in German line. While I Reserve Corps and XVII Corps moved to the left opposing the right wing of 2nd Russian army the plan was to encircle the 2nd army. A Cavalry division was used to screen the area between Konigsberg and 8th Army the situation was precarious for the Germans their extreme left flank was almost open and any attack by 1st Russian army would've meant encirclement and disaster for 8th army. German plan was to finish off the 2nd army and than turn towards 1st army.
Russians on the other hand suffered because of supplies and communication problem the Russian commanders were forced to use the wireless to communicate which were deciphered by the German intelligence. Germans almost always knew where Russian forces are where as the Russians were blind their intelligence was non-existent.
Early phases
A few small fights and skirmishes occurred between 23rd and 26th XX Corps was pushed back a bit by 2nd Army who's commander (Samsonov) didn't knew that he's actually facing 5 corps and that too on his flanks! I Corps was ordered to start attack on 25th but it's commander Francois resisted as artillery hasn't arrived yet despite the pressure from Hindenburg he delayed the attack till 27th because he wanted his guns to be in action.
Positions between 23-26 Aug red are Germans and blue Russians
Battle begins!
On 26th Aug 1914 XVII Corps and I Reserve Corps launched the ambitious attack of 8th army taking Samsonov's 2nd army by surprise both these corps continued to successfully push the Russians back (VI Corps) while in the center XX Corps against whom majority of 2nd Army was concentrated managed to hold out the fighting continued the whole day. The day turned out to be a success for 8th army tho Samsonov's army's left was still intact they failed to make much progress in center and now because of the retreat of VI Corps the left flanks of XV and XIII were open to attacks. Germans on the same day intercepted the order which stated that the Russian II Corps from 1st army is moving south to help Samsonov Germans reacting quickly sent in 1st cavalry division. Despite the success on the first day 8th Army commanders were panicky because of Rennenkampf's forces sending in reinforcements.
On 27th Aug fighting broke out again when I Corps artillery finally arrived and was in position to launch attack which it did and it was a success with an extremely heavy artillery barrage the town Usdau was taken while also hitting and pushing back the Russian I Corps. On the other side XVII and I Reserve Corps also launched attacks squeezing the Russians even more. While Samsonov unaware of situation of his flanks continued to hammer the German center with XV Corps but once again the German XX Corps gave just a little more ground instead of complete rout Russian forces were getting deeper and deeper into the trap the encirclement of Samsonov's army was now imminent.
"Moreover, we learned that it was only in the imagination of an airman that Rennenkampf was marching in our rear. The cold truth was that he was slowly pressing on to Konigsberg. Did he, or would he, not see that Samsonof's right flank was already threatened with utter ruin and that the danger to his left wing also was increasing from hour to hour?" -
Hindenburg
Usdau 27th Aug 1914
On 28th Aug Samsonov withdrew XIII Corps from Allenstein and re-directed them against the German line at Tannenberg this order was also intercepted by the Germans and they positioned the I Reserve Corps behind the XIII Corps and engaged them the fighting continued without any breakthrough on both sides meanwhile Samsonov also took command of XV Corps personally and also requested Rennenkampf to help him. He also ordered 2nd army to fall back tho it was too late now his flanks were in full retreat.
Situation between 27th and 30th
On 29th Aug the situation worsened even more retreating XV Corps ran into German lines while the German I Corps blocked the routes of retreats and pounded Russian positions thousands of Russians soldiers were surrendering now. The encirclement was almost complete.
On 30th Aug Russians committed fresh troops behind the German ring but reserves of I and XVII Corps managed to repulse these attacks Samsonov's army was annihilated. Those who were still outside the circle were ordered to retreat east this included Rennenkampfs 1st army tho Rennenkampf did tried to help him but the 1st Cav division interrupted his forces. That same night Samsonov went into the woods and committed suicide his body will be found an year late.
On 31st Aug Hindenburg formally reported to the kaiser that three Russian army corps (XIII, XV and XXIII) had been destroyed. The two corps (I and VI) that had not been caught in the cauldron had been severely bloodied and were retreating back to Poland. He requested that the battle be named Tannenberg.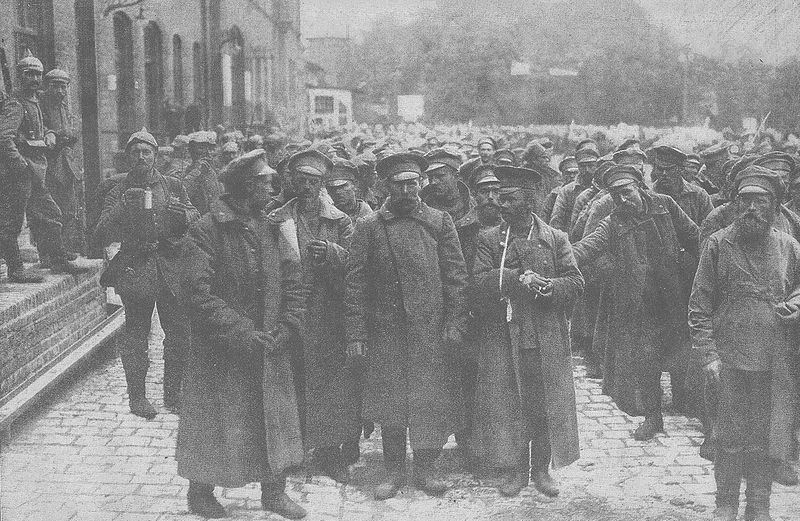 Russian prisoners of war at Tilsit railway station
Aftermath:
It was one of the most decisive victory's for the German Empire during WW1 8th army destroyed an entire Russian field army while being heavily outnumbered. Rennenkampf with his 1st army retreated back. Hindenburg became a hero after this battle.
Casualties:
Germans
: 10,000 to 12,000 men (KIA, WIA or MIA)
Russians
: 92,000 POW's, 78,000 KIA/WIA and only 10,000 escaped Russians also lost 350 guns.
References:
1
2
< For OOB
3
-----------------------------------------------------------------------------------------------------------------------------------------------------------------------------------------
Pfft and many people think (incl me at 1 time) that WW1 was all about boring trench warfare where lines barely moved this is what i call a BATTLE NOW!
@Nilgiri
@Joe Shearer
@Khafee
@Indus Falcon
and obv others!