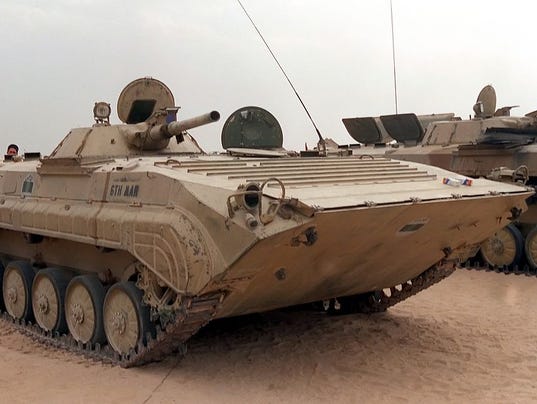 An Iraqi BMP-1 infantry fighting vehicle captured by US forces. Algeria is upgrading its fleet of BMP vehicles along with other upgrades.(Photo: US Marine Corps/Wikimedia)
WITBANK, South Africa — Russia's KBP Instrument Design Bureau says it has started upgrading 360 BMP-1 infantry fighting vehicles (IFVs) for the Algerian Army in a follow-up order to more than 400 upgraded IFVs recently delivered to the North African country.
Military observers view the rapid modernization drive as part of a larger Algerian effort to improve its land forces as it faces increasing political instability and security threats in the region, making it Africa's top weapon buyer and among the world's top 10.
Russian new agency ITAR-TASS quoted Vladmir Popov, director of KBP subsidiary Shcheglovsky Val, saying major upgrades will include the installation of a Berezhok combat suite, which comprises four 9M133 Kornet-E anti-tank missiles, an AGS-30 30mm automatic grenade launcher system, a 30mm 2A42 main gun designed for the BMP-2 and a PKT 7.62mm coaxial machine gun.
Additional modifications include a new fire-control system and day/night optics.
"Previously, more than 400 upgraded BMP-1s were delivered to Algeria. KBP has started to carry out the second part of the contract, for about 360 combat vehicles. An automatic tracking device and ability to launch anti-tank missiles in salvo mode are the features of the combat module.
"The Berezhok combat module demonstrated it is best in the environmental conditions of Algeria. This country successfully uses the upgraded BMP-1s. The cost-efficiency characteristics of the upgraded BMP-2 are very impressive and its combat potential is increased by several times, so a new-generation IFV can be obtained for a relatively insignificant price," Popov was quoted as saying.
There was no response to emails sent to the Algerian Defense Ministry and Army requesting comment.
The work is being done in the Algerian town of Blida, where Russian technicians are supervising the largely local workforce. The Russian company said it has so far upgraded and delivered more than 1,400 BMP IFV variants for the Algeria Army, which also operates an estimated 300 BMP-2s and at least 100 BMP-3s.
The second phase of the upgrade program comes as Algeria continues to strengthen its ground forces by modernizing existing equipment and acquiring more military transports and fighting vehicles.
In January, Algeria's National Company of Industrial Vehicles unveiled the first locally assembled version of the Mercedes Benz Zetros six-wheel-drive military truck at its factory in Algiers. The factory, which is a joint venture among the governments of Algeria, Germany and the United Arab Emirates, produced its first Mercedes Benz Actros four-wheel-drive trooper carrier in April of 2014. It plans to produce at least 2,000 military trucks for the Algerian Defense Ministry in five variants — namely Zetros, Actros, Atego, Axor and Unimog — by the end of this year.
The trination partnership operates two other vehicle assembly plants that will manufacture at least 2,000 mixed-use four-wheel-drive vehicles and 6,000 Mercedes Sprinter passenger vehicles annually when they enter full production phase next year. In March, one of the factories delivered 200 Mercedes Benz BA6 G Class four-wheel-drive vehicles to the Army and further deliveries are expected this year.
German company Rheinmetall also is setting up an armored vehicle assembly plant in-country to manufacture at least 980 Fuchs 2 six-wheel-drive vehicles for the Army starting this year. This is part of a 2014 arms deal estimated at nearly €3 billion (US $3.3 billion), in which Germany will deliver 1,200 Fuchs armored patrol vehicles to Algeria between 2015 and 2025.
In 2011, Germany exported 54 Fuchs six-wheel-drive armored patrol vehicles and last year approved the export of at least 88 militarized sport utility vehicles to the Algerian Army.
Recent Algerian ground forces replenishment orders included the acquisition of 101 Russian-made T-90 main battle tanks and 10 armored combat vehicles of unspecified make in 2013. Algeria reportedly has ordered at least 200 more T-90s from Moscow to boost its fleet to more than 300 as it modernizes its combat forces to deal with the resurgent regional threat of terrorism.
According to Francis Ghiles, a senior research fellow at CIDOB, a Barcelona-based think tank, Algeria's aggressive weapon procurement efforts are also informed by a desire to play a more active role in regional leadership.
"The weapons buying spree Algeria embarked on a decade ago was driven by changing regional circumstances. High income from oil and gas exports encouraged a fast build up, but what is new is that weapons do not only come from Russia but from countries which include Germany, Italy and the US. The Algerian Army is engaged in a three-pronged change which concerns the weapons it uses, the military doctrine it follows and its effects on its domestic politics and economics," Ghiles stated in a commentary published in March.
Further, he said changes in the regional security situation, Algeria's own experience with terrorism in the early 1990s and the recent advent of asymmetrical warfare in the Sahelian and Maghreb regions have forced the Algerian Army to modernize, become more professional and cooperate more with foreign countries.
BMP Upgrades Drive Algerian Modernization