To categorize is the most diffucult thing for BMP-3 and BMD-4. With their 100mm gun they are like a FSV, with 30mm gun IFV, or sometimes they are just APC.
For me personally, the most inspiring gun system and turret is BMP3 and BMD4s turret.
If I were able to built a armoured car, i would stick there this turret.
Its just emotional acknowlegment.
BMP-3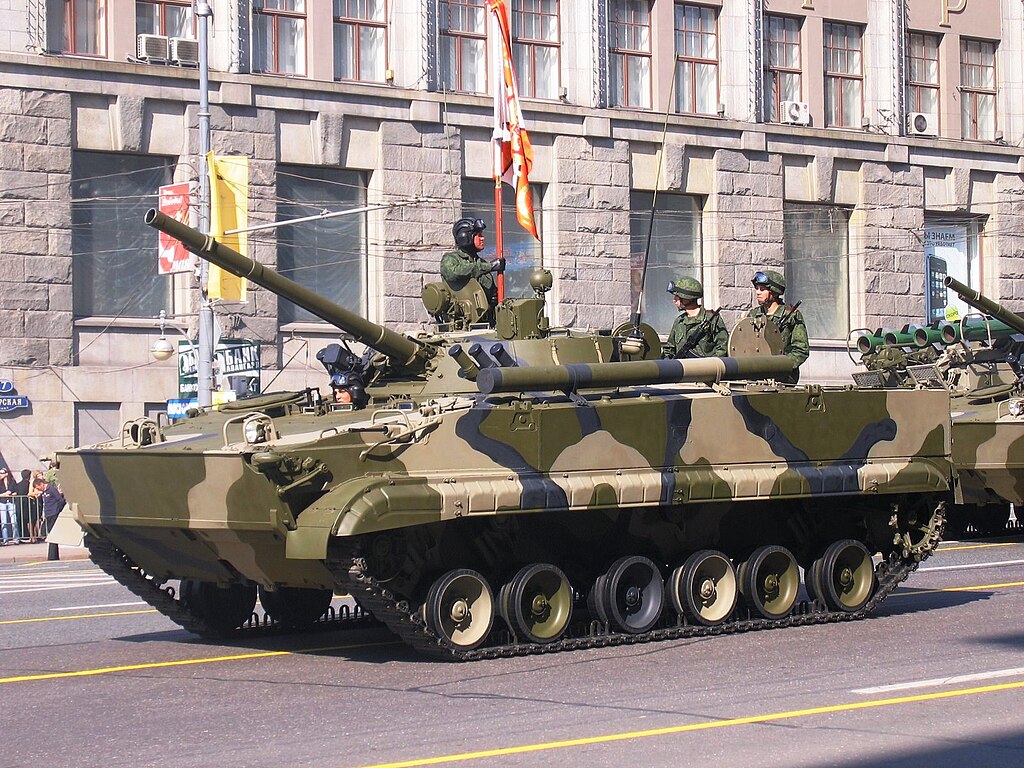 The
BMP-3
is a
Soviet
infantry fighting vehicle
, successor to the
BMP-1
and
BMP-2
. The abbreviation BMP stands for
Boevaya Mashina Pehoty
(Боевая Машина Пехоты, literally "Infantry Combat Vehicle").
The design of the BMP-3 or
Obyekt 688M
can be traced back to the
Obyekt
685 light tank prototype with 100 mm gun 2A48-1 from 1975.
[2]
This vehicle did not enter series production, but the chassis, with a new engine, was used for the next-generation infantry combat vehicle
Obyekt
688
[3]
from A. Blagonravov's design bureau. The Ob. 688 weapons configuration—an externally mounted 30 mm gun and twin
Konkurs
ATGM
launcher—was rejected; instead the new 2K23 armament system was selected. The resulting BMP-3 was developed in the early 1980s and entered service with the Soviet Army officially in 1987. It was shown for the first time in public during the 1990
Victory Day parade
and was given the NATO code
IFV M1990/1
.
The BMP-3 is designed and produced by the
Kurganmashzavod
("Kurgan Machine Building Plant") some variants however are built by the
Rubtsovsk
Machine Building Plant (RMZ), for example the BRM-3K.
In May 2015, the Russian Defense Ministry signed a three-year contract to receive "hundreds" of BMP-3 vehicles to maintain its armored vehicle force until its replacement, the
Kurganets-25
, completes research and development. In the process of the BMP-s serial production, the vehicle's design underwent 1,500 amendments.
In the Army-2017 show, the
Russian Defence Ministry
signed a contract covering the first deliveries of an unspecified number of BMP-3 infantry fighting vehicles (IFVs) fitted with the Epocha turret.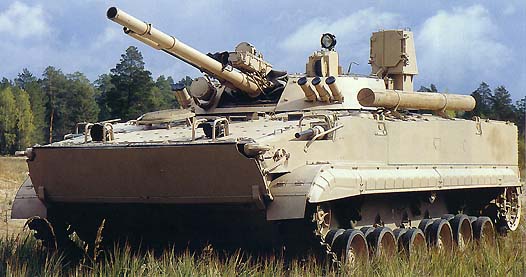 Service history
In service
1987–present
Used by
See
Operators
Wars
First Chechen War
,
Yemeni Civil War (2015)
Production historyManufacturer
Kurganmashzavod
No. built
2,000+
Specifications
Weight
18.7
tonnes
(18.4
long tons
; 20.6
short tons
)
Length
7.14 m (23 ft 5 in)
Width
3.2 m (10 ft 6 in)
Height
2.4 m (7 ft 10 in)
Crew
3 (commander, gunner, driver)
7 troopers (+ 2 additional seats)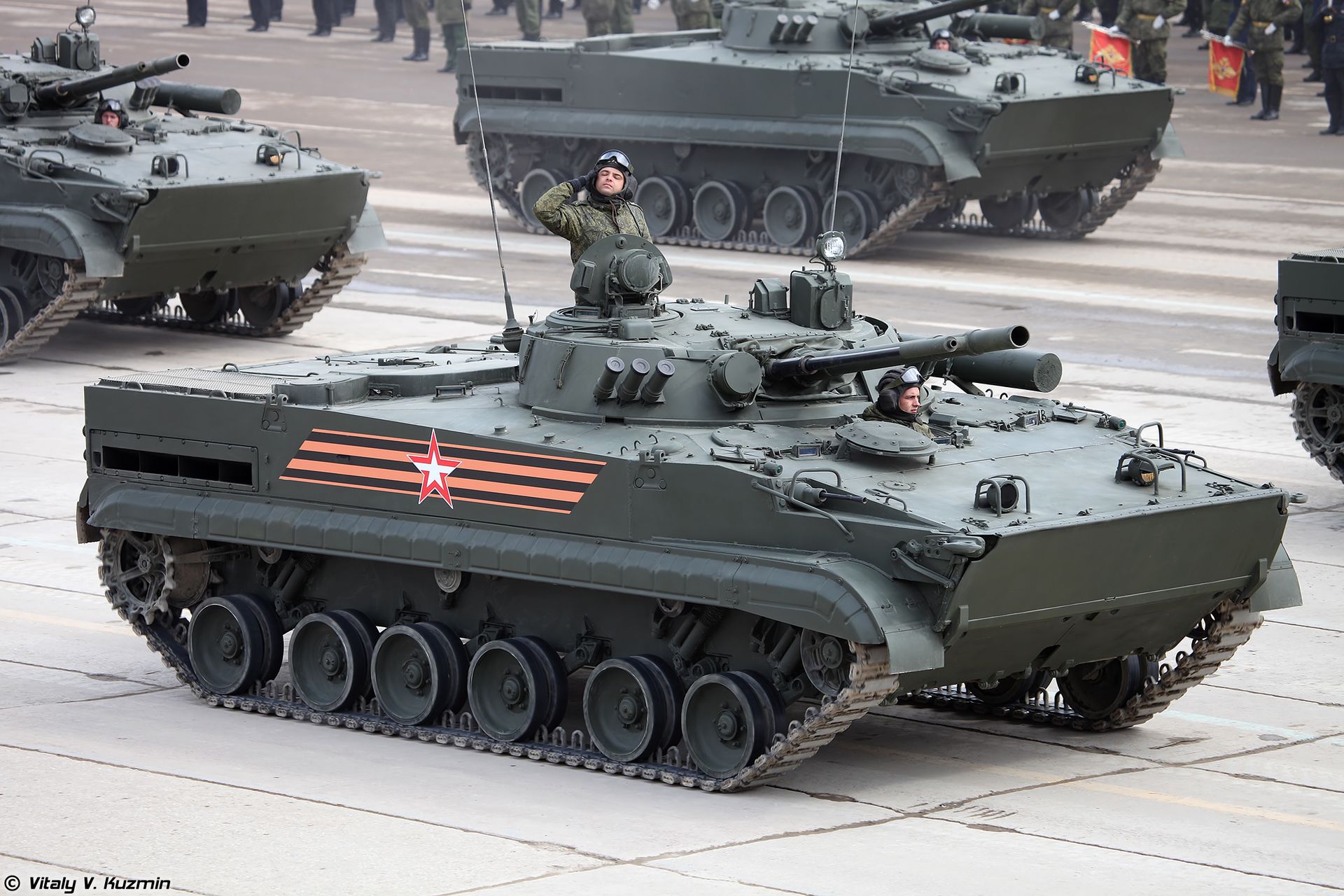 Armor
Aluminium alloy + steel, 35mm+ frontally, all around small arms fire protection
Main
armament
100 mm gun/launcher 2A70 (able to fire shells or the
9M117 Bastion
ATGM), 30 mm
autocannon
2A72
Secondary
armament
3×7.62 mm
PKT
machine guns
Engine
UTD-29M diesel
500 hp (375 kW)
Power/weight
27 hp/tonne
Suspension
torsion bar
Operational
range
600 km (370 mi)
Speed
72 km/h (45 mph) (road)
45 km/h (28 mph) (off-road)
10 km/h (6.2 mph) (water)
Last edited: