Boeing awarded $6.56B for upgrades to ballistic missile defense system
By James LaPorta |
Feb. 01, 2018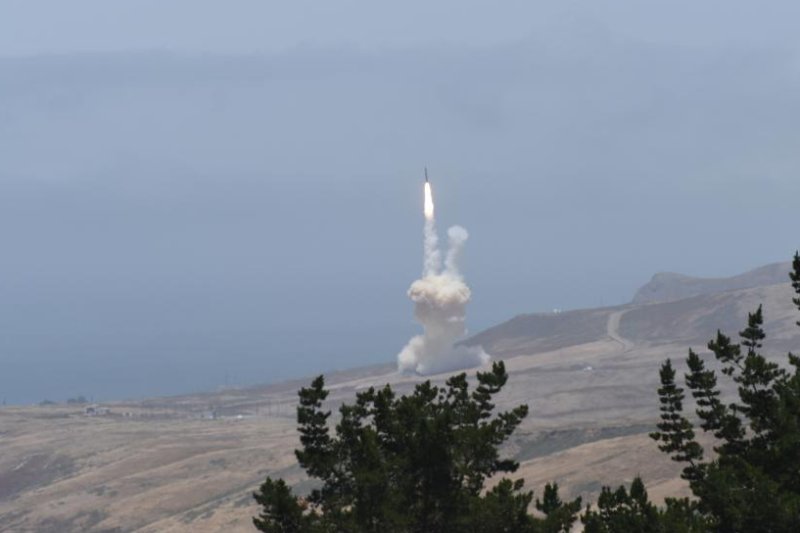 A long-range interceptor missile is seen in flight after launch from Vandenberg Air Force Base in California. Photo by Missile Defense Agency
Feb. 01 (UPI) -- Boeing has been awarded a contract for development and sustainment of the Ground-based Midcourse Defense system.
The deal, announced Wednesday by the Department of Defense, is valued at $6.56 billion under an undefinitized modification to a previous award contract.
The new modification, including built-in options, brings the cumulative value of the contract to more than $12.6 billion, and the contract is now set to run from January 2018 through December 2023.
The new undefinitized modified contract will be a joint effort between Boeing, Orbital ATK, Northrop Grumman Systems and Raytheon.
The Ground-based Midcourse Defense, or GMD, is part of the United States' ballistic missile defense system and provides commanders with the capability to target and eliminate limited intermediate-and long-range ballistic missile threat in space, according to the Missile Defense Agency.
Under the undefinitized modification contract, Boeing will speed up enhancements required for the GMD to further streamline the accelerated delivery of a new missile field with 20 additional missile silos, as well as two additional silos at an already-constructed field at Fort Greely in Alaska.
Boeing will aid in the "procurement and deployment of 20 additional Ground-Based Interceptors."
The company will procure and position launch support equipment and expand systems testing to support both ground and flight tests for evaluation by MDA.
The modified contract also enables Boeing to provide technical support and integrate upgrades to the latest version of the missile defense system in order to keep defensive capabilities "relevant and current."
The Pentagon said that prime contractor Boeing, and its subcontractors, have "collectively demonstrated special capabilities and/or expertise that no other companies have been able to satisfactorily perform the required services or deliveries without unacceptable delays in fulfilling the Agency's requirements."
Work on the contract will occur at multiple locations around the country, with more than $213.8 million obligated to Boeing at the time of award from Fiscal 2017 and 2018 research, development, test and evaluation funds, the Pentagon said.
https://www.upi.com/Defense-News/20...se-system/2121517493363/?st_rec=1951517585422