Bombs and gunfire rock Indonesia's Jakarta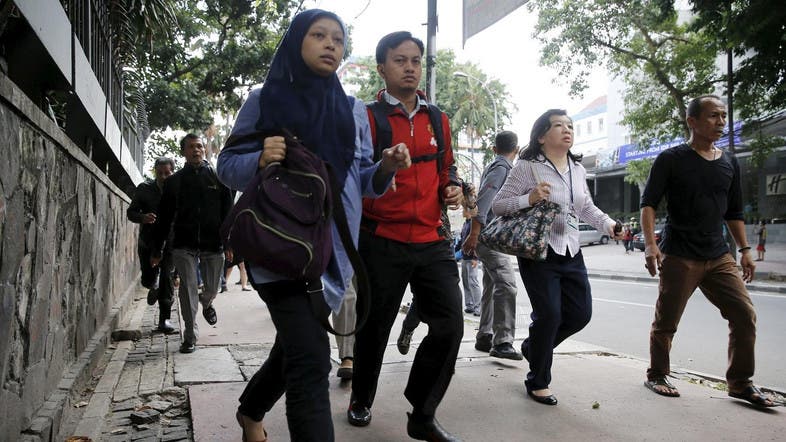 Indonesian workers run as they are evacuated from their office at Thamrin business district in Jakarta. (Reuters)
AFP, Jakarta Thursday, 14 January 2016
A series of bombs killed at least three people in the Indonesian capital Jakarta on Thursday, with shots fired outside a cafe as security forces moved in, police and witnesses said.
The explosions were close to a shopping centre, the Sarinah, where bodies were seen strewn on the ground.
An AFP reporter said the remains of some of the three were smoking after the blast and remained untouched at the scene, next to a destroyed police post.
At least six explosions rang out in the area.
"This is a bomb," Anton Charliyan, national police spokesman told AFP.
He warned people to stay away, saying police fear there could be more bombs. Helicopters were circling the area, which had been cordoned off.
Officers at the scene told AFP reporters to "get back" because there "is a sniper" on the roof of a building.
Heavily armed police evacuated a badly injured man who was lying on the road bleeding heavily.
Police slowly approached the man and stretchered him into a vehicle, about 25 metres from a severely damaged Starbucks Coffee house, as shots rang out.
It was not immediately clear who was behind the attacks.
The bombs come just weeks after Jakarta was placed on high alert after anti-terror police foiled what they said were plans for an New Year suicide attack in the Indonesian capital.
Late last month police said they had arrested two men, including a member of China's Uighur minority, who they claimed were involved in the plot.
After a series of attacks on foreigners in the last decade, Indonesian extremists have in recent years directed their violence at domestic "enemies of Islam", mostly police.
There have been no attacks against foreigners since the 2009 twin hotel bombings in Jakarta that killed seven people.
Last Update: Thursday, 14 January 2016 KSA 08:16 - GMT 05:16
http://english.alarabiya.net/en/News/asia/2016/01/14/Blasts-heard-in-Indonesian-capital-casualties-seen.html