London-based Muttahida Qaumi Movement activist Tariq Mir told police in the United Kingdom that the party's top leadership held a series of secret meetings with India's Research and Analysis Wing in the mid-1990s, documents obtained by The Sunday Express show.
At secret meetings in Rome, Vienna, Zurich, Salzburg and Prague, the MQM leadership asked for $1.5 million in assistance, Mir alleged.
The BBC had touched off a political firestorm in Pakistan last week, quoting "an authoritative Pakistani source" as saying that senior MQM officials had told police in the United Kingdom that "the party was receiving Indian funding". The report quoted Pakistani officials as claiming that hundreds of MQM militants had been trained by India over the last decade in "explosives, weapons and sabotage".
Mir's statement, redacted portions of which are with this newspaper, was made in an interview at the Edgware police station on May 30, 2012, as authorities opened an investigation into alleged money-laundering by the MQM leadership. No charges have been brought in the case so far, though £ 500,000 is alleged to have been recovered in raids.
In Mir's account, RAW made contact with the MQM in 1994, leading to a series of meetings in European cities. "We would never travel directly to where we were meeting," Mir told police. "For example, [we would] travel to Rome via Frankfurt. [The] Indians always decided the dates and venues. We were given only two days notice. We met in five-star hotels, at their arrangement."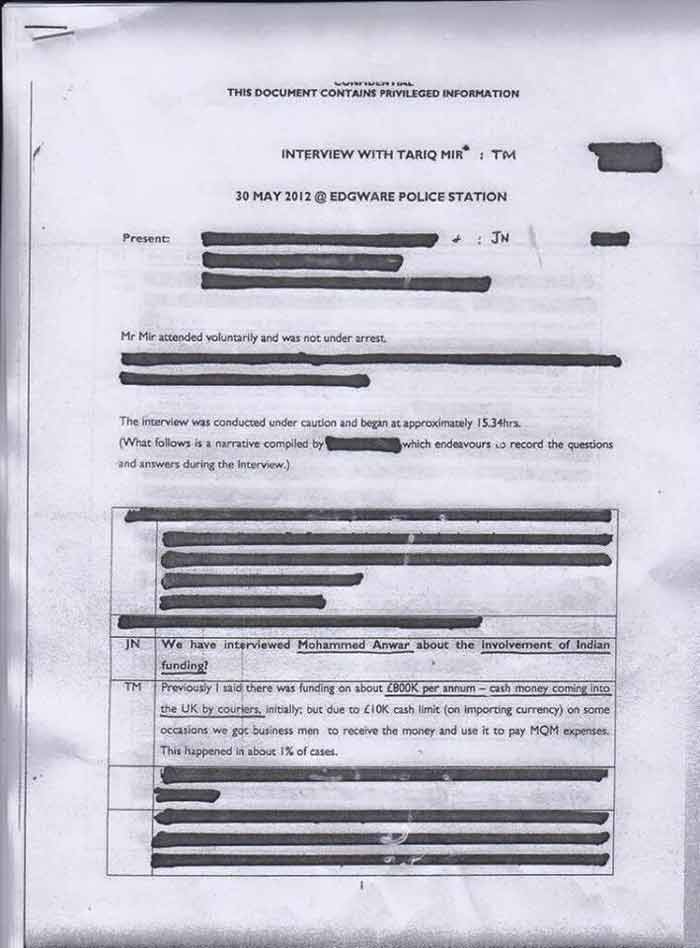 Interestingly, Mir claimed that New Delhi's secret envoys made no specific demands in return for the funding. "I have no idea what we could give them in return," he explained to police. "[Even] when we were in the government, we had no power whilst in the government. When I met the Indians, I did not hear us say anything specific we could do for them."
Later in his testimony, Mir speculated that "to my understanding, training was done — firearms training. Going back to 1996, when [the] MQM was founded, it provided training. I assume that this was included as a part of our talks with the Indians".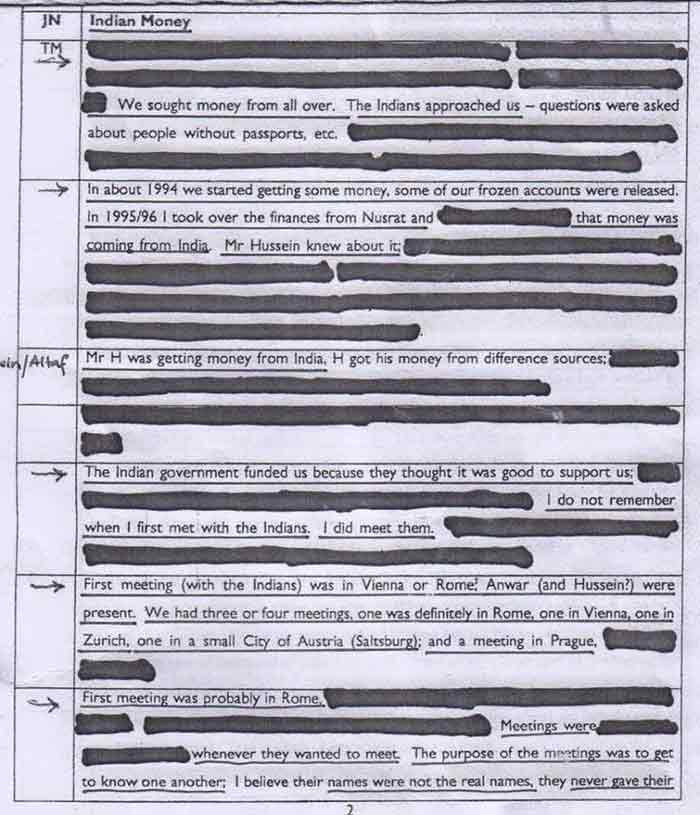 For his part, Mir emphatically stated that he "was not involved in weapons training or funding training". "The largest amount of money I ever received was for a house purchase, but I do not know what part of that funding came from India."
The Indian funds, Mir went on, were routed through Muhammad Anwar — the second most influential figure in the MQM's all-powerful London secretariat — to its chief,
Altaf Hussain
.
"I do not know how much they gave us," police recorded Mir as saying. "It went to Hussain. At some stage, our expenses (for the secretariat) were about £ 100K. I was aware of a significant increase in the funding as a result of the Indian connection."
Anwar did not respond to requests for a comment on Saturday. However, in an exclusive interview to this newspaper last week, he had said that the allegations were "utterly dishonest".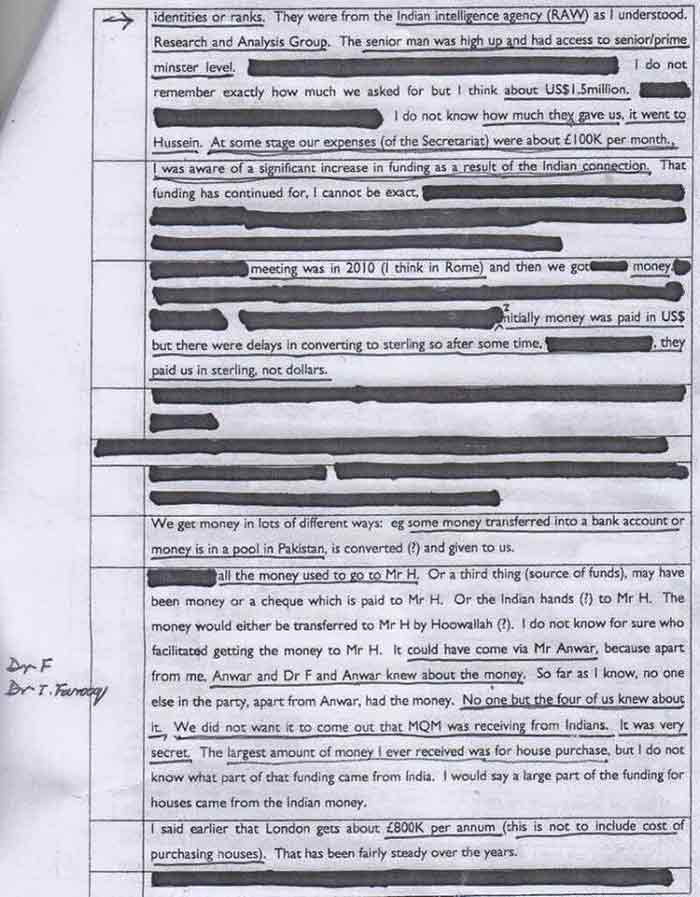 Pakistan's Punjab Assembly has demanded that treason proceedings be initiated against the MQM's top leadership. MQM spokespersons have responded that the party is being targeted in a campaign, engineered by the Pakistan army, to discredit secular political formations in the country.
The family of Tariq Mir migrated from Delhi to Pakistan at Partition. From his testimony, it remains unclear until when the purported financing of MQM by RAW continued — if it ever did happen, that is. However, a senior Pakistani official claimed to The Sunday Express that individuals linked to the party received multiple remittances through Dubai's RAKBank from one Jasmine Valley General Trading through 2011, 2012 and 2013, totaling just under $ 1.5 million. The fact that Jasmine Valley has Indian nationals as owners, the source alleged, meant that it could be a RAW front.
However, the public record shows that Jasmine Valley, far from being a entity fronting for Indian intelligence, is itself being prosecuted by the Directorate of Revenue Intelligence. The DRI, in 2001, filed charges against multiple entities linked to Jasmine Valley, saying the firm was used to under-invoice imports from Italy, China and Spain to avoid Customs duties.
"It seems to be one of many similar shell companies in Dubai that engage in dubious financial practices," an Indian government source familiar with the case said. "There are lots of firms in the Emirate that will move money around for you for a fee."
The Sunday Express made several phonecalls to numbers listed in Dubai business directories for Jasmine Valley, but they were all either switched off, or did not respond.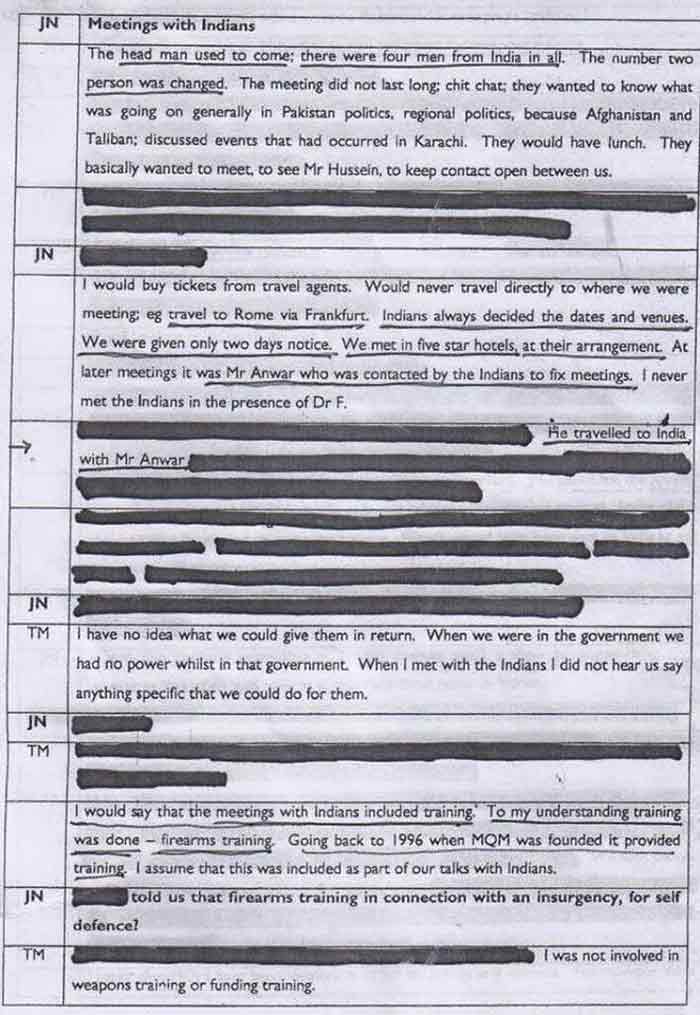 No email address is listed for Jasmine Valley in any of six business directories this newspaper searched; only a post box address is available.
Indian experts The Sunday Express showed the documents to were sceptical of claims that India was still funding the MQM. "None of this will stand up to judicial scrutiny, beyond the possibility of a process directed against the MQM leadership in UK for receiving undeclared funds through irregular channels," said Ajai Sahni, director of the Institute of Conflict Management in New Delhi.
"At this juncture," he explained, "all we have is some unsubstantiated allegations by a disgruntled member of a political formation who confesses, moreover, that he was not in receipt of any of the money and had no precise or particular knowledge of specific transactions."
Even though it is a legal political organisation in Pakistan, the MQM — representing Urdu-speaking Partition migrants — has long faced allegations of being backed by India. In 1992, the party was accused, amidst a brutal military crackdown in Karachi, of plotting to create a separate state called Jinnahpur. Later, however, Maj Gen Naseer Akhtar and Brig Muhammad Imtiaz — top officers involved in the operation — said that the allegations had been fabricated.
The party has also partnered in Pakistan's government, notably supporting the regime of former military ruler Gen Pervez Musharraf. In 2007, Musharraf — himself a Mujahir — withdrew all criminal cases against party leaders.
http://indianexpress.com/article/in...-raw-met-mqm-in-europe-in-the-90s-gave-money/