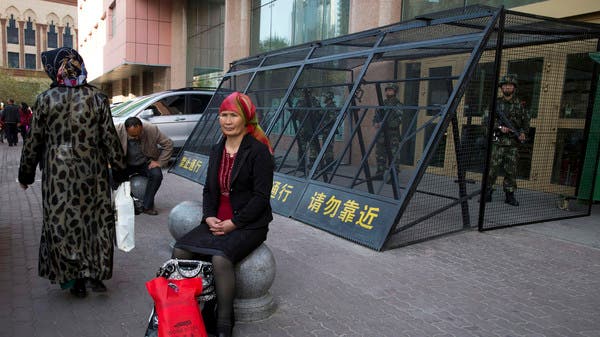 A Uighur woman rests near a cage protecting heavily armed Chinese paramilitary policemen on duty in Urumqi in China's northwestern region of Xinjiang. (File photo: AP)
Associated Press, Beijing
Wednesday, 1 July 2015
China is expressing its displeasure with Turkey's complaints about restrictions on worship and fasting by minority Chinese Uighur Muslims during the holy month of Ramadan.
Foreign Ministry spokeswoman Hua Chunying said Wednesday that Beijing had expressed its concerns to Turkey's government. She says Beijing demanded that Ankara clarify the matter.
The Turkish Foreign Ministry on Tuesday said Turkey's concerns about the restrictions were relayed to the Chinese ambassador.
Uighurs complain that the officially atheistic ruling Communist Party forbids fasting by party members, civil servants, teachers and students during Ramadan. Children are also banned from attending mosques, women from wearing veils and young men from growing beards.
Turkey has close cultural, religious and ethnic ties to the Uighurs but is also keen to maintain good relations with China.
Last Update: Wednesday, 1 July 2015 KSA 17:44 - GMT 14:44
https://english.alarabiya.net/en/News/asia/2015/07/01/China-says-concerned-over-Turkish-religious-complaints.html