DARPA UAVs Would Be Fast, Light and Fly Themselves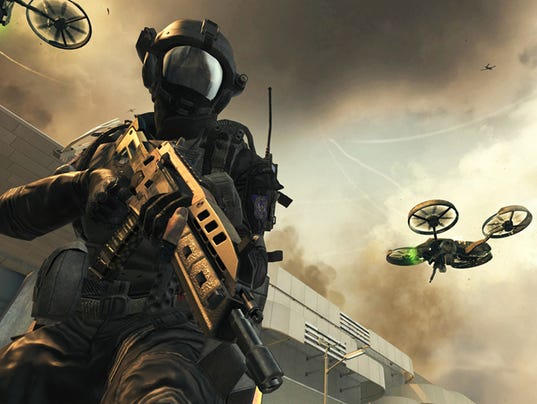 Pentagon R&D arm, DARPA, plan to research fast, lightweight drones, similar to the ones that appear in Call of Duty: Black Ops II.(Photo: callofduty.com)​
WASHINGTON — The Pentagon's advanced R&D arm wants to help drones fly the crowded skies—using a new class of algorithms.
The Defense Advanced Research Projects Agency (DARPA)
announced
Dec. 23 that it is seeking an algorithm, or software "brain," aimed at high-speed aerial navigation in cluttered environments as part of its Fast Lightweight Autonomy (FLA) program.
"Birds and flying insects maneuver easily at high speeds near obstacles," DARPA's solicitation notes. "The FLA program asks the question 'How can autonomous flying robotic systems achieve similar high-speed performance?'"
DARPA envisions such a system performing reconnaissance in areas previously considered denied, such as a protected or structurally damaged building.
But such technology could have applications off the battlefield. The solicitation came a month after an FAA
report leaked
that
detailed nearly 200 safety incidents involving commercial drones and commercial aircraft, and days ahead of the FAA's safety
campaign
for the holiday hot-seller.
DARPA's technology would take actually take the pilot out of the equation. Remote-controlled unmanned aerial systems for the most part rely on a skilled pilot, on-board sensors and reliable signals between the pilot man and platform. Alternatively, a drone could use pre-determined way-points, but that approach depends on GPS signals, which can fail indoors or be jammed.
Modeled after the capabilities of a bird, these drones in the final demonstration would have to fly for ten minutes, travel at 45 miles per hour, fly as far as a kilometer, use a 20-watt computer and use no communications after the initial "go" command.
The agency is offering $5.5 million in research funding. Phase 1, from mid 2015 to mid 2017, is focused on an an outdoor slalom course, the inside of a warehouse and indoor offices. Before wrapping up at the end of 2018, Phase 2 would tackle doors and windows, the bane of real birds everywhere.
Intercepts: DARPA UAVs Would Be Fast, Light and Fly Themselves