Death toll rises to 150 in South Sudan oil tanker blast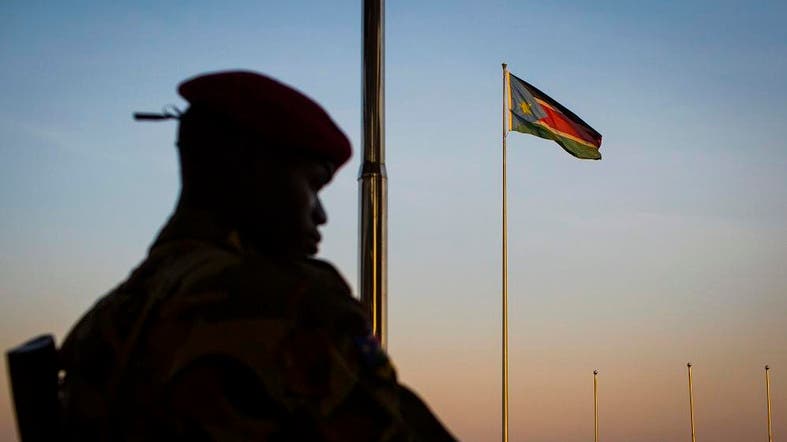 A South-Sudanese government soldier stands guard as a South Sudanese flag flies in the background. (File photo: AP)
By Reuters & AFP | Juba
Friday, 18 September 2015
At least 150 people died near the town of Maridi in South Sudan when a crashed oil tanker exploded as a crowd scooped up spilled fuel, reports said Friday.
Senior local official John Ezkia told South Sudan's Eye Radio that the initial death toll of more than 85 in Thursday's incident had risen to at least 150, after scores died of burns.
"Our situation here in Maridi is not good, the death toll has increased," Eskia said.
The incident took place on Wednesday as the truck was travelling to South's Sudan's Western Equatoria region.
"Eight-five people are confirmed dead by the local authorities," Ateny Wek Ateny, presidential spokesman, told Reuters, adding about 50 people were seriously injured.
Such incidents have happened before in a region where fuel tankers often have to travel long distances along potholed roads and pass through poor communities.
There are almost no tarmac roads in South Sudan, one of Africa's poorest nations, which has been mired in conflict since December 2013. Rebels and the government signed a peace deal in August, although the ceasefire has already been violated.
Ateny said Wednesday's incident was not related to the conflict. "This was an accident," he said, adding the tanker had veered off the road and later exploded with a crowd around it.
In June 2013, at least 30 people were killed and scores more injured when a broken-down fuel tanker exploded on a highway in Uganda while they were trying to siphon fuel.
Last Update: Friday, 18 September 2015 KSA 11:17 - GMT 08:17
http://english.alarabiya.net/en/News/africa/2015/09/17/At-least-85-killed-in-South-Sudan-oil-tanker-blast.html