DoD to Congress: Iran Deal or No, Military Options Open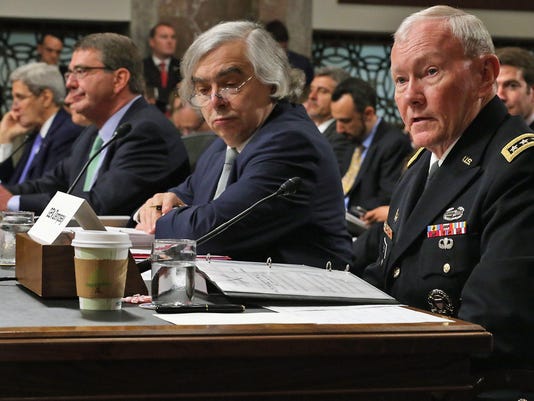 WASHINGTON — Defense Secretary Ash Carter continued the administration's defense of the Iran nuclear deal, telling lawmakers Wednesday that while a pact with Iran carries risks, it is better than the alternative: an inevitable military confrontation.
"The effects of a strike are temporary, and secondly, Iran would respond to an American military strike," Carter told the Senate Armed Services Committee, when asked whether a military strike would set Iran's military program back further than the accord. Such a strike could lead Iran to become "irreconcilably committed to getting a nuclear weapon ... Effectively implemented, [the accord] stops Iran from getting a nuclear weapon not just for ten years or 15 years, but way beyond that."
Recognizing the deal may fail or fail to be implemented effectively, Carter said he was under presidential instructions to preserve and improve upon the military options, as a fall back. Indeed, the military option becomes slightly more effective under the agreement because, "We have a more complete understandiing where everything is associated with a nuclear program that we might strike," he said.
Carter and Joint Chiefs Chairman Gen. Martin Dempsey were joined by Secretary of State John Kerry, Energy Secretary Ernest Moniz and Treasury Secretary Jack Lew to answer tough questions from senators in the emotional three-hour hearing. Critics of the deal say it will enrich Iran and help it further destabilize the Middle East, and opponents Tuesday seized on an arrangement between Iran and the International Atomic Energy Agency, which was part of the deal, but US officials had only been briefed about and had not seen.
Apart from House Foreign Affairs Committee hearing earlier in the week that featured Kerry, Lew and Moniz, the SASC hearing was meant to explore the pact's national security implications.
Carter and Dempsey — while acknowledging the US deal partner as the world largest state sponsor of terror — assured lawmakers the US will continue its robust Mideast presence and retain military and intelligence activities there.
"It's important that we have an agreement and it be verifiable, and that we keep doing what we need to do: Defend our friends and allies, remain strong in the Gulf — frequent navigation, ballistic missile defense, all the things that we're doing, and the agreement doesn't limit us in any way," Carter said.
Indeed, "military options remain," Dempsey said, though a negotiated settlement provides a more "durable" solution, as well as time to work with local partner nations to address Iran's activities. Dempsey said there are a series of initiatives with Israel and the Gulf Cooperation Council to that effect.
Exercising airstrikes to take out Iran's nuclear capability would disrupt its program by several years, Dempsey said. However analysis suggests it would also provoke Iran to "counter our presence in the region at every opportunity and use these other malign activities they have."
At one point, Sen. Roger Wicker, R-Miss., characterized Dempsey's brief opening statement, as a "tepid endorsement" of the accord and "damning disagreement with faint praise," which Dempsey disputed, saying he agreed with the deal.
His statement was neither "tepid nor enthusiastic, but pragmatic," Dempsey said. His input in the deal was sought "episodically," his final recommendation given weeks before negotiations concluded. At least in part, his recommendation was to keep pressure on Iran relative to ballistic missiles and arms trafficking for as long as possible.
Challenged by Sen. Joni Ernst, R-Iowa, over the president's assertion that the US faces a choice between an Iran deal or a resolution by force — which Ernst characterized as "war" — Dempsey said he had not said anything to that effect to the president.
"We have a range of options, and I hope to present them," Dempsey said. "As long as we agree, military strikes on a sovereign nation are an act of war, but there are things between here and there."
Congress has until Sept. 17 to endorse or reject the pact. Rejection would prevent President Barack Obama from waiving most US-imposed sanctions on Iran.
Obama has vowed to veto any congressional rejection measure, meaning both the House and Senate would need to muster two-thirds majorities to override the president.
DoD to Congress: Iran Deal or No, Military Options Open