Egypt and Saudi leaders of Arab security, says Sisi
Egypt and Saudi Arabia are vital for the security in the Arab region, Egypt's President Abdel-Fattah al-Sisi said on Thursday. (AFP)
Staff writer, Al Arabiya News
Thursday, 30 July 2015
Egypt and Saudi Arabia are vital for the security in the Arab region, Egypt's President Abdel-Fattah al-Sisi said on Thursday.
The two allies, who are partners in the kingdom-led coalition striking Houthi militias in Yemen, are the "wings of Arab security," Sisi told graduates of the military academy. Saudi Deputy Crown Prince Mohammad bin Salman, who also serves as defense minister, was also at the ceremony.
Sisi added that the deputy crown prince's presence at the ceremony sent a "strong message" of cooperation to their people. "You will not see us but together," state-owned paper al-Ahram reported him as saying.
The "highly difficult regional circumstances," would require "security vigilance and extra effort."
Since the ouster of Islamist President Mohammad Mursi in 2013, Saudi was quick to back Sisi, seeing him as a bulwark of regional stability.
On the same day, Saudi Arabia's foreign minister and his Egyptian counterpart expressed their keenness to further develop relations between the two countries, dubbed key to regional security.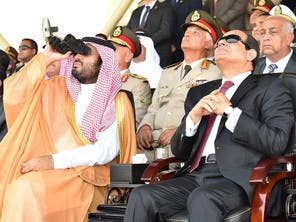 A handout picture provided by the Office of the Egyptian Presidency on July 30, 2015 shows Egyptian President Abdel Fattah al-Sisi (R) sitting next to Saudi deputy Crown Prince and Minister of Defense Mohammed bin Salman as they attend a military academy graduation ceremony in the Egyptian capital, Cairo. (AFP)
Egypt's Foreign Minister Samih Shoukry described "solidarity" between Cairo and Riyadh as important to protecting regional security in a joint press conference with Saudi's top diplomat Adel al-Jubeir.
Jubeir said Riyadh is keen to further develop its relations and cooperation with Cairo. He also said communication is continuing with Egypt to build a unified military Arab force.
In March, Arab foreign ministers met Egypt and agreed to establish a unified military force for rapid intervention to deal with security threats to Arab nations, including Islamist militants who have seized large swathes of land in Syria and Iraq.
While the ministers agreed in principle, no major development materialized.
Last Update: Thursday, 30 July 2015 KSA 18:06 - GMT 15:06
http://english.alarabiya.net/en/News/middle-east/2015/07/30/FM-Egypt-Saudi-solidarity-key-to-protect-regional-security-.html