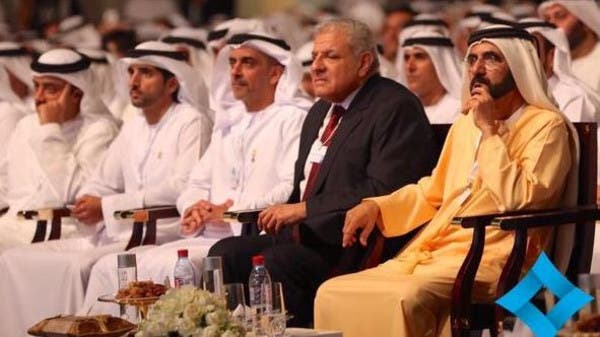 Egyptian PM Ibrahim Mahlab spoke at the UAE Government Summit in Dubai. (Photo courtesy: Twitter)
By Eman El-Shenawi
| Al Arabiya News
Wednesday, 11 February 2015
A year after Egyptian Prime Minister Ibrahim Mahlab took office, the premier on Wednesday
stressed
an initial promise to "crush terrorism" in his country following recent years of political turbulence and social unrest.
This time, the vow was not only made to Egypt, but the wider Arab region.
"Egypt will push towards its duty to eradicate the roots of terrorism in the Arab world," Mahlab said, speaking at the UAE Government Summit in Dubai, an annual meet focusing on how governments can handle a changing world.
"Egypt under [the rule of President Abdel Fattah] el-Sisi is keen on fighting all obstacles, moving steadily towards reform. This comes with the task of fighting extremism," he said in the speech, titled "The Future of Egypt."
Mahlab was appointed PM last year following a series of transitional governments and cabinet resignations. His initial vow against extremism came after the overthrow of Islamist President Mohammad Mursi in July 2013, which led to a deadly crackdown on Muslim Brotherhood members and supporters. Since the upheaval, militants have ramped up attacks in the Sinai Peninsula, killing hundreds of soldiers and police.
Upbeat on economy
During the speech, the premier thanked the UAE for "continued support to his country." The Gulf state has become a major donor for Egypt in recent years, taking a hands-on approach to its support for Cairo. The UAE, along with Saudi Arabia and Kuwait, have pledged a total of more than $12 billion in loans and donations since July 2013.
Discussing the future of Egypt's economy, the premier was upbeat on several issues, namely the new Suez Canal.
The planned waterway is a flagship project in Sisi's program to revive Egypt's battered economy following the 2011 ouster of former President Hosni Mubarak which left the country stuck in its deepest slump in two decades.
The state has reached the $8.5 billion domestic and global funding goal for the project, Egypt's central bank governor
announced
last September.
"We have launched a series of projects, notably the new Suez Canal and the reclamation of four million acres for agriculture ... We aim for the Suez region to become one of the biggest industrial regions in the world," Mahlab said.
He also announced that Egypt is preparing to launch an economic development conference to offer attractive investment opportunities. He said he expects economic growth in Egypt to increase four percent in the next fiscal year.
"Egypt is implementing a series of legislative reforms to attract investments and eliminate bureaucracy and red tape," he said, adding that his country is "writing a new page in its history and the social inclusion of its people."
'Long live Egypt'
"Our government is one that identifies mistakes and finds solutions," he said before ending his speech with: "Long live Egypt, long live Egypt, long live Egypt."
Before taking up the role of prime minister in February 2014, Mahlab was a housing minister in the previous government. Prior to that, Mahlab was a senior official in Hosni Mubarak's former ruling National Democratic Party, as well as a former construction company chief with a reputation as a "doer."
Mahlab was speaking on the third and final day of the Government Summit. A total of 87 countries participated in this year's conference, with United Nations chief Ban Ki-moon and Queen Rania of Jordan among more than 100 international speakers at event.
Full coverage of the UAE Government Summit 2015 can be found
here
.
Last Update: Wednesday, 11 February 2015 KSA 14:35 - GMT 11:35
http://english.alarabiya.net/en/News/middle-east/2015/02/11/Egypt-PM-vows-to-crush-terrorism-in-Arab-world.html