ARGENTINIAN special forces could be preparing to launch a daring raid on the Falkland Islands, military sources warned today.
By
Nick Gutteridge
PUBLISHED: 17:07, Sun, Mar 29, 2015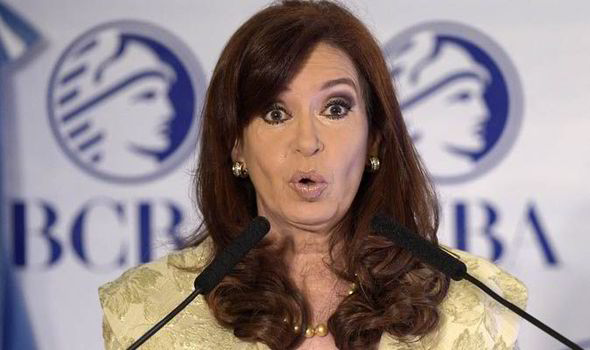 Argentine President Christina De Kirchner has ramped up rhetoric over the Falklands in recent years
Defence chiefs have been told that an elite unit from the South American country could be sent to occupy one of the 700 tiny isles surrounding the small British territory.
The lack of any troop-carrying helicopters on the islands has raised fears that the small defence force stationed there could find itself unable to respond to Argentinian incursions.
The warning came days after it emerged that Russian President Vladimir Putin had agreed to lend 12 long-range bombers to the South American country.
The Russians have shipped the Sukhoi SU-24 jets across the Atlantic in exchange for beef and wheat in an effort to dodge EU sanctions over Ukraine.
Argentina has ratcheted up its rhetoric over the Falklands in recent years, in what is seen by many as an attempt by embattled president Cristina De Kirchner to deflect attention away from the country's stuttering economy.
A Whitehall source told the Sunday Mirror that Mrs De Kirchner is likely to increase her attacks on Britain in the coming month as the South American nation gears up for elections.
They said: "Ministers have been advised of the concern and will send helicopters next year.
"Really I would suggest we need them now.
"The next few months will be tense as the Argentines prepare for elections and no doubt will be looking for propaganda opportunities."
The 1982 Falklands War cost the lives of 255 British soldiers
Argentina claims sovereignty over the Falklands, which is refers to as Las Malvinas
In response the Government has unveiled a ?280m bid to beef up the islands' defences, to be rolled out over the next decade.
Tory Defence Secretary Michael Fallon wants to send two troop-carrying Chinooks to the Falklands early next year to add to a defence force of 150 soldiers, four RAF Typhoon jets and a Royal Navy offshore patrol vessel.
The source said: "Senior commanders have been warning for months that the threat is not from Argentina buying Russian bombers but from a special forces raid to claim one of the islands.
"Right now we are struggling to protect all these islands.
"Without support helicopters it is a very difficult challenge and the Argentines know that."
Any incursion by Argentina would mark the biggest strain in relations between the two nations since the 1982 Falklands War.
The 74 day conflict cost the lives of 655 Argentine and 255 British servicemen before the invading troops were eventually repelled.
The Ministry of Defence declined to comment.
Fears Argentinian special forces could raid 'vulnerable' Falkland Islands | UK | News | Daily Express