Female bomber targets Turkish police station
A CNN Turk reporter said police had exchanged fire with the attacker. (AFP)
By Staff writer | Al Arabiya News
Tuesday, 6 January 2015
A female suicide bomber was killed when she detonated her charge at a police station in Istanbul on Tuesday, in an attack that also killed one police officer and wounded another, Turkish authorities said.
The woman went into the police station in Istanbul's historic Sultanahmet district and told the police in English she had lost her wallet before setting off her charge, governor Vasip Sahin said on Turkish television, reported AFP.
Turkish Prime Minister Ahmet Davutoglu said it was not immediately clear whether the bomber had links to any particular group but that he had ordered "the most comprehensive investigation."
"The authorities are investigating whether there is a link to any group ... We have given instructions for the most comprehensive investigations," Davutoglu told reporters in a brief statement in the capital Ankara.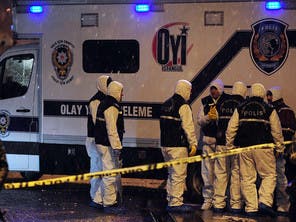 (AFP)
It was the second attack on police in a week in Istanbul. On Thursday, police subdued a man after he threw grenades and fired a weapon at officers near the prime minister's offices.
The leftist Revolutionary People's Liberation Party-Front, or DHKP-C, said it carried out the Thursday attack. DHKP-C, which seeks a socialist state, is considered as a terrorist organization by Turkey, the U.S. and the European Union.
Suicide attacks have been rare in Turkey since the government opened peace talks in 2012 with the Kurdistan Workers' Party, or PKK, to end a 30-year insurgency. The DHKP-C has carried out sporadic attacks, including a suicide bombing on the U.S. embassy in 2013 that killed a security guard. The group was more active in the 1970s.
Sahin said that police are still trying to identify the woman who died in Tuesday's attack.
(With Agencies)
Last Update: Tuesday, 6 January 2015 KSA 21:52 - GMT 18:52
http://english.alarabiya.net/en/New...-police-station-in-Istanbul-TV-stations-.html