Former Saudi FM Prince Saud al-Faisal dies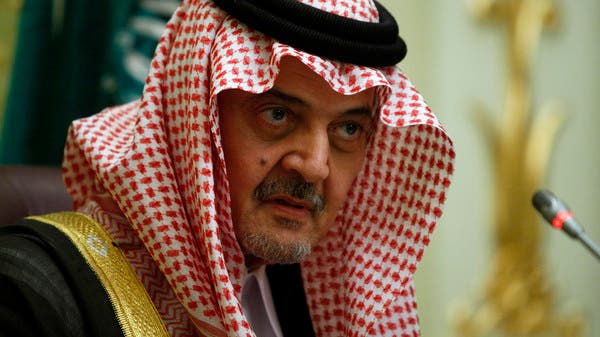 Saudi foreign minister Prince Saud Al-Faisal, seen, during a press release at Riyadh Airbase in Riyadh, Saudi Arabia, Sunday, March 15, 2009. (AP)
Staff writer, Al Arabiya News
Thursday, 9 July 2015
Saudi Arabia's former foreign minister Prince Saud Al Faisal died on Thursday at the age of 75, two months after he was replaced following 40 years in the job, family members and a foreign ministry spokesman said.
Nawaf al-Faisal, a relative, announced the death on Facebook, while a foreign ministry spokesman also confirmed the death on Twitter and expressed condolences.
"I wish I could deny the rumour of the news of your death," the spokesman Osama Nugali tweeted.
Prince Saud's nephew Saud Mohammed al-Abdullah al-Faisal also acknowledged the death of the veteran diplomat. "May God accept him in paradise," he wrote on Twitter.
Saudi Foreign Minister Prince Saud al-Faisal meets with Secretary of State Hillary Rodham Clinton, not pictured, at the State Department in Washington. (File photo: AP)
Prince Saud, who was appointed in 1975, was the world's longest serving foreign minister when he was replaced on April 29 by Adel al-Jubeir, the then ambassador to Washington.
The prince, who was born in 1940, was one of the highest profile members of Saudi's ruling elite and steered the diplomacy of the world's leading oil exporter for four decades before stepping down in April for health reasons.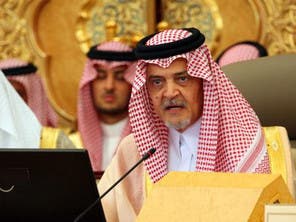 He oversaw Saudi Arabia's emergence as a major diplomatic player, facing successive regional crises and maintaining a focus on relations with the West.
Prince Saud retained an influential position in Saudi foreign policy circles even after his replacement, serving as an official adviser to King Salman, who took power in January, and was sometimes present when foreign leaders met the monarch
Prince Saud's tenure covered Israeli invasions of Lebanon in 1978, 1982 and 2006, the Palestinian intifadas that erupted in 1987 and 2000, Iraq's invasion of Iran in 1980 and Kuwait in 1990, and a U.S.-led coalition's occupation of Iraq in 2003.
Last Update: Thursday, 9 July 2015 KSA 21:54 - GMT 18:54
http://english.alarabiya.net/en/News/middle-east/2015/07/09/Saudi-s-former-FM-Saud-al-Faisal-dies-.html