Founders Day at PAF College Sargodha
Staff Report
FEBRUARY 18, 2018
LAHORE:
Founders' Day was held at Pakistan Air Force College, Sargodha. Air Chief Marshal Sohail Aman, Chief of the Air Staff, Pakistan Air Force, was the Chief Guest at the occasion.
In his address the Chief Guest said, "PAF College Sargodha has been the nursery of hard core professionals, infused with the values of integrity, sincerity, serving before self and devotion to duty. He further said to the young students, "The time ahead will continue to pose formidable challenges before you, but a solid academic foundation and wholesome personality will enable you to face all odds with courage. Thus, it is your responsibility to fully prepare yourselves to cope with these emerging challenges."
He congratulated the parents on the success of their children and also commended the faculty members on their excellent job.
Earlier the Chief Guest inaugurated the 'Sargodhian Heroes Monument' during the event.
The Chief Guest gave away prizes to the winning houses and individuals. The Academic Colour for overall excellence in academics was shared by Muhammad Faheem (Munir House), Muhammad Ehtisham (Minhas House) and M Umais Shabbir (Alam House). Syed Fasih Abbas (Allauddin House) was declared the best athlete of the Year. Chigwell shield for sports was shared by Allauddin House and Minhas House. General Service Training Cup for co-curricular activities was won by Munir House, while Chief of Air Staff trophy for academics was jointly won by Munir and Safi Houses. Munir House lifted the coveted Quaid-e-Azam shield for being overall Champion House of the Year. Earlier, Air vice Marshal (Retd) Qasim Masood Khan, Principal PAF College Sargodha presented the annual report.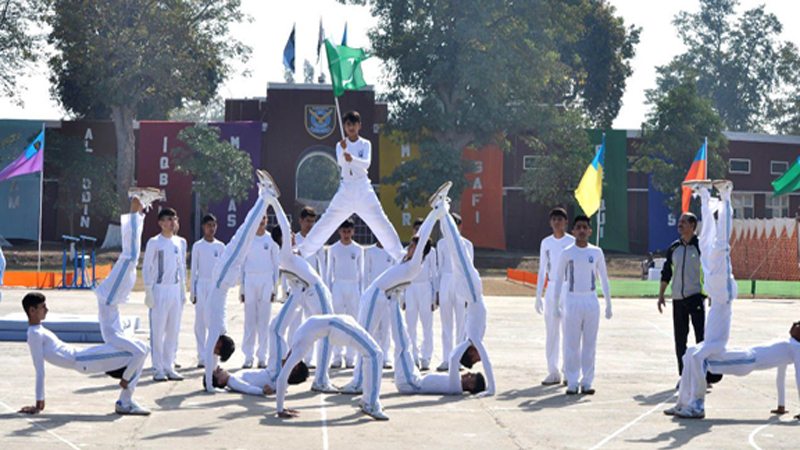 The students of the college presented an impressive gymnastics and martial arts display and a well-synchronized P.T show. The college also put up an attractive aero modeling display in which young boys maneuvered radio-controlled aircraft models in the air. A large number of serving and retired defense personnel, retired teachers, senior bureaucrats and parents of the students were present on the occasion.