Four years of Modi government: Investors made little money, stare at gloom
NEW DELHI: Investors made average returns on their stock investments in the first four years of the
Modi
government. With earnings failing to catch up with rising valuations, and the global macros turning hostile for the
Indian economy
, there was no respite for investors.
The BSE
Sensex
delivered 11.67 per cent return during the fourth year of the Modi government, compared with 17.67 per cent in the third year. The 30-pack index had fallen 4.23 per cent in Modi's second year in office after rising 11.4 per cent in the first.
This takes the overall gain in four years to 40 per cent. This is not impressive at all, given the political stability the government enjoyed, which allowed it enough leg room to carry out bold reforms and keep the growth engines well-oiled.
As he completes his four years in office on May 26, the Prime Minister faces a daunting task of maintaining fiscal discipline as crude prices have shot up beyond control, threatening to trigger a spike in inflation and disrupt government finances.
The weakening macros are already haunting financial
markets
, with the rupee tumbling below the 68 mark and 80 per cent of the stocks trading in the red on a year-to-date basis on the Mumbai bourses.
Analysts widely expect the Modi government to turn its focus on addressing the persistent issues of lagging private investment and lack of job opportunities besides boosting rural income in his last year in office, as the ruling party faces a stiff challenge in the general election due next year.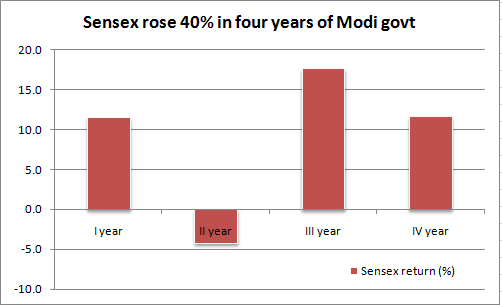 Windfall gains over
Boiling crude oil prices, weakening export growth, widening current account deficit, depreciating rupee and mounting losses at banks have caused things to fall apart.
Earlier this week, petrol and diesel prices hit record high levels in the country. Fuel prices can cause the inflation rate to spiral quickly, triggering interest rate hike and making funds costlier for businesses.
If the government has to bring in subsidies to keep fuel prices low, its fiscal math goes for a toss. An sudden swell in the imports bill can leave the current account deficit off-balance, undoing much of the discipline that this government has managed to achieve in last four years.
The government enjoyed a phase of windfall gains from benign crude prices in the first three years of the Modi government.
Rising US bond yields, Fed rate-hiking spree and a spike in prices of other commodities – things beyond the government control – are also causing the government a nagging worry. Overseas flows have started reversing to chase safer and better yields in developed markets. FIIs have cut their exposure to India by more than half at Rs 26,000 crore in FY18. In April this year, they sold equities worth Rs 8,000 crore.
FDI flows – once seen as a testament to India's attractiveness to foreign investors – have slowed down, causing worries.
Earnings woes
While the BSE largecap index gained 40 per cent in the four years of Modi government, the midcap and smallcap indices rallied between 80 per cent and 85 per cent; with four out of every 10 stocks trading on BSE doubling investor wealth during this period.
The stock market was holding up on hopes of a imminent turnaround in the economy, as analysts expected the improving macros to reflect on corporate earnings.
But some government measures such as
demonetisation
, and short-term hiccups arising out of a major tax overhaul in the form of
GST
rollout, delayed an expected revival in earnings growth.
When it was expected that low base of cash-hit quarters of last year would help improve earnings in December and March quarters, enormous losses reported by banks hit overall earnings estimates. Rising commodity prices too increased input costs for companies, denting profitability.
"The four years of Modi government have been a roller-coaster ride with its share of ups and downs. There was a lot of euphoria after Modi's election as PM and the nation looked up to him to bring a wave of changes in the country. The government performance has been remarkable in terms of planning and execution of policies, but the macroeconomic numbers have not been that rosy," said Jimeet Modi, CEO & Founder, Samco Securities.
He said 7.3 per cent GDP growth over last four years is less than the 8 per cent seen under the previous government.
Reform check: The ground reality
To its credit, the Modi government introduced the biggest tax reforms since Independence, GST. Besides, it enforced the landmark bankruptcy code, RERA, Jan Dhan Yojana, National Health Protection Scheme (NHPS) and pushed for schemes such as housing for all and rural electrification.
After a recent visit to several villages, brokerage BofA-ML said things are indeed changing at the ground level. In 2014, the government launched the Deendayal Upadhyaya Gram Jyoti Yojana (DDUGJY), aiming to offer basic electricity infrastructure in villages.
There were total 181 million rural households in the country as of January15, of them 141.6 million (78.24 per cent) had access to power. The government this month claimed 100 per cent rural electrification.
BofA-ML noted that better connectivity in terms of roads, technology and financialisation, and access to welfare schemes such as health and education have improved the conditions in Indian villages significantly. However, issues of income equality and, more importantly, income growth remain, it noted.
"Key challenges in Indian villages were jobs, as almost everybody complained about lack of opportunity to increase income. Other issues included insufficient agri-proceeds, lack of industrialisation (or low industrial pay), inadequate opportunity for educated youth and poor social support for migration to higher paying urban areas," it said.
Cash ban & army of investors
The Modi government bold move to enforce a ban on high-value currency notes triggered a huge financialisation, shifting domestic household savings from physical assets to financial assets.
This spelt fortunes for mutual funds, NBFCs, brokerages and insurers, as retail money flocked to financial assets such as equity and other financial assets. There were a total of 2.16 crore SIP accounts as of April. Retail investors infused Rs 67,190 crore into mutual funds via SIPs in FY18 against Rs 43,921 crore in FY17.
This partly cushioned the impact of foreign outflows and lifted total market capitalisation of BSE-listed companies by 80 per cent in the first four years of the Modi government.
Some disappointment, though, was felt earlier this year when the government re-introduced long-term capital gains tax (LTCG) on equity.
Smallcap party over
Smallcap stocks such as Ducon Tech (9,335 per cent), Uniply Industries (6,892 per cent), Tasty Bote (3,147 per cent),
V2 Retail
(2,532 per cent), Minda Industries (2,214 per cent) and SORIL Holdings (1,857 per cent) soared over 2,000 per cent during the period. These were among the 92 stocks that have rallied more than 1,000 per cent under the Modi regime.
As for largecaps, the BSE Sensex has climbed nearly 9,500 points, or 40 per cent, in the four years to trade around the 34,650 mark.
"The bull run in midcaps started post 2014 Modi euphoria. Since then, we have seen massive inflows into mutual fund portfolios. Most funds were diverted into midcaps and smallcaps for lack of options in the largecap space," brokerage Elara Capital said in a note.
The brokerage noted that 2014-15 was a year of largecaps, 2015-16 for midcaps and 2016-17 for smallcaps. One full cycle of shift into smaller names seems to have been played by the market for now, it said.
The recent selloff suggests the party is over.
Although we may see bottom-fishing rally in the short term, the larger trend in outperformance in midcaps has broken down, Elara Capital said.
Cautious optimism
The fourth year report card is the most crucial one, as it would be the last one before 2019 elections, says Prakarsh Gagdani, chief executive officer, 5Paisa.com, a discount broking subsidiary of IIFL.
"There were more reforms needed to boost agriculture and more jobs could have been created. The report card looks satisfactory. The market has largely tracked the economic development over the last four years and domestic investors have invested with trust. But going ahead, there would be cautious optimism in the runup to the 2019 elections," he said.
IBC and GST were complicated pieces of legislations and the government has been nimble in working through their implementation, said Viral Berawala, CIO, Essel Mutual Fund. Berawala said he would like to see more work being done on the judicial reforms front.