France, Britain in new push to curb migrant influx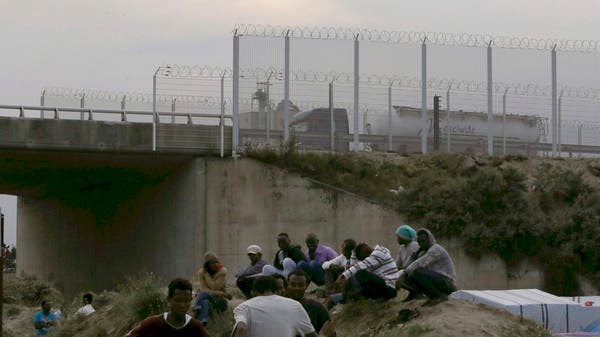 Migrants gather near a highway overpass by the makeshift camp called "The New Jungle" in Calais. (Reuters)
Reuters, Calais, France
Thursday, 20 August 2015
Britain and France announced new measures on Thursday to prevent undocumented migrants entering the Channel Tunnel, while stepping up joint police operations against the people-smugglers who profit from their desperation to reach Britain.
Both countries will contribute police resources to a shared "command and control" center in the northern French port city of Calais, Britain's Home Office said in a statement.
The new joint command will "find and disrupt organized criminals who attempt to smuggle migrants into northern France and across the Channel," it said.
For Britain and France, Calais is the focus of a wider migration crisis fuelled by conflict, persecution and poverty that has sent hundreds of thousands out of Syria, Libya and other Middle Eastern and African states.
Tens of thousands of migrants are arriving in Italy and Greece each week, while Germany expects the number of asylum applications to quadruple to a record 800,000 this year, the government said on Wednesday.
Thousands of migrants are holed up in makeshift encampments in Calais, with many trying each night to jump onto trucks or trains, or even walk the 31-mile (50-km) undersea tunnel to Britain. Some are killed in the attempt.
Led by senior French and British police commanders, the new center will report to both interior ministers. Home Secretary Theresa May and her French counterpart Bernard Cazeneuve are to outline the plans at a 1015 GMT news conference in Calais.
New measures include increased French police numbers and British-funded fencing, CCTV and other security equipment to protect the tunnel entrance in Calais, the Home Office said.
Operator Eurotunnel will receive unspecified "support" to deploy more security guards at the site, it added.
The growing refugee crisis will also feature in talks between French President Francois Hollande and German Chancellor Angela Merkel on Monday, as southern European states bearing the brunt of the influx press for a concerted EU-wide response.
"This is an absolute human tragedy, with people who are dying and people who are in terrible situations," French Foreign Minister Laurent Fabius said on Thursday.
France wants to set up processing centers for speedier treatment of asylum applications at Europe's main entry points and use development policy to enlist better cooperation from transit countries, Fabius said.
Last Update: Thursday, 20 August 2015 KSA 08:14 - GMT 05:14
http://english.alarabiya.net/en/News/world/2015/08/20/France-Britain-in-new-push-to-curb-migrant-influx-.html