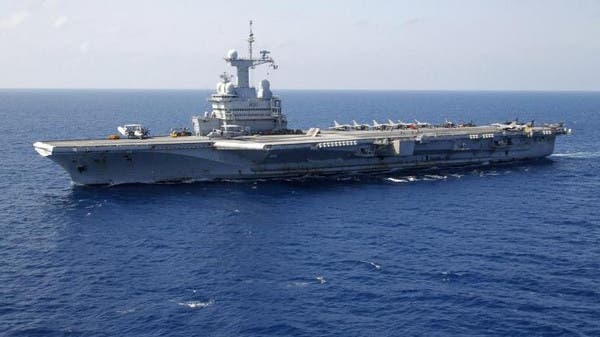 France's flagship Charles de Gaulle aircraft carrier. (File photo: Reuters)
AFP, Manama
Monday, 23 February 2015
France deployed an aircraft carrier in the Gulf on Monday as part of the U.S.-led military campaign against ISIS in Iraq, a defense ministry official said.
"The integration of the Charles de Gaulle in the operation... (in Iraq) begins this morning," a member of Defense Minister Jean-Yves Le Drian's staff told AFP as his entourage made its way to the carrier.
The first Rafale fighter jet took off in the morning from the Charles de Gaulle as it sailed about 200 kilometers (120 miles) off the coast north of Bahrain in the direction of Iraq.
France launched Operation Chammal in support of the U.S.-led coalition against ISIS in September.
The Charles de Gaulle left its base in Toulon on January 13 for a five-month mission that will include several weeks in the Gulf working alongside the U.S.S Carl Vinson as part of the coalition launched after ISIS seized swathes of Syria and Iraq last year.
The French carrier is then to travel to India, where it is due to take part in exercises in mid-April.
Carrying 12 Rafale and nine Super Etendard fighters, the carrier will significantly increase French air capabilities in the region.
France has nine Rafales in the United Arab Emirates and six Mirage fighters in Jordan operating in Iraq, along with a maritime patrol and a refuelling aircraft.
French warplanes have carried out about 100 reconnaissance missions and the same number of strike raids in Iraq since mid-September in support of Iraqi forces and Kurdish peshmerga fighters battling ISIS on the ground, ministry sources said.
France is, along with Australia, one of the main contributors to the 32-member coalition effort aside from the United States, which is carrying out the bulk of strikes.
The coalition has carried out more than 2,000 strikes since August, with France and other Western nations conducting operations over Iraq and several Arab nations taking part in strikes over Syria.
The campaign aims to support forces in Iraq and Syria, including rebel fighters and Kurdish forces, fighting ISIS on the ground and to hit infrastructure seized by the jihadist group such as oil facilities.
While excluding the deployment of ground combat troops, coalition countries have also sent trainers to work with Iraqi forces.
U.S. military officials have said they want Iraqi forces to launch an offensive to retake the strategic northern city of Mosul from ISIS in April or May.
The Charles de Gaulle strike group also includes an attack submarine, a French anti-aircraft frigate and the HMS Kent, a British anti-submarine frigate. In total some 2,700 sailors are involved in the mission, including 2,000 on the carrier itself.
Last Update: Monday, 23 February 2015 KSA 12:22 - GMT 09:22
http://english.alarabiya.net/en/News/middle-east/2015/02/23/France-deploys-aircraft-carrier-for-ISIS-fight-.html