APRIL 25, 2019
France's Macron pledges to cut taxes in response to Yellow Vest protests
By Daniel Uria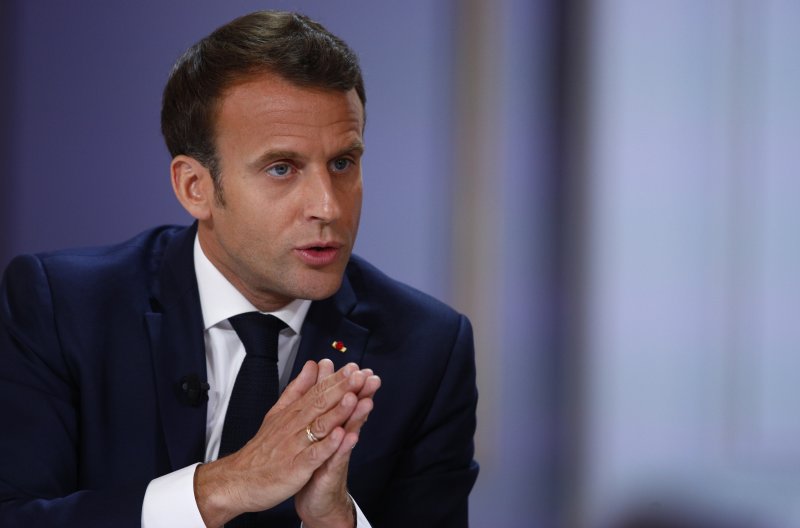 French President Emmanuel Macron promised a series of reforms including tax cuts in an address responding to the Yellow Vest protests in the country. Photo by Ian Langsdon/EPA
April 25 (UPI) -- French President
Emmanuel Macron
pledged to cut taxes and make other reforms Thursday in an address responding to the country's so-called Yellow Vest protests.
Addressing the nation in a news conference for the first time since he was elected in 2017, Macron said he would implement
a "significant cut" in income tax
and reintroduce inflation-linking for pensions worth less than $2,238 a month.
"It seems to me that if, in addition to all that's already been done, we manage to lower income tax by about $5.6 billion, it will be a significant gesture," he said.
Macron also announced plans to work toward a
more decentralized government
, extend proportional representation in elections and to abolish the Ecole Nationale d'Administration, a school that is responsible for producing many of France's heads of state, chief executives and other people of power.
The French president said he learned a lot from holding national debates with French citizens and local government leaders, but added he plans to hold steadfast to his pro-business agenda.
"Have we gone in the wrong direction? I don't think so," Macron said.
Thursday's address came in response to waves of protests by members of the Yellow Vest movement, which derived its name from the road-safety vests worn by demonstrators.
The speech was originally set to take place April 15 but was postponed after the fire at
Notre Dame
cathedral.
Yellow Vest protesters held rallies on Saturday in reaction to millions of dollars that were donated to rebuild the cathedral.
The protests began in late 2018 in response to fuel tax hikes supported by Macron and eventually grew to outcries against issues such as the living standard, diminishing social welfare and others.
Macron rejected several of the group's requests, including allowing for referendums to pass laws and remove public officials, requiring election officials to include blank ballots in the vote count and reinstating a wealth tax he abolished upon taking office.
https://www.upi.com/Top_News/World-News/2019/04/25/Frances-Macron-pledges-to-cut-taxes-in-response-to-Yellow-Vest-protests/8711556229825/