French special forces kill top Al-Qaeda militant in Mali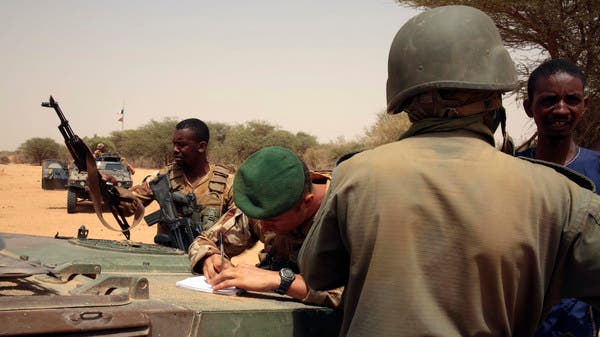 In this photo taken June 23, 2015, French forces disarm a man during a patrol in the desert of Northern Mali along the border with Niger on the outskirts of Asongo, Northern Mali. (File Photo: AP)
AFP, Paris
Tuesday, 7 July 2015
French special forces killed a leader of Al-Qaeda in Mali who was involved in the kidnapping of hostage Serge Lazarevic, but released from prison in exchange for the Frenchman's freedom, the army said Tuesday.
During an operation on Sunday in the northeastern town of Kidal in Mali, "two terrorists were captured and a third, Ali Ag Wadossene, was killed. He is one of the operational leaders of AQIM (Al-Qaeda in the Islamic Maghreb) in the zone," said a French army statement.
Two special forces soldiers were injured in the operation in the troubled west African nation where France has had troops since 2013 when it launched an operation to oust Islamists who had seized northern Mali.
While never confirmed by France, Mali admitted in December that four prisoners were released in exchange for the freedom of Serge Lazarevic, who spent three years in the hands of Islamist militants.
Wadossene was also one of the instigators of the 2011 kidnapping of Lazarevic and fellow Frenchman Philippe Verdon who was found shot dead in 2013.
"He who dared kidnap a peaceful French citizen in our country" and killed a prison guard during his brief escape in June 2014 "could never, ever be pardoned of this fact and in his place I would prefer a thousand times over that I be kept in prison," Malian President Ibrahim Keita said at the time.
"It is not a denial of justice. We don't have the right to deprive a man of freedom for three years whose only mistake was to be in Mali."
Lazarevic was the last of more than a dozen French citizens taken captive in recent years, with those held in Africa reaching a high of 15 last year.
Last Update: Tuesday, 7 July 2015 KSA 18:03 - GMT 15:03
http://english.alarabiya.net/en/News/africa/2015/07/07/French-special-forces-kill-top-Al-Qaeda-militant-in-Mali-army-says.html