Despite attempt on his life, Hamas' top military commander is actively renewing group's rocket stockpiles, rebuilding terror tunnels, as tensions between group's political and military wings running high as it struggles to return itself to pre-summer state – Gaza, an overview.
Nine months after Israel locked horns with Hamas in Gaza for over 50 days, it is clear that not only did Mohammed Deif, Hamas' military commander, survive the Israeli
attempt on his life
that saw his wife and child killed, but he has also jump-started Hamas' military wing, sources in Israel said Wednesday.
In the past, Deif had run the Al-Qassam Brigades as a centralized organization, overseeing every small detail in its activities – from its overarching strategy, to rocket production.
Mohammed Deif
However, in recent months, and in the wake of the devastating Operation Protective Edge, tensions between Hamas's military and political wings have fermented, with the latter placing the onus of the group's failure on the political echelon, which they say undermined their efforts to steer the conflict in its favor.
For years Hamas has planned for a surprise shock attack followed by a larger offensive in or from Gaza. During its opening onslaught, Hamas planned to use its complex system of tunnels to stream its terrorists into Israel and have them attack a border area community, or even communities, sowing terror and kidnapping Israelis back into Gaza. This was supposed to be Hamas' opening move during Operation Protective Edge. This plan was Deif's brainchild.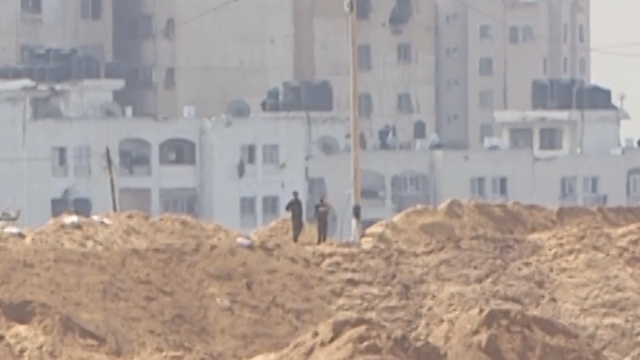 Still from video showing armed militants on the Gaza side of the border in March 2015
But Hamas' political leadership refused to green-light the operation when the time came, and thus the military wing now blames them for the operation's failure.
Tensions between the two branches are further fueled by disagreement on other issues as well: While Deif has been pushing for Hamas to bury the hatchet with Iran in return for arms and funds, political leader Khaled Mashaal has been pushing for closer ties with the Gulf states, namely Saudi Arabia – Iran's arch-nemesis.
Generally, there is very little regard among the military wing for its political leadership, and such tensions could boil over to the point that it will begin to make decisions independently. When Ahmed Jabari headed the terror group's military wing he would frequently launch terror attacks without informing or coordinating with the political leadership.
Despite tensions, Hamas' military wing still has the political echelon's support and receives additional funding from Iran. The money trail leading to Hamas spans almost the entire globe and passes through cambists in Egypt. From there it makes the journey through the Sinai and – through the tunnels – it passes in cash form into Gaza. Despite the Egyptian army's best efforts to destroy the tunnel infrastructure in the Sinai, at least a dozen are still active.
More rockets, more tunnels
Not long after the operation in Gaza ended, Hamas began to renew its underground construction projects – rebuilding both offensive and defensive tunnels based on the assumption Israel was still lacking an adequate response to the threat. The new tunnels were dug in new locations, while those unearthed or hit by Israel over the summer were disregarded and left to decay.
Hamas has even increased its investment in the tunnels, and now employs over 1,000 workers working around the clock in three shifts, six days a week. To fortify their inner walls, Hamas uses cement purchased on the black market in Gaza, in addition to wood and hard plastics.

Inside a Gaza tunnel (Archive Photo: Reuters)
By the end of Operation Protective Edge, some 32 offensive tunnels were known to Israel, some of which already reached into Israeli territory. Hamas has set a goal for itself to reach that number again ahead of any new flare-up with Israel.
The same can be said about the group's self-produced rocket stockpile. Recent months have seen a massive effort to replenish the group's rocket supplies to their pre-war state. There is a concentrated effort to build short-range rockets that can hit border communities, as these types of projectiles are the most effective against Israel's Iron Dome missile defense system. The group is also busy amassing long range rockets that can go as far as Tel Aviv or Jerusalem (roughly 75 km) and even those that can reach Haifa (150 km).
As part of Hamas' attempt to overcome Iron Dome, it is possible the group will attempt to fire multiple rockets from different locations at a single target in Israel, some of which will eventually be able to penetrate the missile defense system, which despite its impressive record is limited to a finite number of interceptions per battery.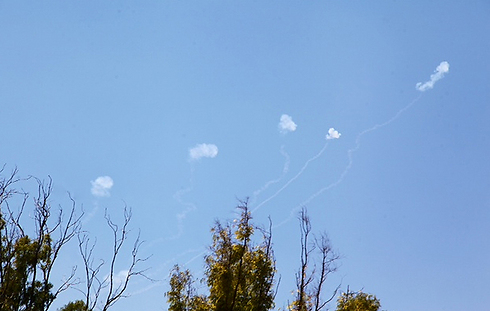 Several rockets intercepted in Sderot during Operation Protective Edge (Photo: Motti Kimchi)
Hamas has also worked to get its elite ground and navy commando units back into shape, in addition to attempting to boost its unmanned aircraft program. Hamas is using Syrian and Iranian experts to help rebuild its forces.
Second front
One of the central lessons the group internalized as a result of Operation Protective Edge was that to truly be able to deal Israel a blow, they need to open an additional front during the conflict. Therefore the group has begun to lay a terror infrastructure in the Sinai which will pester the IDF during any future fighting by firing rockets. To this end, it is very likely to assume that a channel of dialogue has been opened between Hamas and ISIS' branch in Sinai. Hamas understand it needs ISIS affiliates in the Sinai to help with smuggling efforts from Sinai to Gaza.
In case a war breaks out in the north with Hezbollah, Hamas could decide to use the opportunity to open a second front in the south, to further strain the IDF's defenses.
Today more than ever, Hamas sees itself committed to maintaining the calm with Israel and has no desire to lead an escalation as long it is still working on rebuilding itself to pre-operation levels. That was the reason that Hamas was quick to send Israel the message that it was not them who was behind the
rocket fire
last Thursday. The message was brokered by Egypt, despite the falling out between the two neighbors, further proving that the Israel-Egypt-Hamas line of communication is, like Deif, still alive and kicking.
*two (unrelated) points: 1. Keep in mind this was written by an Israeli website. 2. I expect there to be a war between Israel and Hezbollah within the next two years.