AGM-114
Hellfire

​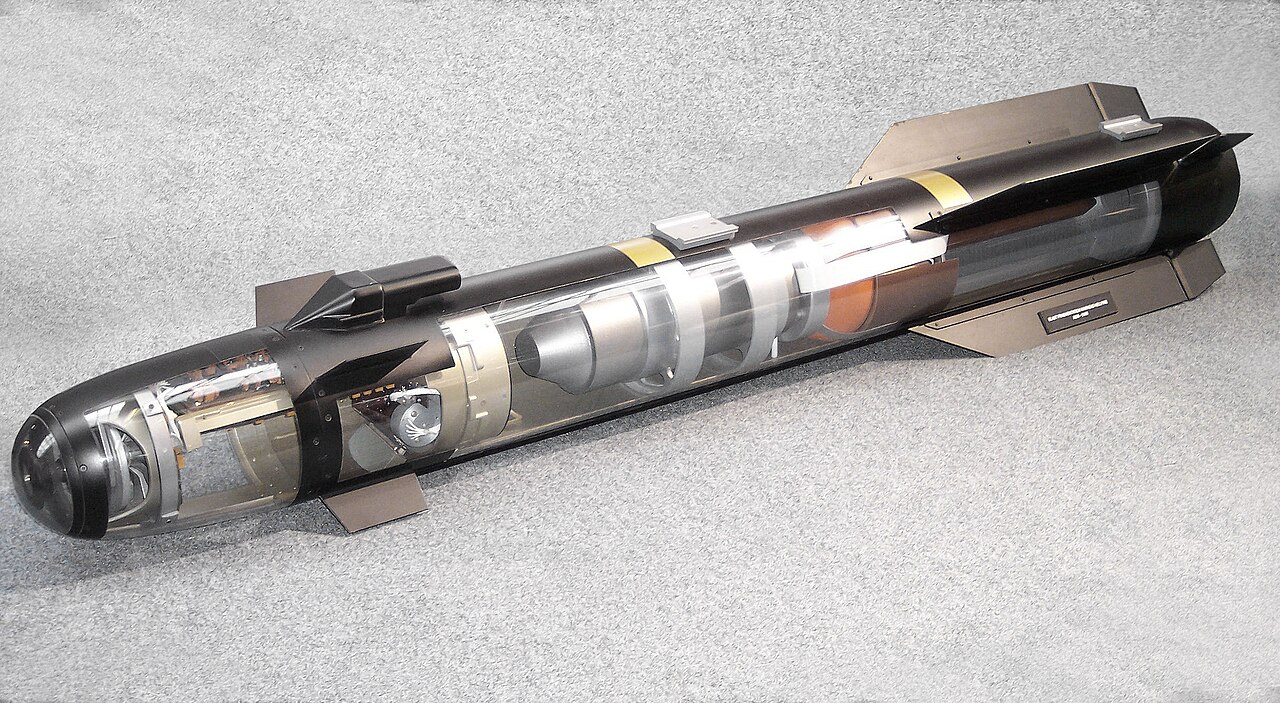 A model of a Hellfire's components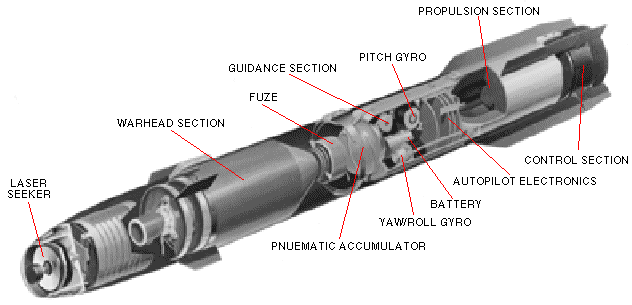 ​
About the missile :
Type
Air-to-surface and surface-to-surface missile
Place of origin
United States
Service history :
In service
1984–present

Production history:

Manufacturer
Lockheed Martin
Unit cost
US$110,000
Produced
1974–present

Specifications:
Weight
100–108 lb (45.4–49 kg)
Length
64 in (163 cm)
Diameter
7 in (17.8 cm)
Warhead
High Explosive Anti-Tank (HEAT); 20 lb (9 kg) tandem anti-armor
Metal augmented charge (MAC); 18 lb (8 kg) shaped-charge
Blast Fragmentation
Engine
Solid-fuel rocket
Wingspan
13 in (33 cm)

Operational range:
546 yd – 5 mi (500 m – 8 km)

Speed
Mach 1.3 (995 mph; 450 m/s; 1591 km/h)
Guidance system :
Semi-active laser homing
millimeter wave radar seeker

Launch platform :
Rotary- and fixed-wing platforms,Unmanned combat air vehicles, tripods, ships, and ground vehicles
The Hellfire can be deployed from rotary- and fixed-wing aircraft, waterborne vessels and land-based systems against a variety of targets.
The development of the Hellfire Missile System began in 1974 with the U.S. Army requirement for a "tank-buster", launched from helicopters to defeat armored fighting vehicles. Production of the AGM-114A started in 1982. The Development Test and Evaluation (DT&E) launch phase of the AGM-114B took place in 1984. The DT&E on the AGM-114K was completed in Fiscal Year (FY)93 and FY94. AGM-114M did not require a DT&E because it is the same as the AGM-114K except for the warhead. Most variants are laser guided with one, AGM-114L "Longbow Hellfire", being radar guided.Laser guidance can be provided either from the launcher, such as the nose-mounted opto-electronics of the AH-64 Apache attack helicopter, other airborne target designators or from ground-based observers, the latter two options allowing the launcher to break line of sight with the target and seek cover.
For more about Hellfire history :
AGM-114 Hellfire - Wikipedia, the free encyclopedia