Hillary Clinton hits back at Jeb Bush on Iraq war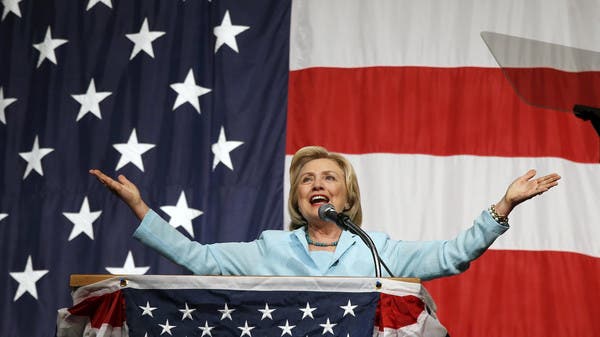 U.S. Democratic presidential candidate Hillary Clinton speaks at the Iowa Democratic Wing Ding dinner in Clear Lake. (File: Reuters)
By AFP | Washington
Sunday, 16 August 2015
Democratic presidential hopeful Hillary Clinton returned fire Saturday at her Republican rival Jeb Bush's claim that a "premature" U.S. pullout from Iraq fueled the rise of the Islamic State of Iraq and Syria (ISIS) group.
Clinton served as secretary of state under President Barack Obama during the rise of the self-proclaimed ISIS.
In 2002, while serving as a U.S. senator from New York, Clinton voted in favor of authorizing the invasion of Iraq ordered by Bush's brother and then-president George W. Bush.
With the war dragging into a protracted, costly and unpopular conflict, she later called her decision a mistake.
"I find it somewhat curious that Jeb Bush is doubling down on defending his brother's actions in Iraq," Clinton said on the campaign trail in Iowa.
"If he's going to do that, he needs to present the entire picture," she argued.
"And the entire picture as you know, includes the agreement that George W. Bush made with the (Nuri al-) Maliki government in Iraq that set the end of 2011 as the date to withdraw American troops."
On Tuesday, Jeb Bush blamed Clinton for allowing the brutal emergence of ISIS by withdrawing troops from Iraq too fast.
"That premature withdrawal was the fatal error, creating the void that (ISIS) moved in to fill," he told a crowd in California.
"Rushing away from danger can be every bit as unwise as rushing into danger, and the costs have been grievous."
Taking a political risk, Bush even suggested it might be necessary to send more troops back to Iraq.
"Right now, we have around 3,500 soldiers and Marines in Iraq, and more may well be needed."
His remarks dredged up a bitter debate that has long bubbled in Washington and that has tarnished his brother's legacy.
A wildly successful invasion of Baghdad was followed by a ham-fisted occupation that fueled brutal sectarian violence and left the central government debilitated.
In addition to being a point of contention between Republicans and Democrats, the conflict may have also cost Clinton the 2008 Democratic nomination to anti-war candidate Barack Obama.
ISIS frequently targets Shiites, whom it considers heretics, fanning the flames of sectarian tensions in Iraq, and often strikes crowded areas such as markets and cafes.
ISIS overran large parts of Iraq in June 2014 and also holds significant territory in neighboring Syria.
Last Update: Sunday, 16 August 2015 KSA 07:17 - GMT 04:17
http://english.alarabiya.net/en/News/world/2015/08/16/Hillary-Clinton-hits-back-at-Jeb-Bush-on-Iraq.html