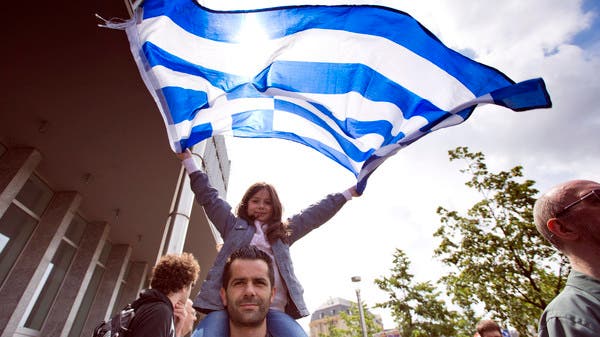 A girl sits on her father's shoulders as she unfurls the Greek flag during a protest march in solidarity with Greece in the center of Brussels on Sunday, June 21, 2015. (AP)
By Paul Crompton
| Al Arabiya News
Sunday, 21 June 2015
As Greece tries to reach a deal with the EU to stop it from defaulting on its large debt and possibly having to withdraw from the Eurozone, the Middle East could stand to benefit due to an ever-cheaper Euro and capital outflows from Europe, an analyst at the UAE's biggest foreign-exchange trader told Al Arabiya News on Sunday.
Despite the risk of the Greece crashing out of the Eurozone and reverting to its old Drachma currency, the cheap Euro – which in March hit a
12-year-low
– could result in bargains for the dollar-dominent Middle East, said Nour Eldeen al-Hammoury, the chief market strategist at Abu Dhabi-based ADS Securities
"A Greek exit might be positive to the Middle East," said Hammoury. The member states of the six-member Gulf Cooperation Council (GCC) stand to gain the most as they have proved that it's safe and stable financially."
Red flags
"We are already seeing outflows from Europe toward the GCC as the uncertainty toward the situation in Greece raises new red flags," he added.
However, outward-facing investors from the region should lie low for the mean time, and are doing the "right thing" by holding out, an economist told Dubai-based business magazine Arabian Business earlier this month.
Yet Hammoury said that the current situation provides a very high risk/reward ratio for Middle East-based investors, despite the risks. "The opportunities are there but risky for the time being. However the reward never comes without risk," he said.
Vassilis Monastiriotis, an economist at the London School of Economics, told Al Arabiya News that there was an added risk of further destabilization of the region – including neighbouring Turkey - which could have some "wider regional implications."
Greece has not received any bailout funds since summer last year and its finances are only kept going through a weekly emergency cash injection from the European Central Bank (ECB).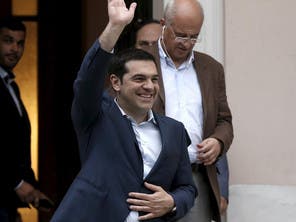 Greek Prime Minister Alexis Tsipras waves to people cheering as he leaves his office at the Maximos Mansion following a governmental council in Athens June 21, 2015. (Reuters)
On Monday, at a crucial Eurozone summit, European leaders will try again reach a deal between Greece and its creditors, ahead of a June 30 deadline to make a 1.6 billion euro ($1.8 billion) loan repayment to the International Monetary Fund, which, at present, it would be unable to make, and even bigger payments to the ECB in July.
While direct economic relations between Greece and Middle Eastern states are slight – a 2013 report from an Athens-based think-tank declared the region "
terra incognita
" (unknown ground) to Greek businesspeople – the region is nevertheless exposed to European businesses and its banking sector, Hammoury said.
Many analysts believe that a Greek exit from the Eurozone could lead to a collapse of the European project – with other cash-strapped bloc members such as
Spain and Portuga
l seeing the potential to bow out of the currency union.
Unlikely
But will Greece leave the Eurozone altogether? Both analysts say the prospect is unlikely.
He added that even with a "likely" Greek default, "it remains still very unlikely that there will be an exit," said Monastiriotis.
"Rather, there may be a temporary (…) imposition of capital controls, which in turn may trigger a political compromise in the next weeks or months."
Hammoury said: "At the end of the day, the majority in the Euro union agreed that Greece needs to stay in the Euro. Therefore, they will do whatever it takes to solve the current issues."
Last Update: Sunday, 21 June 2015 KSA 21:51 - GMT 18:51
http://english.alarabiya.net/en/business/economy/2015/06/21/How-an-unresolved-Greek-economic-crisis-could-affect-the-Middle-East.html