How Hezbollah evades sanctions in Venezuela and partakes in Maduro's drug trade
By Dr. Vanessa Neumann
08 May 2019
Ahmadinejad and Chávez began developing ties in the early 2000s, calling each other "brothers." (File photo: AP)
The international media has been rife with analysis about the events of April 30th and May 1st, when Venezuelan Interim President Juan Guaidó, recognized by more than 54 countries, launched a popular uprising (in keeping with Sections 333 and 350 of Venezuela's 1999 Constitution) to garner the support of the military command and oust the dictator Nicolás Maduro. His # OperaciónLibertad inspired the hopes of many millions of Venezuelans, two-thirds of whom are in a slow-motion famine, while Maduro's pockets grow fatter by the day.
To be fair, Maduro did not invent the greatest kleptocracy of the modern era, with more than $200 billion stolen, according to conservative estimates. His predecessor Hugo Chávez set the mechanisms in place, but Maduro perfected them. In 2002, in response to an oil strike and a 48-hour removal from power, Chávez militarized the state-owned oil company Petróleos de Venezuela, SA (PDVSA). Savvy, internationally-trained oil executives were ousted, and loyalist ideological military commanders – who knew nothing about the oil industry but were tied to narcoterrorist organizations, including Hezbollah – took over.
The transfer of authority enabled grand corruption schemes, with money supposedly designated for economic development flowing through slush funds. With Maduro's ascent to power, it all got much worse. PDVSA's finance department became a money laundering mechanism for everyone from Iran to the FARC to Russian organized crime.
How did Venezuela's relationship with Iran originate? It was via the official policy of Hugo Chávez, which opened up Iran's financial channels in Venezuela. During 2001 and 2003 visits to Tehran, Chávez signed joint venture accords with then-president Mahmoud Ahmadinejad for the manufacture of tractor parts and cars, as well as for banking, including the Toseyeh Saderat Iran bank.
The relationship with Hezbollah developed on a separate track. Latin America received a lot of Lebanese immigrants in the 1980s, during the civil war. In the 1990s, Lebanese Hezbollah sought to deepen its financial relationships with its Latin American diaspora, as the administrations of both presidents Rafsanjani and Khatami had slashed its funding by nearly 70 percent, and sanctions had also had a significant impact on the Iranian economy.
The two tracks came together in 2007, when then-Foreign Minister Maduro and then-Vice Minister for Finance Rafael Issa met with Hezbollah leader Hassan Nasrallah in a Damascus hotel room. From that meeting, Maduro flew to Tehran to join Chávez in his meeting with Ahmadinejad. From then on, many commercial ties were established, and the above-board led to the illicit. Iran's Islamic Revolutionary Guard Corps opened subsidiaries in Venezuela, which then moved money through PDVSA, using it to enter the international financial system and evade sanctions.
But there are much deeper ties that bind Hezbollah to Venezuela: Blood ties. A prime example is former Minister of the Interior and Justice Tareck el-Aissami, a Venezuelan of Syrian descent. El-Aissami was designated under the Kingpin Act in February 2017 for playing a significant role in international narcotics trafficking, while he was Venezuela's executive vice president. His primary frontman Samark López Bello was also designated for providing material assistance to his activities through an international network of petroleum, distribution, engineering, telecommunications, and asset holding companies to launder the drug proceeds. Many of them had government contracts with PDVSA.
While the # OperaciónLibertad effort did not result in the ultimate goal of ousting Maduro, it did succeed in revealing a lot. The release of long-standing political prisoner Leopoldo López by his SEBIN intelligence captors, and the support of some mid-level military for Guaidó, betrayed the extent of internal fracture within the regime. We also now know that Maduro's inner circle has been negotiating his exit. US National Security Advisor John Bolton has said Maduro is now "surrounded by scorpions in a bottle." US Secretary of State Mike Pompeo asserted Maduro would have gotten onto the waiting plane had it not been for Russian interference. In essence, the Russians are following their Syrian playbook. Their message to Maduro was clear: Trust us, we kept Assad in power; we will keep you in power, too.
The Russians fear they will lose the $17 billion they loaned to Maduro, $10 billion of which is still outstanding, as well as the oil refinery and gas rights they have wrangled, if Guaidó occupies the presidential palace and invokes the "odious debt" doctrine, because the loans did not follow constitutional channels of approval by the National Assembly and were designed to keep an oppressive elite in power.
While Russian interference is likely to be bought off in a repayment deal with a post-Maduro government, Hezbollah will pose a different challenge. The US sanctions on Venezuela have had a secondary effect on Hezbollah's finances, impacting the salaries of their fighters in Syria and degrading their military and terrorist capabilities. However, they still make a lot of money through the Maduro regime's drug running, which continues to spike to horrifying proportions, as Maduro's military-backed cartel scrambles for cash to get around the sanctions. Maduro's military is making an estimated $8.8 billion a year from the trafficking of narcotics, gasoline, food, gold, and coltan. As we saw this week, they will not easily be moved away from their financial interests, which suits Hezbollah perfectly.
Keeping Maduro in power is therefore in Hezbollah's best interests, and they will work hard for that. During my visit to Beirut in 2012, they vowed that they would sustain the power of whomever succeeded Chávez. Since then Nasrallah has openly asserted he would like to see their bag man, el-Aissami, succeed Maduro.
The concern is that Hezbollah will seek to keep Maduro in situ through asymmetric or terrorist operations, were Maduro to face a significant military threat to his power. Alternatively, if regime change is inevitable, they would scheme to keep their illicit financing channels open through whatever military remains past the transition, perhaps into Guaidó and beyond, by identifying allies or corruption. This is classic Hezbollah modus operandi.
If a plan is not developed to address how to deal effectively with Hezbollah, now as well as post-transition, my people's suffering will extend and deepen. We are already projected to surpass the Syrian refugee crisis within the year, destabilizing neighboring countries that have worked hard to overcome their terrorist insurgencies and find peace and prosperity, such as Peru and Colombia. Disrupting Venezuela's financing of criminal and terrorist groups would help improve security not only in the western hemisphere, but in the Middle East as well.
_________________________
Dr. Vanessa Neumann is Juan Guaidó's appointed ambassador and chief of diplomatic mission to the United Kingdom. Prior to her diplomatic appointment, she was a long-standing expert on crime-terror pipelines and the author of
Blood Profits: How American Consumers Unwittingly Fund Terrorists
.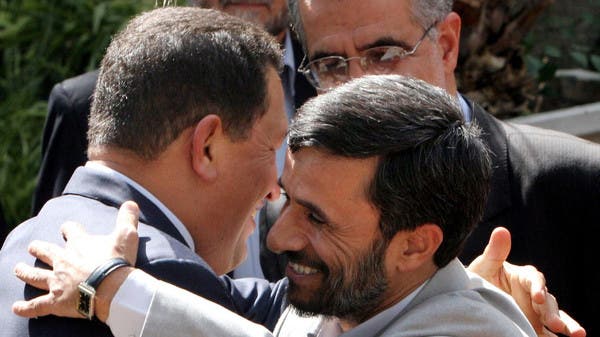 The international media has been rife with analysis about the events of April 30th and May 1st, when Venezuelan Interim President Juan Guaidó,
english.alarabiya.net