In first, Pakistan uses locally-made drone against militants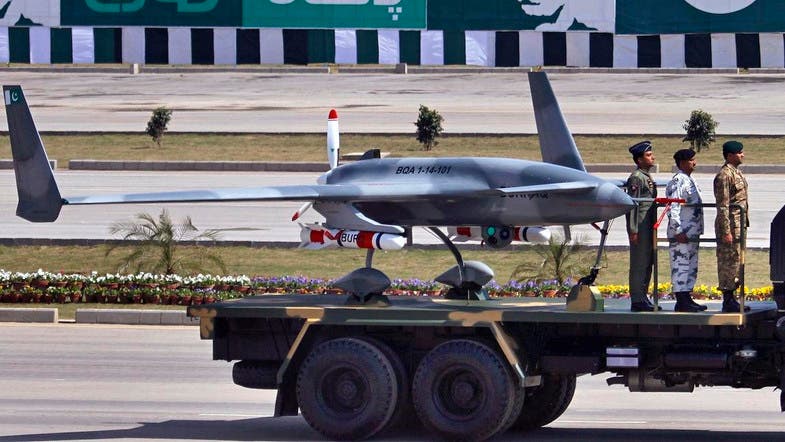 Pakistan's first locally manufactured armed drone aircraft is loaded on a vehicle during the Pakistan National Day parade in Islamabad, Pakistan, Monday, March 23. (File photo: AP)
By AFP | Islamabad
Monday, 7 September 2015
Pakistan's military on Monday said it had for the first time used a locally-manufactured drone to target a militant compound in its restive northwestern border region, killing three insurgents.
Pakistan announced the successful test flight of the 'Burraq' drone, which is capable of delivering laser-guided missiles, in March, joining a handful of other countries including the U.S., China and Israel in possessing the technology.
"1st ever use of Pak(istan) made Burraq Drone today. Hit a terrorist compound in Shawal Valley killing 3 high profile terrorists," Pakistani military spokesman Major General Asim Bajwa said on Twitter.
The Shawal valley, situated in the lawless North Waziristan tribal district that borders Afghanistan, has been the scene of some of the fiercest fighting between Pakistani forces and the Taliban since the launch of a massive military operation there last June.
Area off-limits
The area is off-limits to journalists and it was impossible to verify the military's claims independently.
The U.S. has run a controversial drone program in Pakistan's tribal areas since 2004, which Islamabad has officially opposed and termed a violation of its sovereignty, though leaked documents in the past have shown the two countries worked together.
Recent U.S. drone attacks in areas also targeted by Pakistan's military have also raised speculation of collusion.
Islamabad had also long sought to acquire drone technology from Washington in order to carry out the attacks itself.
Pakistan has been battling Islamist groups in its semi-autonomous tribal belt since 2003 after the U.S.-led invasion of Afghanistan caused Taliban and al-Qaeda fighters to flee across the border.
Last Update: Monday, 7 September 2015 KSA 11:23 - GMT 08:23
http://english.alarabiya.net/en/News/asia/2015/09/07/Pakistan-armed-drone-kills-three-in-first-attack.html