In Spain, Jordan's King Shows Interest in A400M, C295
By
Esteban Villarej
o4:28 p.m. EST November 20, 2015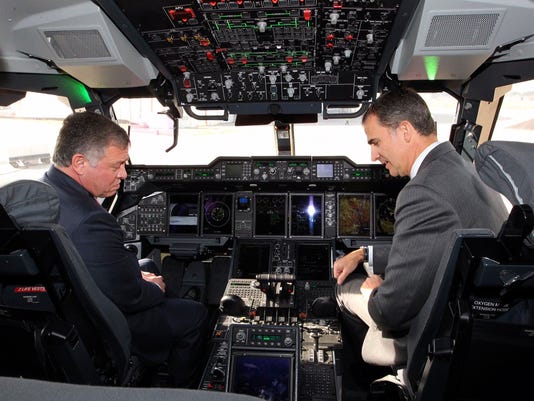 MADRID — King Abdullah II of Jordan today showed interest in the A400M airlifter and the multirole C-295 aircraft during his visit to the Airbus Defence and Space factory in Getafe near Madrid, according to Spanish officials.
King Abdullah visited the facilities of Airbus with King Felipe VI of Spain. Both monarchs took a photo inside the cockpit of an A400M already prepared to be delivered to the British Royal Air Force.
Spanish Defense Minister Pedro Morenés, Prince Faisal bin Hussein, deputy supreme commander of the Jordanian Armed Forces, and Fernando Alonso, head of the Military Aircraft division of Airbus Defence and Space, were present during the visit.
In July 2014, Jordan announced an agreement with US company ATK to convert a Royal Jordanian Air Force C-295 into a gunship to provide "additional capabilities, more firepower and flexibility for the defense of the Kingdom." That new C-295 will join two smaller AC-235s made by Airbus in Spain and also modified for ground attack by ATK.
In Spain, Jordan's King Shows Interest in A400M, C295