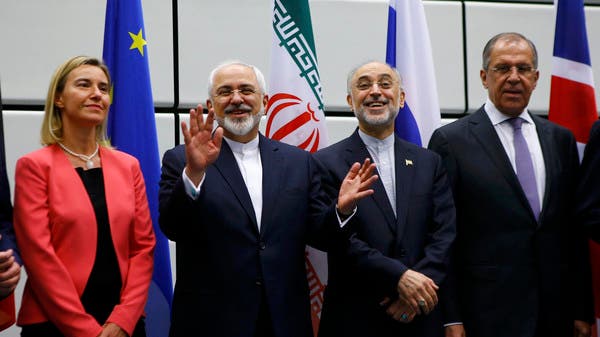 Iranian Fareign Minister Mohammad Javad Zarif (2nd L), High Representative of the European Union for Foreign Affairs and Security Policy Federica Mogherini (L), Iranian ambassador to IAEA Ali Akbar Salehi (2nd R) and Russian Foreign Minister Sergey Lavrov (R) Vienna, Austria 14 July, 2015. (Reuters)
By Staff writer | Al Arabiya News
Tuesday, 14 July 2015
Major world powers and Iran have formally concluded a historic deal aimed at ensuring that Iran does not obtain the nuclear bomb, the EU's foreign policy chief Federica Mogherini announced Tuesday.
"Iran Talks done. We have the agreement," she said in a tweet, shortly after a final plenary session of foreign ministers from the so-called P5+1 and Iran ended in Vienna.
Iranian President Hassan Rowhani said the nuclear deal will open "new horizons" now that "this unnecessary crisis" has been resolved.
In a message on his Twitter account, Rowhani said the successful talks had shown "constructive engagement works."
There can now be "a focus on shared challenges", he added. Iran's foreign minister hailed the nuclear accord with world powers as "a historic moment" but acknowledged the deal was "not perfect".
"I believe this is a historic moment. We are reaching an agreement that is not perfect for anybody but it is what we could accomplish and it is an important achievement for all of us," Mohammad Javad Zarif said at a final ministerial meeting between Iran and six world powers in Vienna.
Iran and major powers agreed on a mechanism under which the U.N. nuclear watchdog International Atomic Energy Agency could get access to suspect nuclear sites in Iran within 24 days, the text of the Iran nuclear agreement said.
Iran will also be allowed to conduct research and development (R&D) with uranium for advanced centrifuges during the first 10 years of a nuclear agreement with major powers, according to the text of the deal posted on the Russian foreign ministry website.
"Iran will continue to conduct enrichment R&D in a manner that does not accumulate enriched uranium," the text of the agreement said.
Nuclear inspections
The deal is said to allow U.N. inspectors to press for visits to Iran's military sites as part of their monitoring duties – a compromise between Washington and Tehran. Iranian media rejected such a demand earlier today.
"All the hard work has paid off and we sealed a deal. God bless our people," one diplomat told Reuters on condition of anonymity. A second Iranian official confirmed the agreement.
But access at will to any site would not necessarily be granted and even if so, could be delayed, a condition that critics of the deal are sure to seize on as possibly giving Tehran time to cover any sign of non-compliance with its commitments.
Under the deal, Tehran would have the right to challenge the U.N request and an arbitration board composed of Iran and the six world powers that negotiated with it would have to decide on the issue.
Still, such an arrangement would be a notable departure from assertions by top Iranian officials that their country would never allow the U.N.'s International Atomic Energy Agency into such sites. Iran has argued that such visits by the IAEA would be a cover for spying on its military secrets.
The foreign ministers of Britain, China, France, Germany, Russia and the United States met for about an hour just after midnight as they struggled to complete the agreement, which has been under negotiation for more than 20 months.
Any deal will go to the U.N. Security Council, which is expected to endorse it by the end of the month, to start the mechanics of implementation - long-term, verifiable limits on Iranian nuclear programs that could be used to make weapons in exchange for an end to sanctions on the Islamic Republic.
Details
Tehran and the six powers have been holding marathon diplomatic negotiations at the ministerial level for more than two weeks to resolve a 12-year stand-off over Iran's nuclear program.
A draft nuclear deal between Iran and six major powers calls for U.N. inspectors to have access to all suspect Iranian sites, including military, based on consultations between the powers and Tehran, a diplomatic source told Reuters earlier today.
The source also said that if the deal is accepted, a U.N. Security Council resolution on it would ideally be adopted this month and the steps to be taken by both sides - including Iranian limitations on its nuclear program and relief from sanctions on Iran - would be implemented in the first half of 2016.
The details of the draft deal, which is still being negotiated, are broadly in line with an interim agreement clinched on April 2 in Lausanne, Switzerland.
But as negotiations reached a critical stage, new details emerged, and it was significant that the latest draft included inspections for military sites, access to experts and a proposed timeline for putting a possible deal in place.
The information from the source was preliminary and subject to change because it was based on a draft of the nuclear deal that was not the final version and that could be amended before final approval by Iran and the six powers.
Diplomats close to the talks say that they are hoping to approve a final version of the draft document as early as Tuesday. Negotiations were continuing in the early hours of Tuesday to reach an agreement, the diplomats said.
The source said that Iran and the U.N. International Atomic Energy Agency have agreed on a plan to address outstanding questions about the possible military dimensions of past Iranian nuclear activity by the end of this year, adding that some sanctions relief would be conditioned on Tehran resolving this issue.
The plan agreed by the IAEA and Iran includes one visit to the Parchin military site as well as possible interviews with Iranian nuclear scientists, the source noted.
Nuclear negotiations between Tehran and six world powers missed a midnight deadline on Monday to reach a final deal, but diplomats from all sides said they hoped for a breakthrough in the coming hours.
Israeli reaction
Israeli Prime Minister Benjamin Netanyahu said the nuclear deal was "a historic mistake for the world."
"In every area where it was supposed to prevent Iran attaining nuclear arms capability, there were huge compromises," his office quoted him as saying at the start of a meeting with Dutch Foreign Minister Bert Koenders.
Netanyahu has long opposed any deal with Iran, and Israel has signalled it could take military action if need be to stop the Islamic republic from obtaining a nuclear weapons capability.
He has taken his campaign to the U.S. Congress and the U.N. General Assembly but ultimately failed to block the deal.
"You can't prevent an agreement when those negotiating it are prepared to make more and more concessions to those shouting 'Death to the United States' even as the talks are in progress," Netanyahu said on Tuesday.
"Iran will get hundreds of billions of dollars with which it will be able to fuel its terror machine," he said, referring to the expected lifting of crippling Western sanctions on its oil and banking sectors.
Meanwhile, Israel's deputy foreign minister accused Western powers of surrendering to Iran.
"This deal is a historic surrender by the West to the axis of evil headed by Iran," Tzipi Hotovely said in a message on Twitter, the first reaction from a senior Israeli official to a deal. "Israel will act with all means to try and stop the agreement being ratified."
[With agencies]
Last Update: Tuesday, 14 July 2015 KSA 14:11 - GMT 11:11
http://english.alarabiya.net/en/News/middle-east/2015/07/14/Draft-deal-calls-for-U-N-access-to-all-Iran-sites-.html