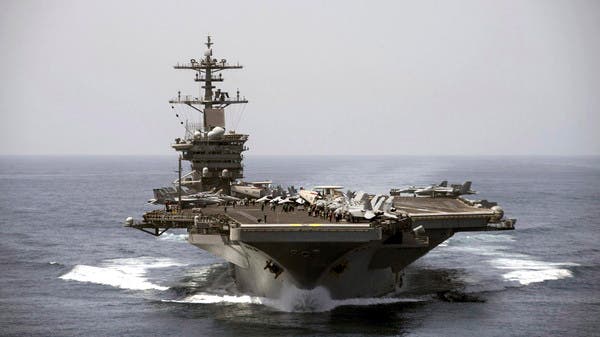 The aircraft carrier USS Theodore Roosevelt operates in the Arabian Sea conducting maritime security operations. (File photo: Reuters)
Friday, 24 April 2015
An Iranian convoy of ships suspected of carrying weapons for Houthi rebels in Yemen has turned around and headed north, away from the war-torn country, U.S. defense officials said Thursday.
The move came after the USS Theodore Roosevelt aircraft carrier and other American warships deployed off Yemen's coast to track the Iranian flotilla and possibly prevent any arms deliveries to the Iran-backed Shiite rebels.
The nine-ship Iranian convoy is "no longer on the same course" and is now south of Salalah, Oman, the official said.
The flotilla included two "armed vessels," said the official, who spoke on condition of anonymity. It was possible the Iranians "could make a turn to Yemen at any time," the official added.
The convoy was moving "slowly" and the United States was closely monitoring the ships, the official said.
The U.N. Security Council earlier this month imposed an arms embargo on the Houthi forces in Yemen.
A total of 12 U.S. naval ships moved to the region stretching from the Red Sea to the Gulf of Aden and the Arabian Sea, including nine combat vessels.
The warships include the Roosevelt, with a crew of about 5,000 and some 60 aircraft, a group of three amphibious ships and two minesweepers. Three resupply ships are in the area to support the combat vessels.
The United States is not taking part in direct military action against the Houthi rebels and instead is providing intelligence and logistical support, including aerial refueling, for Saudi-led air strikes.
Last Update: Friday, 24 April 2015 KSA 08:53 - GMT 05:53
http://english.alarabiya.net/en/News/middle-east/2015/04/24/Iranian-ships-turn-back-from-Yemen-U-S-officials-.html