By Barbara Opall-Rome 8:25 p.m. EDT July 6, 2015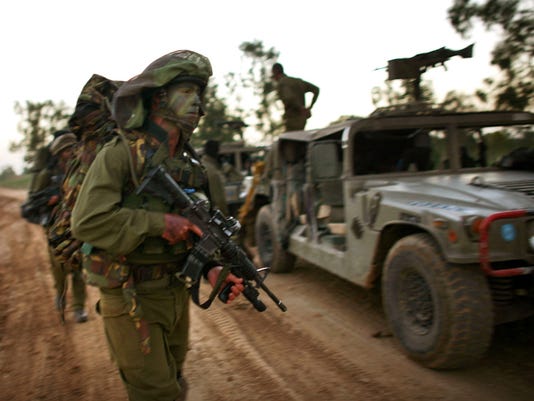 Israeli army special forces are deployed on Dec. 28, 2008, at the Gaza Israel border.(Photo: Uriel Sinai/Getty)
TEL AVIV, Israel — Israel's High Command announced Monday the establishment of a new commando brigade to fall under the command of the 98th Paratrooper's Division.
Lt. Gen. Gadi Eisenkott, Israel Defense Forces (IDF) Chief of Staff, announced July 6 that the new commando brigade would consolidate four elite infantry units of the regular army: Egoz (Almond), part of the Golani Brigade; Rimon (Pomegranate), part of the Givati Brigade; Duvdevan (Cherry) from Central Command and Maglan of the military's combat engineering force.
The new commando brigade will "improve joint operations of special forces in emergency [conditions]" and serve as "decisive front lines of the IDF against future challenges of the enemy."
Col. David Zainy has been appointed commander of the brigade, according to the July 6 announcement.
The brigade will be patterned after the US Army's 75th Ranger Regiment, but will be commanded by the 98th Paratrooper's Division rather than a new Joint Special Operations Command (JSOC).
Elite commando forces such as Sayeret Matkal, the IDF General Staff's Reconnaissance Unit; the Shaldag (Kingfisher) airborne commando unit and the Israel Navy's Flotilla 13 will continue to operate autonomously under traditional command chains or, in certain special missions, under joint command of the IDF's new Depth Command, which reports directly to Eisenkott and the IDF General Staff.
Israel To Stand Up Commando Brigade