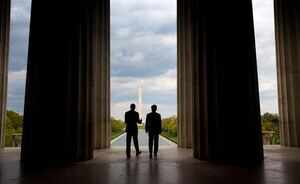 President Obama with Prime Minister Shinzo Abe of Japan at the Lincoln Memorial in Washington on Monday after a surprise visit (Photo by: Doug Mills/The New York Times).
WASHINGTON: President Obama and Prime Minister Shinzo Abe of Japan have reached an accord to tighten defense cooperation and are pressing toward an agreement to tear down trade barriers between their two countries and across the Pacific Rim, as both leaders move to counter rising economic and military threats from China.
On the eve of a formal state visit by Mr. Abe to the White House, American and Japanese officials announced an agreement on Monday that would expand the reach of Japan's military — now limited to its own defense — allowing it to act when the United States or countries American forces are defending are threatened.
The agreement reflects worries about North Korea and, especially, China, whose territorial claims in the South China Sea and growing military spending have upset its neighbors.
"With China's growing assertiveness and North Korea's nuclear and ballistic missile programs, Japan, like a lot of allies, wants to be there for us so we'll be there for them," said Michael J. Green, the senior vice president for Asia and Japan Chair at the Center for Strategic and International Studies. "It allows the US military to plan Japan in, so that when we turn to them and say, 'Can you deal with our left flank?,' the Japanese, in principle, now can do that."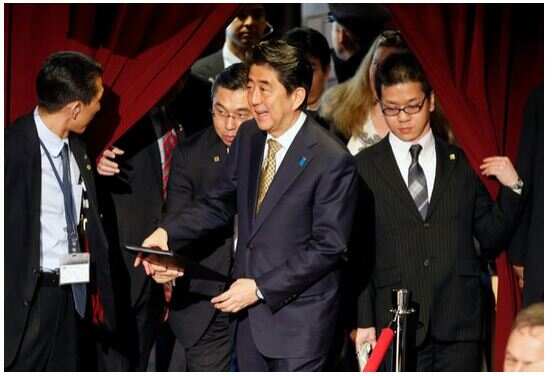 ( Japanese Prime Minister Shinzo Abe, center, at a forum Monday at Harvard University. He later met with President Obama in Washington. Credit Michael Dwyer/Associated Press)
The pact is most likely to be the only concrete deal Mr. Obama and Mr. Abe strike in a visit Tuesday that will feature a formal South Lawn arrival ceremony, an Oval Office meeting, a news conference and an elaborate state dinner for some 200 guests in the ornate East Room.
But the gathering is an opportunity for Mr. Obama to press his pivot toward Asia, by strengthening economic and military ties that can counterbalance China's rising influence. He will use it to build momentum for his trade agenda, including legislation to give him fast-track power to move agreements through Congress without amendments, and the largest such pact he is seeking, the Trans-Pacific Partnership with Japan and 10 other Pacific Rim countries.
In pushing for the trade power and the agreement itself, Mr. Obama has been making the case in urgent terms that the United States must play a leading role or see itself eclipsed by China.
"If we don't write the rules, China will write the rules out in that region," Mr. Obama told The Wall Street Journal in an interview on Monday. "We will be shut out — American businesses and American agriculture. That will mean a loss of US jobs."
The president is facing strong opposition to his trade agenda from many Democrats in Congress, and while the trade authority legislation has begun to move forward, he is unlikely to be able to extract critical concessions from Japan until he has secured the power to complete the broader agreement. White House officials said they do not expect a breakthrough while Mr. Abe is visiting.
On Tuesday, Mr. Obama and Mr. Abe will discuss disputes between their two nations over trade — including tariffs on American automobiles and Japanese agriculture products — whose resolution are widely seen as a prerequisite for sealing the accord. Officials from both countries are close to clearing away those disagreements.
Behind the scenes on Monday, American and Japanese officials huddled to try to make progress in the last hours before Mr. Obama and Mr. Abe were to meet face to face.
"I do not anticipate that all those gaps will be bridged," said Josh Earnest, the White House press secretary, "but I'm confident that they'll get extensive high-level attention."
The military agreement announced on Monday replaces guidelines geared exclusively toward the defense of Japan with new rules that eliminate any geographic restriction.
Now Japanese forces also could aid American ships involved in missile-defense activities in the region, or Japan could intercept a missile heading for the United States. "That is a very big change from being locally focused to being globally focused," Defense Secretary Ashton B. Carter said at a joint news conference in New York with Secretary of State John Kerry and their Japanese counterparts.
Sheila A. Smith, a senior fellow for Japan studies at the Council on Foreign Relations called the deal a "very significant transformation" between the United States and Japan. "It's about deterrence and de-escalation, to guard against the risk that something small could quickly become a major armed conflict."
Senator John McCain, the Arizona Republican who leads the Armed Services Committee, praised the new guidelines as a "historic moment."
Mr. Green said the guidelines are a break with Japan's inward-looking defense posture that dates back to its determination after the end of World War II that "they didn't want to get pulled or entrapped into a fight with anyone, anywhere, ever again."
Mr. Abe's visit, which coincides with the 70th anniversary of the end of the war, has also raised questions about what the prime minister will say about his country's history. South Koreans, Korean-Americans and American lawmakers have called on Mr. Abe to use his speech to a joint session of Congress on Wednesday to apologize for the Japanese military's use of so-called "comfort women" as sex slaves.
On Monday afternoon, as Japanese and American flags flew side by side near the White House, Mr. Obama made an unscheduled stop with Mr. Abe at the Lincoln Memorial, where Lincoln's second inaugural address urging reconciliation and healing is etched into the marble.
Stay updated on the go with Times of India
News
App. Click
here
to download it for your device.
Japan and US set new rules for military cooperation - The Times of India