By
ADAM NAGOURNEY
AUG. 11, 2015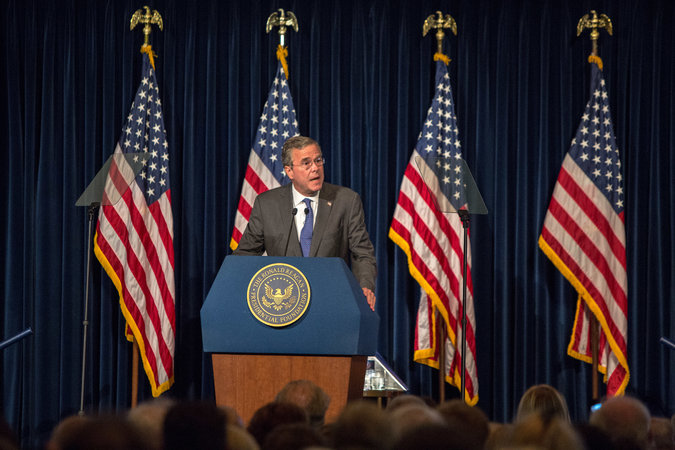 Jeb Bush spoke at the Ronald Reagan Presidential Library in Simi Valley, Calif., on Tuesday evening. Credit Monica Almeida/The New York Times
SIMI VALLEY, Calif. — The war in Iraq, which dominated American presidential politics in 2004 and 2008, has returned as an issue in 2016. This time, the argument is not over whether the United States should have gone to war, but rather how the Obama administration sought to end it.
Jeb Bush
, the former Florida governor
seeking the Republican presidential nomination
, issued a blistering attack on Tuesday on the Obama administration's handling of Iraq and terrorism issues, asserting that
Hillary Rodham Clinton
, the front-runner for the Democratic presidential nomination, had
"stood by"
as secretary of state as the situation in Iraq deteriorated.
He said
President Obama
and Mrs. Clinton had orchestrated an early withdrawal of American troops, setting the stage for the chaos sweeping the region now and the
rise of the Islamic State
, also known as ISIS or ISIL.
"That premature withdrawal was the fatal error, creating the void that ISIS moved in to fill," Mr. Bush declared in a speech at the Ronald Reagan Presidential Library here on Tuesday night.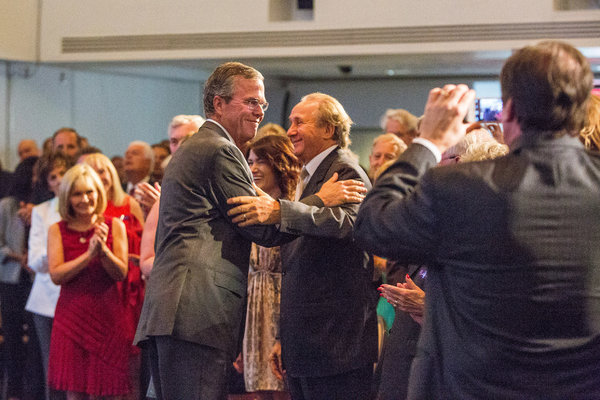 Mr. Bush greeted Michael Reagan, Ronald Reagan's son, before his speech. Credit Monica Almeida/The New York Times
"Where was the secretary of state, Secretary of State Clinton, in all of this? Like the president himself, she had opposed the surge, then joined in claiming credit for its success, then stood by as that hard-won victory by American and allied forces was thrown away."
With his speech, Mr. Bush found himself in a position of going after Mrs. Clinton on an issue in which many Republicans argue she is vulnerable — but at the risk of reminding voters of what Republicans see as one of his own great potential weaknesses: his last name. Mr. Bush's brother, President George W. Bush,
led the United States into war
in Iraq in 2003 and, when it was going badly in 2006, ordered the commitment of additional forces there in what came to be known as the surge. His father, the elder President George Bush, ordered the nation's first invasion of Iraq in 1990.
At the same time, it put Mrs. Clinton — who lost the nomination to Mr. Obama in no small part in 2008 because she had supported the Iraq war while he opposed it — in a situation of defending how Mr. Obama sought to end the war there.
"This is a pretty bold attempt to rewrite history and reassign responsibility," said Jake Sullivan, Mrs. Clinton's senior policy adviser and her former aide at the State Department. "They cannot be allowed to escape responsibility for the real mistake here. They might hope we'll all forget, but the American people remember."
The 2016 election already offers the possibility of a rematch campaign between a Bush and a Clinton. Now Iraq could again be debated, albeit with the new dimension that comes with the rise of the Islamic State and the threat of Syria and Iran.
With the economy rebounding, Republican presidential candidates have increasingly turned their attention to foreign policy and Mrs. Clinton's four years as secretary of state, laying the blame for the persistent violence now engulfing Iraq and Syria at Mrs. Clinton's feet.
For Mr. Bush, his latest speech, at the hilltop shrine to Mr. Reagan that has become a regular stop for Republican presidential candidates, appeared to mark a new, more aggressive chapter in his campaign.
In a
joint appearance
with Mrs. Clinton in Florida last month, Mr. Bush had remained silent, to the concern of many Republicans, after Mrs. Clinton attacked his policies on poverty and racial matters. And he was largely overshadowed at the
Republican debate
in Cleveland last week.
He faced a more serious problem this year after he stumbled in seeking to explain his position on whether the Iraq invasion led by his brother was justified. In his speech, Mr. Bush appeared to acknowledge criticism of the invasion, recounting a troubled history of Iraq policy "that includes failures of intelligence and military setbacks" — even as he criticized Mrs. Clinton.
"It was a case of blind haste to get out and to call the tragic consequences somebody else's problem," he said. "Rushing away from danger can be every bit as unwise as rushing into danger, and the costs have been grievous."
Mrs. Clinton's aides noted that the Obama administration had inherited the war from President Bush and that it had followed the timetable he signed in withdrawing troops from the region. Mrs. Clinton opposed the surge but advocated within the administration for leaving a residual force in Iraq to maintain order there.
"American boots on the ground cannot fix Iraq," said Mr. Sullivan, Mrs. Clinton's policy adviser. "Only Iraqis can fix Iraq, with our support but not with our combat boots on the ground."
Mr. Bush was not alone among the Republican presidential candidates in criticizing the administration's policies in that region of the world.
Both Senator Marco Rubio of Florida and Gov. Scott Walker of Wisconsin have criticized the withdrawal of American troops from Iraq. Mr. Walker has said he would not rule out sending troops to restore order. Gov. John R. Kasich of Ohio has said the United States should form a coalition with European allies to knock out the Islamic State, and also said he would not rule out sending in troops. And Senator Lindsey Graham of South Carolina has been one of the Obama administration's most persistent critics.
Donald J. Trump has vowed to use military force to degrade and control the oil supply that the Islamic State uses for funding, and to tear up the
nuclear weapons
deal that Mr. Obama negotiated with Iran.
But in his speech, Mr. Bush did less to suggest what he might do as president than to describe the origins of the Islamic State's emergence — what many of Mr. Obama's advisers agree was a premature withdrawal from Iraq, an insufficient support of the moderate opposition in Syria three years ago, and an incremental application of American power against Islamic State strongholds.
"Radical Islam is a threat we are entirely capable of overcoming," Mr. Bush said, "And I will be unyielding in that cause should I be elected president of the United States."
He did not argue for the reintroduction of combat troops. Indeed, Mr. Bush appeared to be walking a line between calling for a more aggressive response in Iraq without calling for the kind of American military intervention that might alarm some voters by recalling the policies of his brother, as well as his father.
"We do not need, and our friends do not ask for, a major commitment of American combat forces," he said. "But we do need to convey that we are serious, that we are determined to help local forces take back their country."
With his call for support of Sunni allies, he echoes a main theme of the Obama approach. And his support for increasing the Pentagon budget reflects to a considerable extent the policy of the Obama administration. But that has faced opposition from some Republicans in Congress who have sought to freeze military spending as part of efforts to cut back the size of government
In his attempt to find a middle place between Mr. Obama's actions in Iraq and Syria and the full commitment of troops, Mr. Bush argued for the creation of a "no-fly zone" on the Syrian border that would ultimately be expanded to "prevent more crimes by the regime." But he did not call for the immediate ouster of President Bashar al-Assad.
He also called for the rejection of the Iran nuclear deal, calling it "unwise to the extreme, with a regime that is untrustworthy in the extreme." But he said nothing about what he would replace it with.
http://www.nytimes.com/2015/08/12/us/politics/jeb-bush-blames-us-policies-for-isis-rise.html?smid=fb-nytimes&smtyp=cur&_r=0