Jordan confirms pilot captured by Islamic State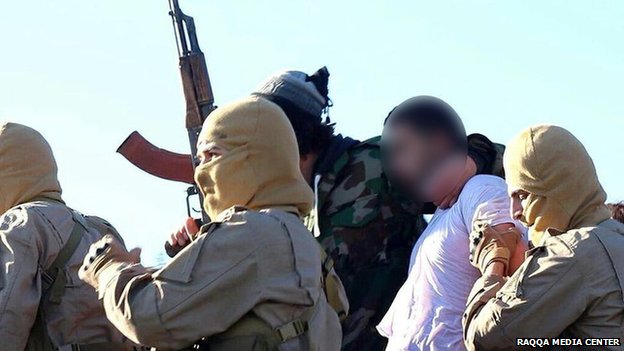 The Jordanian military has confirmed that one of its planes has crashed over northern Syria and that its pilot has been captured by Islamic State (IS).
The jihadist group earlier said it had shot down the jet with a heat-seeking missile near the city of Raqqa.
It published photographs showing the pilot, whom it identified as Flight Lieutenant Moaz Youssef al-Kasasbeh.
This is the first US-led coalition aircraft to be lost on IS territory since air strikes began in September.
Jordan is one of four Arab countries whose aircraft have been flying sorties over Syria.
'Heat-seeking missile'
On Wednesday morning, the UK-based Syrian Observatory for Human Rights, said it had received reports from its network of activists that IS members had taken "an Arab pilot prisoner after shooting his plane down with an anti-aircraft missile near the city of Raqqa".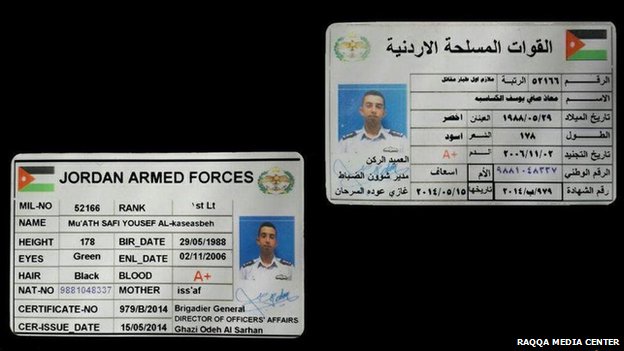 A photo of the Jordanian military ID card belonging to the captured pilot was also published
The pro-IS Raqqa Media Center also posted a photo on its Facebook page showing armed men taking the pilot out of what appeared to be a lake or river.
The man appeared able to stand but was bleeding from the mouth. He was wearing only a white T-shirt and was soaking wet.
A caption identified him as Lt Kasasbeh and later a photo appearing to show his military ID card was published.
Lt Kasasbeh's father, Youssef al-Kasasbeh, confirmed his son's plane had crashed in Syria in an interview with the Jordanian newspaper, Saraya.
BBC News - Jordan confirms pilot captured by Islamic State
@BLACKEAGLE
@Ahmed JO