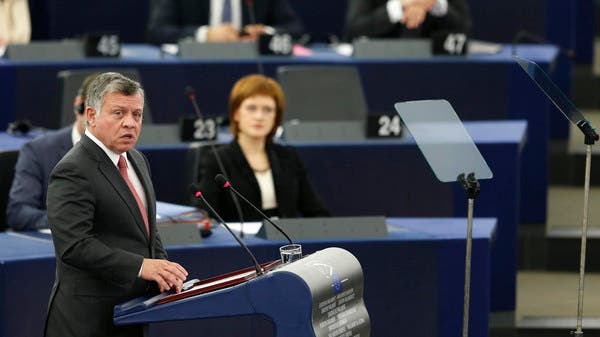 Addressing the European Parliament in Strasbourg, France, the king said that extremists exploit conflicts to build their legitimacy. (Reuters)
By Staff Writer | Al Arabiya News
Tuesday, 10 March 2015
Jordan's King Abdullah said Tuesday that Islamophobia helps strengthen the Islamic State of Iraq and Syria (ISIS).
Addressing the European Parliament in Strasbourg, France, the king said that extremists exploit conflicts to build their legitimacy and that his country will defend its people and faith against the extremist group.
The leader also said that unity is crucial in the fight against terrorism and that ISIS is not only a threat to Iraq and Syria but also to the Middle East and the entire world.
King Abdullah, who expressed sorrow for the Christian minorities that were targeted by ISIS, said that the targeting of minorities in the region is a crime against humanity.
ISIS has staged mass killings of religious minorities. Recently, the group beheaded 21 Egyptian Christians in Libya and kidnapped over 90 Christians in Syria.
During the speech, the leader also spoke about the Israeli-Palestinian conflict and said that Israel has violated the peace process on multiple occasions.
He said that the conflict must be solved as it fuels hatred and that there was no substitute to a political solution for the Palestinian issue.
Speaking about Syria, the king said that Jordan has welcomed around 1.4 million Syrian refugees and that it became third-largest host country for refugees.
Last Update: Tuesday, 10 March 2015 KSA 18:31 - GMT 15:31
http://english.alarabiya.net/en/News/middle-east/2015/03/10/Jordanian-king-Our-unity-will-determine-the-fight-against-terrorism-.html