King Salman receives Mohammed bin Rashid, Mohammed bin Zayed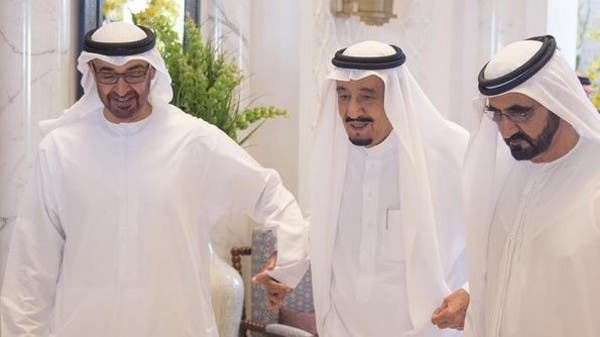 During the meeting, they exchanged cordial talks and reviewed the fraternal relations between Saudi Arabia and the UAE. (SPA)
By Saudi Press Agency | Tangier
Thursday, 20 August 2015
The Custodian of the Two Holy Mosques King Salman bin Abdulaziz Al Saud received at his residence in Tangier, Thursday, Sheikh Mohammed bin Rashid Al Maktum, the Vice President of the United Arab Emirates, the Premier and Ruler of Dubai and Sheikh Mohammed bin Zayed Al Nahyan, the Heir Apparent of Abu Dhabi and the Deputy Supreme Commander of the Armed Forces of the United Arab Emirates and the accompanying delegation.
During the audience, they exchanged cordial talks and reviewed fraternal relations between the two brethren countries, in addition to the whole regional events.
Following the audience, the Custodian of the Two Holy Mosques held, in their grace, a banquet.
The audience has been attended by Prince Khalid bin Faisal bin Turki, Advisor at the Office of the Minister of Defense, Deputy Crown Prince Mohammed bin Salman bin Abdulaziz, the Second Deputy Premier and Minister of Defense, a number of princes, the Saudi Ambassador to Morocco Dr. Abdulrahman bin Mohammed Al-Jidaie and the UAE accompanying delegation.
Last Update: Friday, 21 August 2015 KSA 00:41 - GMT 21:41