Leonardo boss warns Germany's Saudi embargo will damage European industry
By:
Tom Kington
  19.04.2019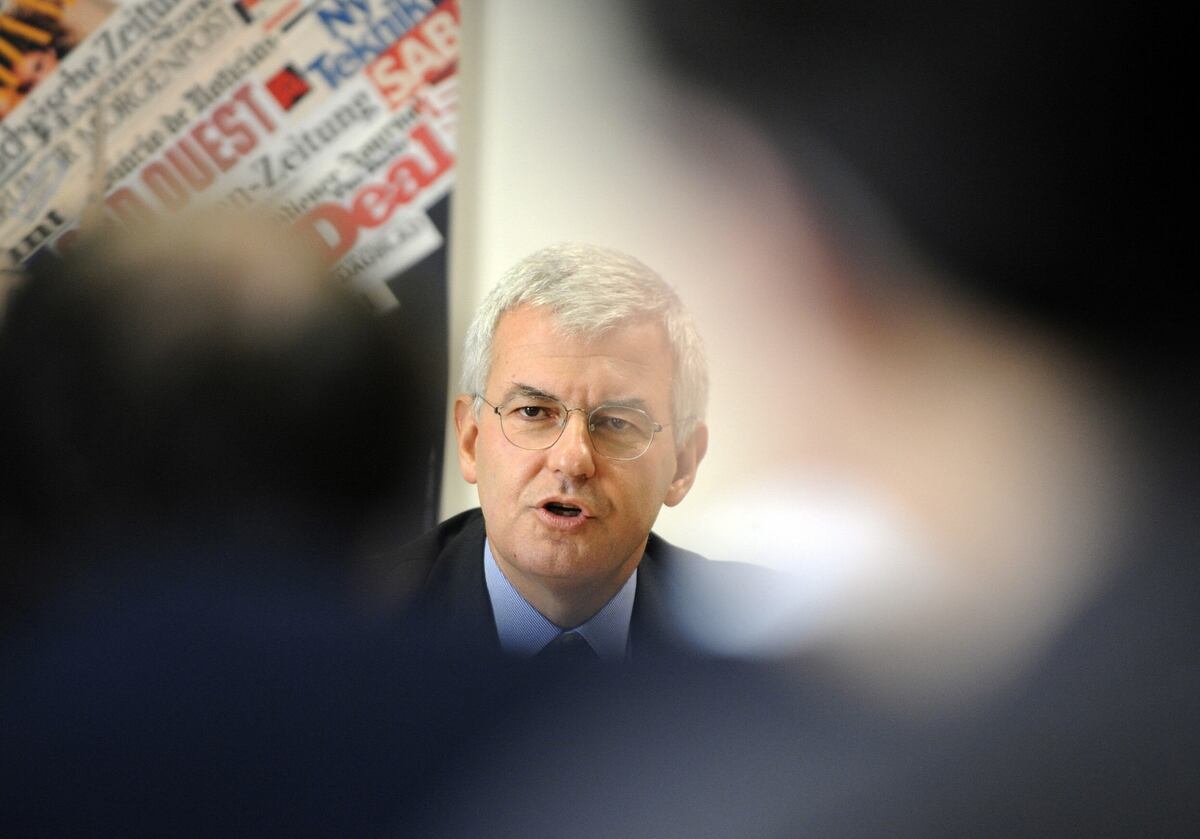 Alessandro Profumo runs the Italian company Leonardo. (Damien Meyer/AFP via Getty Images)
ROME — The head of Italian defense giant Leonardo has joined the chorus of criticism aimed at
Germany's weapons embargo
against Saudi Arabia, claiming it will damage Europe's chances to integrate its defense industry.
Alessandro Profumo said Germany would ultimately unblock sales to Saudi Arabia, but that the embargo has threatened the European Union's effort to export jointly built weapons.
"First of all, let's see if the embargo is maintained," he said. "What worries me more is that we risk fracturing the creation of a European defense system."
Germany has placed a temporary embargo on sales to the Gulf state over its involvement in the Yemen conflict and in response to the death of journalist Jamal Khashoggi.
It's alleged he was killed
at the Saudi consulate in Istanbul, Turkey, last fall. Western officials believe Saudi Crown Prince Mohammed bin Salman was involved in orchestrating the killing. The regime has denied any knowledge of it, instead describing the crime as a rogue operation gone wrong.
Leonardo is part of a four-nation industrial consortium including Italy, Germany, the U.K. and Spain. It has sold 72 Eurofighters to Saudi Arabia — with an order of a further 48 pending.
In an interview with Defense News, Profumo said that in the case of pan-European programs like Eurofighter, an embargo ordered by one partner should not be allowed to endanger an export sale.
"The ideal situation would be for the EU country that is the prime [contractor] on an export deal to issue the export license, which is valid for the EU," he said. "In the U.S., a product being produced in California, Idaho, Texas or Michigan would not need an export license from each state. We need to move in this direction, or it will be very difficult to have truly European programs."
"The U.K. is prime on the Eurofighter export to Saudi Arabia. The sale was approved by the U.K. Parliament, and it is inopportune that single countries in the value chain can halt the sale," he added. "I believe that Germany will eventually reopen exports to Saudi Arabia."
Leonardo's work on radar and electronics for the Eurofighter contributed to the company's strong performance in 2018, as sales rose 5 percent and profit soared by 83 percent. The firm expects another revenue hike of up to 5 percent this year, reaching €12.5-13 billion (U.S. $14.1-14.7 billion).
Profumo is meanwhile keeping a wary eye on Britain's divorce from the EU, which would separate the country — where Leonardo employs 7,000 — from continental Europe, just as industrial integration across the continent is a hot topic.
One catalyst for integration will be a new EU fund for cross-border defense programs, begging the question of whether Leonardo's U.K.-based operations will be denied access to the funds after Brexit.
"We hope the U.K. remains integrated in the European defense system with access to European defense funds," Profumo said. "If Europe spent €225 billion overall on defense in 2017, the U.K. spent €45 billion."
"It would be a big problem for Europe if the U.K. was not part of the system," he added.
Noting that Leonardo works on electronics and helicopter product development in the U.K., he said: "It will be important to know where intellectual property will need to be registered for a program to win European funding."
One problem facing industrial integration in Europe is the work on two future fighters — Britain's Tempest and the Franco-German future combat air system.
Leonardo has signed up as a partner on Tempest, but Profumo hopes the two programs will merge.
"I hope the two programs will merge in the end. The U.S. will not develop two aircraft as successors to the F-35, and Europe should develop one sixth-generation fighter," he said.
Though Leonardo is at work on the Tempest, a commitment from the Italian government to back the program hasn't come, placing Italian involvement at risk, the executive said.
"Italy has not yet decided whether to join. I hope it decides fairly soon because when it comes to participation in the development, the sooner you decide, the deeper your involvement and the more work share you get," he said.
"One thing is to work on the recipe, another to provide ingredients," he added.
Profumo previously said Italy could enter the future tank program, on which France and Germany are working, although he told Defense News the company would need to first understand the Italian Army's requirement for a tank to replace its current Ariete model.
He also quibbled the habit of France and Germany to launch programs together before later enlisting new partners.
"As for the idea of French-German programs to which other countries can adhere, I know it is easier to start with two countries, but I would like to see a wider group at the outset," he said.
https://www.defensenews.com/global/europe/2019/04/18/leonardo-boss-warns-germanys-saudi-embargo-will-damage-european-industry/