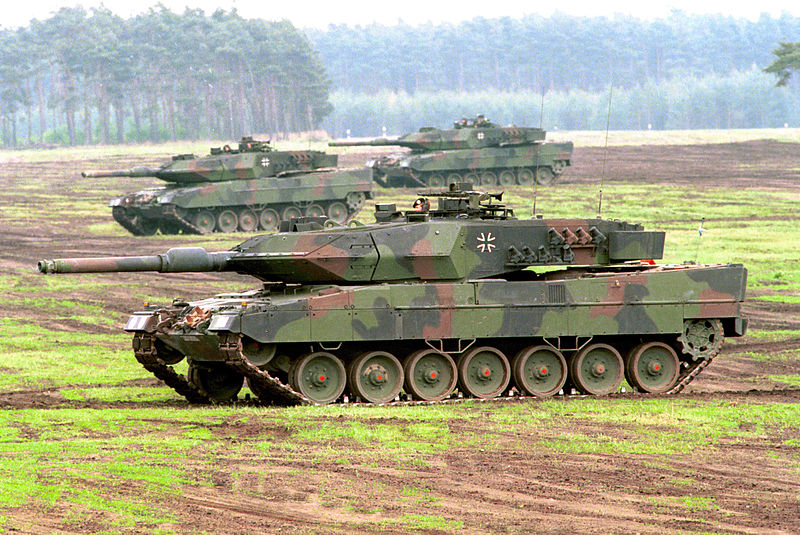 Leopard 2 specifications
Dimensions (L-W-H)9.66m (7.72 without gun) x 3.7m x 2.8m
(31'7″ (25'3″) x 12'1″ x 9'1″ ft.in)
Total weight, battle ready62.3 tonnes ( ibs)
Crew4 (Driver, commander, gunner, loader
)PropulsionMTU MB-837 V8 diesel 2.9L 1800 hp (368 kW)
SuspensionIndependant torsion bars
Speed (road)70 kph (43,5 mph)
Range385 km (239 mi)
ArmamentMain : Rheinmetall xxx L/44 120 mm
Sec. 2 x 7.62mm MG3 machine guns
Armor50 mm front and sides (?? in)
A4Total productionCurrent. 3850 since 1978.
Design of the Leopard 2
Externally, the Leopard 2 was not a revolution compared to the Leopard 1, the chassis was improved but remained largely identical, although emphasis was put from the beginning in protection. Therefore the most obvious difference came from the turret, which was not only tailored for the new Rheinmetall 120 mm smoothbore cannon but also for extra composite armor compartment. Estimated protection figures (up to the 2A5) are 590–690 RHAe on the turret and 600 RHAe on the glacis and lower front hull.
Mobility: The MTU Engine
The Leopard 2 beating heart is the MTU MB 873 Ka-501 diesel engine. This powerful unit provides 1,500 PS (1,103 kW) at 2600 rpm of output, and the block is four-stroke, 47.6 litre, 12-cylinder multi-fuel. Its exhaust is turbo-charged, and it is liquid-cooled. Estimated fuel consumption is around 300 liters for an average of 100 km on flat but 500 liters for the same distance cross country. The transmission is the Renk HSWL 354 hydro-kinetic planetary gearbox which have four forward, two reverse gears. This automatic transmission has a torque converter. Therefore the Leopard could turn on the spot, whatever the speed is. This transmission automatically changes gear within the range pre-selected by the driver. The cooling air outlet grille is prominent over the rear plate and was reinforced and better protected after the 28th vehicle in production. In addition, an automatic fault detection system probe for any technical malfunctions and is monitored by the driver in real time.
Chassis and hull
According to data from the Entwicklung series, the front glacis was 50 mm at 15° then 35 mm at 8°, equivalent to 90 mm of welded steel RHA with a hardened upper layer. The lower face of the beak was 59 mm at 35°. The bottom front plate (from the beak to the rear of the turret) is 19 mm and 14 mm under the engine compartment while the rear plate was 25 mm thick at 15-20°. The engine deck is 20 mm thick. All in all, this was no way superior to that of the Leopard 1 chassis, however, the compartments above the main drivetrain received new cofferdams of composite armour storage bays and are flat rather than sloped on the previous Leopard on which all the tooling was fastened externally. The driver is located to the right hand side. He is given a sliding hatch (to the right) and three periscope vision blocks before him.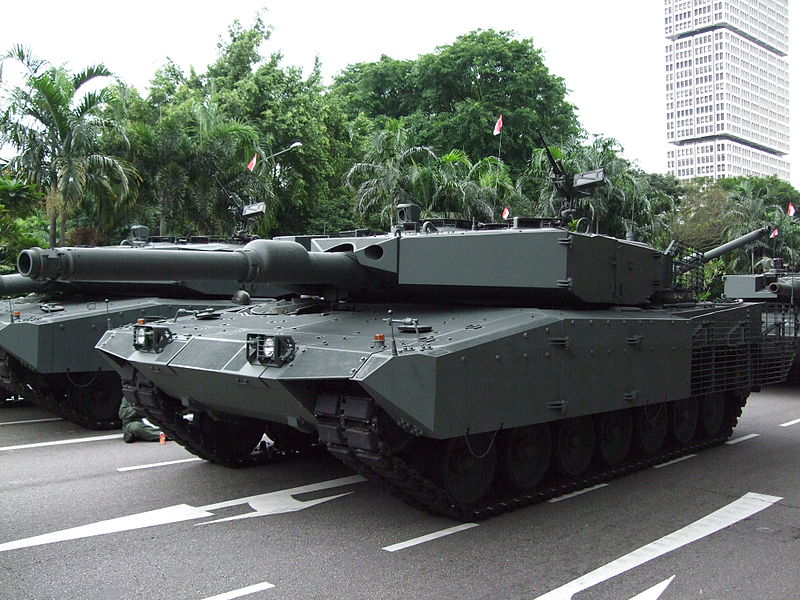 Last edited: