Libya urges Arab airstrikes against ISIS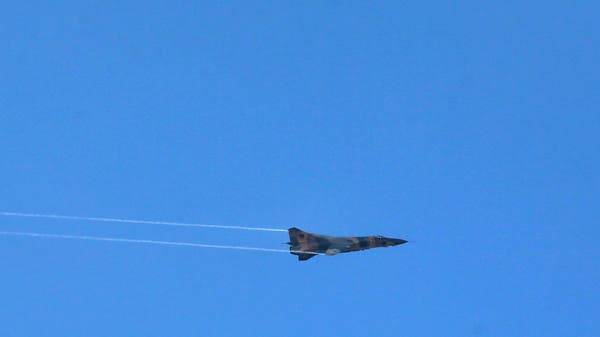 An aircraft, belonging to the internationally recognised Libyan pro-government forces, flies over Benghazi. (File: Reuters)
By Reuters | Benghazi, Libya
Sunday, 16 August 2015
Libya's internationally recognized government has asked fellow Arab states to conduct airstrikes against Islamic State of Iraq and Syria (ISIS) in the coastal city of Sirte, a cabinet statement said on Saturday night.
In the past few days, ISIS has crushed a revolt by a Salafist Muslim group and armed residents trying to break its grip on the city. Dozens of people have been killed, according to residents.
The fighting typifies chaos in Libya, where two rival governments and parliaments, together with an assortment of Islamists, tribesmen and armed groups, are battling for control of cities and regions, four years after the ousting of veteran leader Muammar Qaddafi.
"Libya's temporary government urges... the Arab brother states...to conduct air strikes against positions of the Daesh terrorist group in Sirte," a cabinet statement said.
Daesh is an acronym for ISIS, which has exploited a security vacuum to expand in Libya as it did in Syria and Iraq.
The official government has been based in eastern Libya since losing control of the capital Tripoli a year ago to a rival group, which set up its own administration. Neither government has control of Sirte, Gaddafi's hometown.
Both governments have conducted air strikes against ISIS in Sirte in recent days but their capabilities are very limited, relying on outdated warplanes and helicopters from the Gaddafi era and lacking precision guns.
It was not clear how Arab states would respond. An Arab coalition led by Saudi Arabia launched air strikes in Yemen in late March in an effort to stop the Iran-allied Houthi movement spreading across the country from the north.
Last Update: Sunday, 16 August 2015 KSA 09:22 - GMT 06:22
http://english.alarabiya.net/en/News/middle-east/2015/08/16/Libya-urges-Arab-air-strikes-against-ISIS-.html