Lockheed Martin Partners with Advanced Electronics Company To Open New Sniper ATP Support Center in Saudi Arabia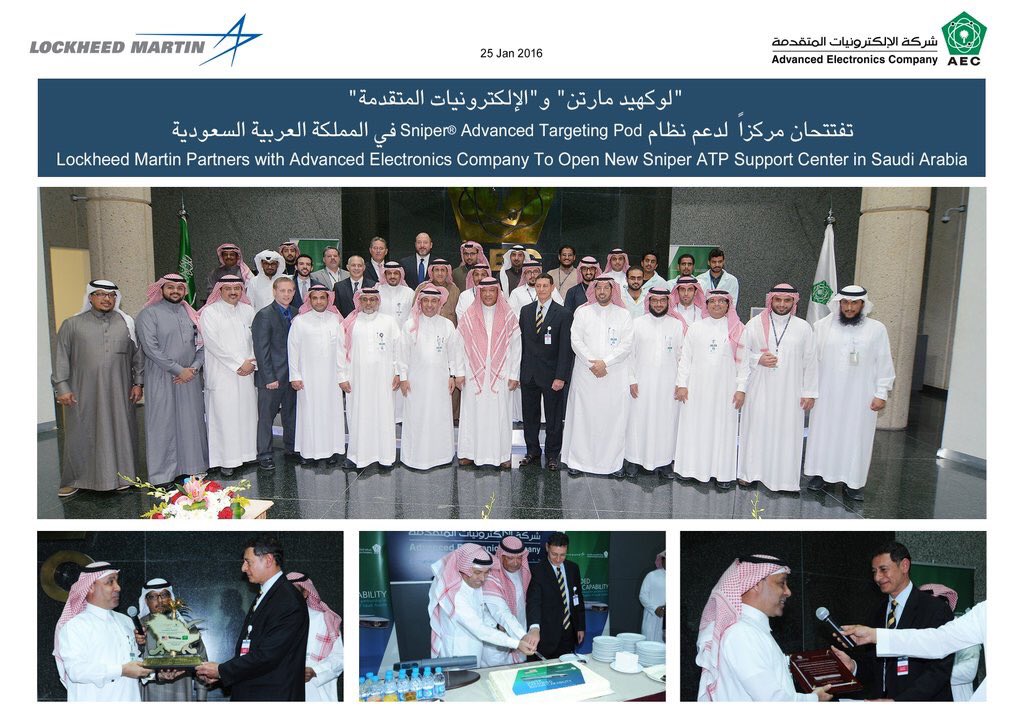 RiYaDh, Saudi Arabia, Jan. 28, 2016 – Lockheed Martin (NYSE: LMT) and Advanced Electronics Company (AEC) recently celebrated the opening of the Sniper® Advanced Targeting Pod (ATP) Expanded Repair Capability center in the Kingdom of Saudi Arabia. This marks the start of operations at the first Sniper ATP support center located outside the United States.

The Sniper ATP Expanded Repair Capability center provides sustainment support for Sniper ATPs. Due to its in-Kingdom location, the center helps expedite repair times, improving fleet readiness. It also generates in-Kingdom employment opportunities and expands the local manufacturing base.

"We are proud to partner with AEC to enhance in-Kingdom technical capabilities through work performed at this center," said Alan Chinoda, chief executive for Lockheed Martin in the Kingdom of Saudi Arabia. "As the sustainment hub for targeting systems in the Kingdom, the Sniper ATP Expanded Repair Capability will also help ensure fleet readiness."

"This Expanded Repair Capability center at AEC is a result of Lockheed Martin's recognition of AEC's capabilities in products and services according to the highest international quality standards," said Mohammed Al-Khalifah, senior vice president at AEC. "By working with technology leaders like Lockheed Martin, AEC can expand its manufacturing and repair base and service the needs of customers in our region. This center reaffirms and demonstrates our commitment and outstanding capabilities of our workforce, the majority of whom are Saudi Nationals."

Lockheed Martin and AEC established the Sniper ATP Expanded Repair Capability in cooperation with the Kingdom of Saudi Arabia Economic Offset Program. The center is part of an existing offset agreement between the Saudi Arabia Economic Offset Committee and Lockheed Martin. Lockheed Martin and AEC have previously collaborated on various defense products and systems that led to the transfer of technology to the Kingdom of Saudi Arabia.


Lockheed Martin Partners with Advanced Electronics Company To Open New Sniper ATP Support Center in Saudi Arabia · Lockheed Martin