Madaya: Syrian regime supporters share food photos to taunt starving civilians trapped in town
A hashtag meaning "solidarity with the siege of Madaya" was being used to support the Syrian army
Saturday 9 January 2016 13:52 BST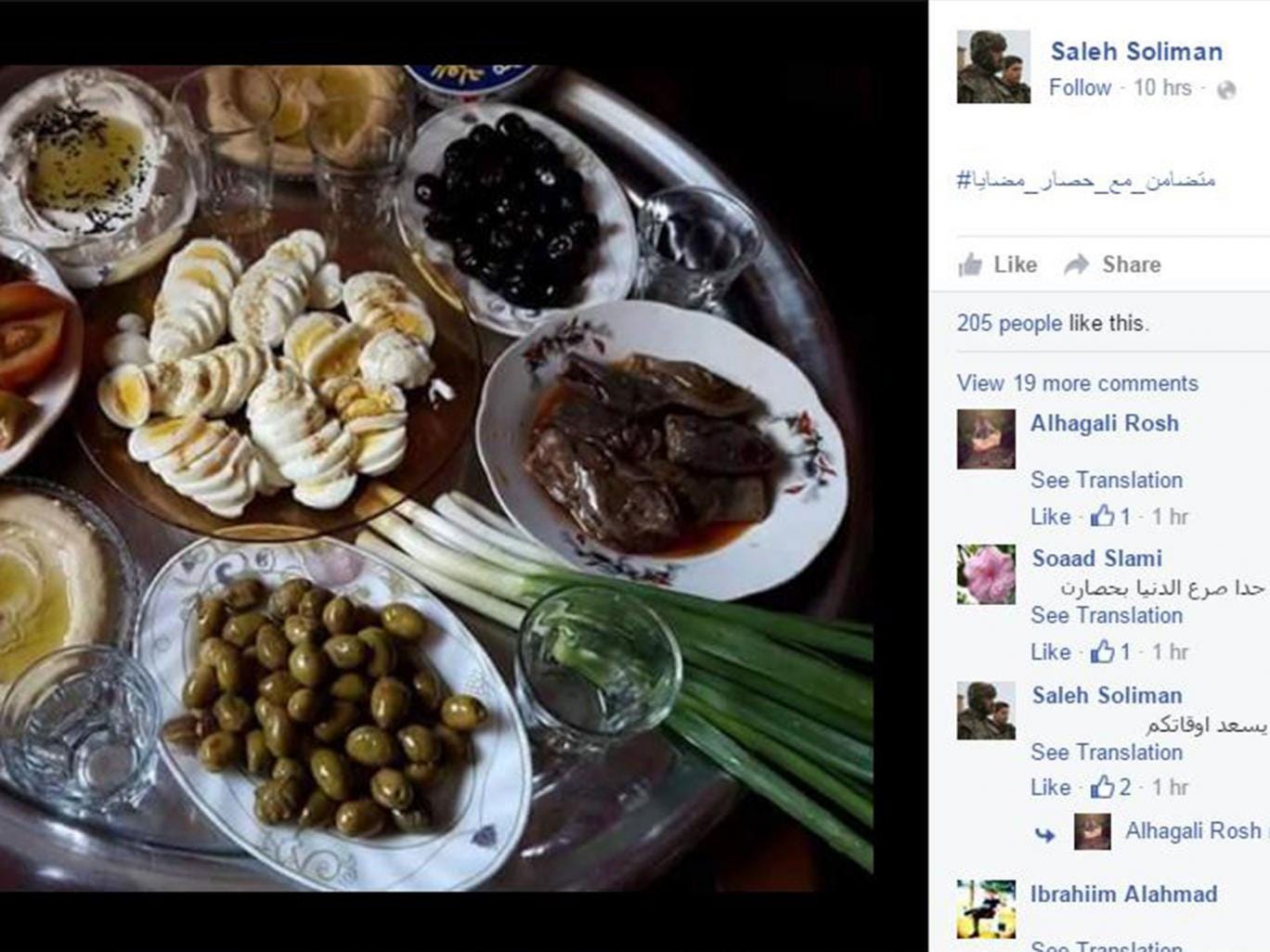 Supporters of the Syrian regime are sharing photos of their dinners to taunt thousands of
starving civilians in a besieged town
.
The hashtag #متضامن_مع_حصار_مضايا, meaning "solidarity with the siege of
Madaya
", has sparked a new wave of outrage over the continuing crisis, with those using it condemned as "sadistic" and "unbelievably disgusting".
Photos showed people with sumptuous-looking spreads of food including kebabs, grilled prawns, whole fish, chips, salad and mountains of bread.
Mohamad Rahal - Mobile Uploads | Facebook
The trend emerged on Facebook and Twitter on Friday as President Bashar al-Assad gave into international pressure to allow humanitarian aid to enter for the first time since October.
But it will be too late for at least 23 men, women and children who have already starved to death, while photos show emaciated people resorting to
eating leaves and grass
in desperate attempts to stay alive.
Madaya, a former holiday resort in mountains near the Lebanese border, has been under siege by the Syrian army and allies from the Lebanese Hezbollah militia for six months.
Around 40,000 people remain trapped and reliant on next week's shipment of food and medical supplies.
As part of the pact, aid will also be allowed into the nearby town of Zabadani, which is also under siege, and Kefraya and Fua - two villages in Idlib province that have been surrounded by Islamist rebels since March.
The militants, linked to al-Qaeda, have threatened to massacre the dominantly Shia residents held inside.
The European Union welcomed the decision to allow humanitarian access but called it to be extended to other areas, as well as demanding a halt to attack on civilians by all parties in Syria's ongoing civil war, ahead of UN peace talks later this month.
A spokesperson for the US State Department, John Kirby, said the "regime's record of broken promises on humanitarian access must stop" and urged Russia to use its influence to ensure the pledge is not a one-off.
Blockades have become a common tactic, with government troops holding rebel-held areas near Damascus under siege for several years and, more recently, rebel groups blockading some territory loyal to Assad, who has the military backing of Iran and Russia.
The war in Syria has killed an estimated quarter of a million people in nearly five years, ravaging the country and creating a breeding ground for Isis and other Islamist groups as dozens of nations back different sides.
Additional reporting by AP
Madaya: Syrian regime supporters share food photos to taunt starving civilians trapped in town | Middle East | News | The Independent
View attachment 286350
View attachment 286351
View attachment 286352
View attachment 286353